An angry dad has been filmed bowling over a BMX rider and "losing it" after his son was accidentally knocked off his skateboard at an Auckland skatepark.
Skater Kenny Kemsley was at the opening of the New Windsor skatepark on Saturday afternoon where his friend Karl Periam was attempting new tricks.
"He was trying those tricks for ages, but the kid just fully drops in on him," the 20-year-old said, describing the moment a young boy crossed the path of his friend and bike.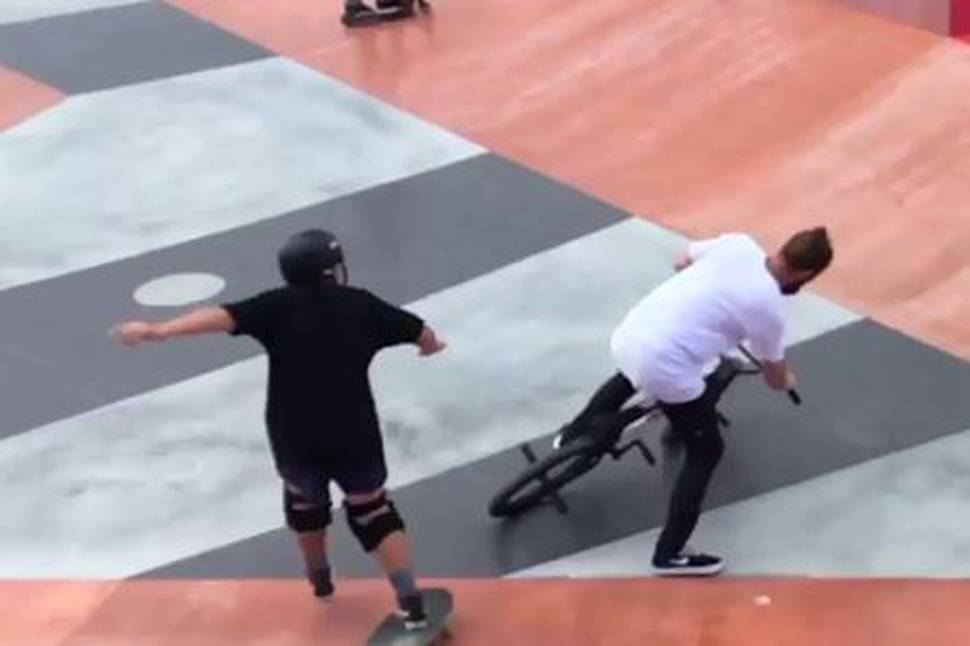 Video, filmed by Kemsley, shows the boy collide with the BMX rider as he rides backwards down a ramp.
The boy's father, who Kemsley said is well-known to skaters and a skater himself, strides down the ramp to shoulder-charge the rider.
"The dad just came in and shoulder barges him. [The dad is] an edgy kind of guy anyway, but I've never seen him act violent like that against anyone.
"He's known to hate BMX riders though, because he thinks they run into people all the time."
Kemsley said the father was "losing it for ages", and his mate suffered a bruised tailbone and jaw.
He said the video showed the collision was an accident, because neither the boy nor rider could see the other coming.
The video also shows the boy lying on the ground until he is helped up by his father and given a hug.
Karl Periam, 24, told Fairfax everyone had been getting on well before he and the boy tangled.
He wanted to try a new trick that involved spinning his bike in mid-air, before landing backwards in the bowl.
But when the young boy dropped in, they ended up in a tangled heap together.
"Before I went, I checked and made sure the landing was fine," Periam told Fairfax.
"He hasn't looked and seen me doing my thing and he's dropped down that ramp.
"You can see that I'm pretty much in the air when he starts rolling down the ramp, so there's pretty much nothing I could do."
The video shows the boy's father running down the ramp and pushing Periam, who is sent flying backwards.
Words were exchanged, before Periam left the park to sit in his car and call police.
As he made the call, the father approached him again.
"He comes up, and was still trying to get me to go and say sorry," Periam said.
"I was like, 'I don't think you understand that you've just assaulted me, like out of the blue. Like I didn't even know it was coming'."