Holiday traffic remains heavy and is clogging the roads south of Auckland ahead of the long weekend, with crashes, roadworks and a car fire adding to the mayhem.
Traffic was earlier congested travelling north from the city on State Highway 1 for Auckland Anniversary weekend with queues before Warkworth and Wellsford townships, but is now easing.
The southern motorway is still heavy southbound between Goodwood Heights and Rainbow's End.
Gridlock traffic and long delays left photographer Mark Mitchell, who was travelling from Kapiti to Taupo, wondering why New Zealand Transport Authority (NZTA) was carrying out road works today.
He said a stop/go roadworks station on the Desert Rd brought lines of traffic to a standstill. He thought it added at least another 35 minutes to his journey.
"Why are they doing it today? It seemed a bit silly to say the least.
"One would have thought they'd use their discretion and do it another time."
Video from the NZTA showed plumes of black smoke billowing from a burning vehicle earlier today on the Southern Motorway as motorists heading south queued for kilometres.
The car fire has now been extinguished and all lanes are open but traffic is still heavy.
UPDATES: Listen to the latest Time Saver Traffic update for Auckland here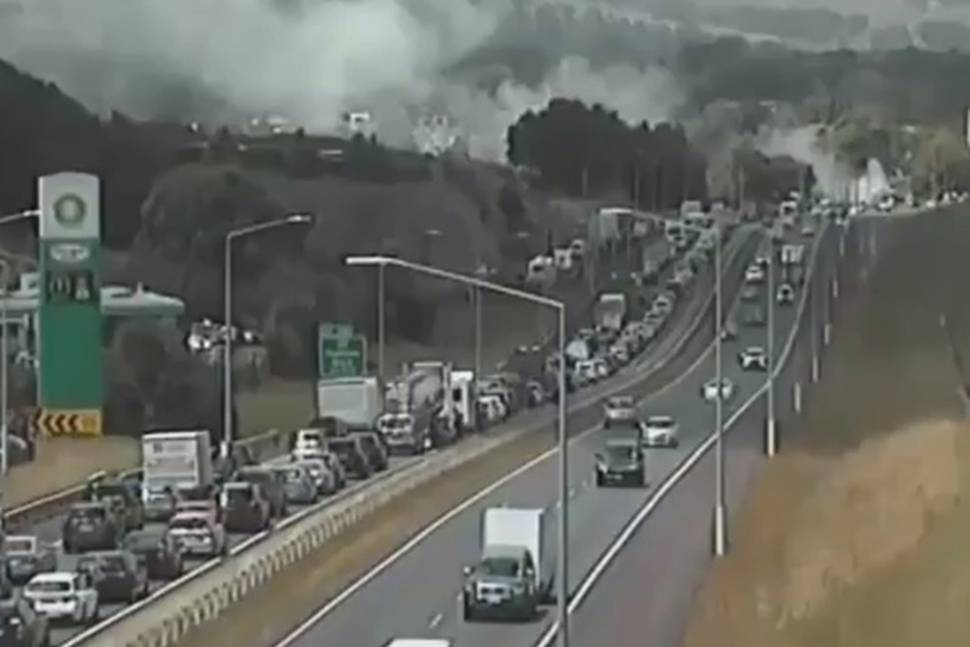 A West Harbour resident driving past said the station wagon was on fire about 200 metres from the BP service centre in southbound lanes after Papakura.
"There was a man and two women standing on the side of the road.
"The car was burnt out. All of the windows were smashed, it was black. It looked like it had been crashed in at the front. "
She said traffic was backed up through the BP service centre with people trying to get back onto the motorway.
The journey, which would usually take about 45 minutes, took her an hour and 40 minutes.
Emergency services cordoned off a left lane as they dealt with the incident.
The car has now been towed from the scene.
A Fire Service spokeswoman said two fire engines attended the fire, where the "vehicle was well involved".
"It was about 1km south of the Parker Rd overbridge heading southbound."
She said the scene was now "well and truly" cleared.
A crash was also blocking the left lane northbound on the Northern Motorway just before the Oteha Valley off-ramp around 3.30pm.
The crash has now been cleared of lanes but NZTA told motorists to still expect delays.
NZTA tweeted that the Southern Motorway was heavy from the CBD through to Greenlane, and from Highbrook to Takanini.
Frustrated motorists had already reported backlogs on motorways out of Auckland at lunchtime.
One commuter said the Northwestern Motorway, toward the city to get on to the Southern Motorway, was backed up between St Lukes and Newton Rd.
On the Southern Motorway, traffic was also heavy leading up to the Market Rd off-ramp and particularly heavy at the Redoubt Rd off-ramp all the way to Manurewa.
Meanwhile, motorists chasing the sun in the winterless north were enjoying mostly free-flowing traffic over the Harbour Bridge.
But those heading back to the city were facing congestion after a crash on the bridge.
A lane which was blocked has been cleared.
Long weekend travel
NZTA has urged travellers to plan their journeys ahead of the long weekend.
Drivers leaving Auckland this afternoon and Saturday morning, as well as drivers heading back to Auckland on Sunday or Monday, are likely to be delayed by heavy traffic volumes.
"We know that traffic will start building from about 10 o'clock on Friday morning and stay pretty busy until about 9pm, with the heaviest times between 2pm and 8pm," NZTA's Auckland highway manager Brett Gliddon said.
Heading back to Auckland on Monday, the busiest travel times are from about lunchtime through until early evening.
"If you can plan your travel outside of these times you'll be giving yourself a much less stressful start to the weekend and help ease congestion levels for everyone else."
One of the busiest highways will be the Northern Gateway Toll Road on State Highway 1 north of Auckland, which had more than 21,000 trips a day during previous anniversary weekends.
Waikato journey manager Liam Ryan said: "Roads across Bay of Plenty-Waikato will be busy with people visiting family and friends on these long weekends and these big events are likely to add to the numbers.
"So we urge travellers to allow plenty of time for their journeys, drive to the conditions, and plan ahead before leaving home."
The NZTA website has interactive maps showing the busiest routes and times.
"Our hotspots information is based on previous years' travel patterns on Anniversary Weekend and we expect that will be mirrored for the weekend to follow with Waitangi Day falling on the Monday," Ryan said.
"They are predictions and are subject to change based on weather or other factors, and we encourage people to check the travel section of our website or our social media pages so they can know the road conditions before they start their journey."
Traffic hotspots
SH1 Whangarei
• Northbound:
Friday 11am-7pm
Heaviest 2pm-6pm
• Southbound:
Friday 7am-4pm
Monday 10.30am-3.30pm
SH1 Puhoi-Wellsford
• Northbound:
Friday 11am-8pm
Heaviest Noon-6.30pm
Saturday 8.30am-3pm
• Southbound:
Monday 9.30am-6.30pm
Heaviest 10.30am-5pm
SH1 Takanini
• Southbound:
Friday 9.30am-9pm
Heaviest 11am-8pm
Saturday 7.30am-5pm
Heaviest 8.30am-1pm
Sunday 8am - noon
Heaviest 9am-11am
• Northbound:
Sunday Noon-7.20pm
Heaviest 2pm-6.30pm
Monday 10.30am-7.30pm
Heaviest 11.30am-6pm
SH1 Karapiro
• Eastbound:
Friday 1pm-7pm
Heaviest 2pm-6pm
Saturday 8.30am-12.30pm
Heaviest 9.30am-11am
• Westbound:
Monday 11am-6pm
Heaviest 3.30pm-5pm
SH1 Taupiri
• Southbound:
Friday 10am-9pm
Heaviest 11.30am-6pm
Saturday 8.30am-2.30pm
Heaviest 9.30am-1pm
Sunday 9.30am-12.30pm
• Northbound:
Friday 12.30pm-6.30pm
Heaviest 2pm-5.30pm
Sunday 2pm-7pm
Heaviest 4.30pm-6pm
Monday 1-.30am-6.30pm
Heaviest 12.30pm-4.30pm
SH2 Maramarua
• Eastbound:
Friday 10am-10pm
Saturday 8am-3pm
Heaviest 9.30am-2pm
• Westbound:
Sunday 2pm-6pm
Monday 10.30am-8.30pm
Heaviest 11.30am-7.30pm
SH2 Paeroa-Tauranga
• Eastbound:
Friday 2pm-8pm
Saturday 10.30am-2.30pm
• Westbound:
Monday 10am-5.30pm
Heaviest 11am-3.30pm
SH3 Kaimai
• Eastbound:
Friday 2pm-7pm
Heaviest 4.30pm-6pm
Saturday 10am-3pm
Sunday 10.30am-noon
• Westbound:
Monday 10.30am-6pm
Heaviest 11.30 am-5pm