Hundreds of people are still without power this morning after stormy weather wreaked havoc over the weekend - but a brief reprieve is in sight from the unseasonal weather.
Power remains out in pockets across Auckland, from Orere Point in the east to Papakura in the south, according to Vector's website.
READ MORE:
• Worst of the big wet over for most as weather clears up
Households in Epsom, Sandringham, Waterview, Hillsborough, Mission Bay, Glendowie, Stonefields, Mt Wellington, Whitford, Flat Bush, and Manurewa are also without electricity this morning.
A car hit a power pole in Maraetai last night, cutting power to 394 people, which is the largest outage in Auckland.
The worst of the storm is over and the weather is set to improve this morning for most of New Zealand.
MetService meteorologist April Clarke says there will be an "easing trend" across the country today, apart from a few pockets.
In the South Island, the east and west coasts will have showers this morning, which will ease by the afternoon when it will become fine.
In the North Island it will be mainly fine, apart from the east coast where things are set to be wet and windy.
However, that reprieve could be brief. Although the rain would ease today, with fine spells this afternoon, the forecast is set to turn foul again for many parts of the country from tomorrow, according to the MetService.
A front with rain and gales is set to strike the bottom of the South Island, before moving north on Wednesday.
A Vector spokeswoman said crews worked overnight in Auckland to "close off quite a few jobs".
"Power has been restored to most.
"There are still a number of smaller jobs crews are working on. The latest restoration is a smaller but more complex job requiring the replacement of at least seven power poles."
The seven power poles are scheduled to be repaired by 5 this evening, she said.
"Usually it takes four to six hours for each pole. Reports are still coming in about secondary faults."
The Northcote Point ferry will not be running this morning as the wharf is closed due to weather conditions, according to Auckland Transport.
A Fire Service northern communications spokesman said there were no further weather-related call-outs overnight.
The clean-up continued overnight as arborists worked into the night to try and clear debris.
Some residents told the Herald they were becoming frustrated after 24 hours in the dark.
Maria Lovelock had about 40 people at her Kawakawa Bay house on Saturday night for her husband's 50th when the power went out.
Now, they have three fridges full of food which could go to waste.
"Last night was okay. We put candles out and made the most of it, but now we've still got dishes all over the bench because we can't wash them, we're flushing the toilet with sea water, and we've got so much extra food we wouldn't normally have.
"There's hundreds of dollars [of food] we're going to have to throw out."
Lovelock hadn't seen any trees down affecting power lines in the area - or any Vector vans in the area doing repairs.
"It's been such a long time.... We would have bought extra ice but we were told the power would be back on at 12pm, then we were told it would be back on by the evening.
"Now, we've been told we'll be updated at 11.30pm, which we've basically taken to mean another night without power."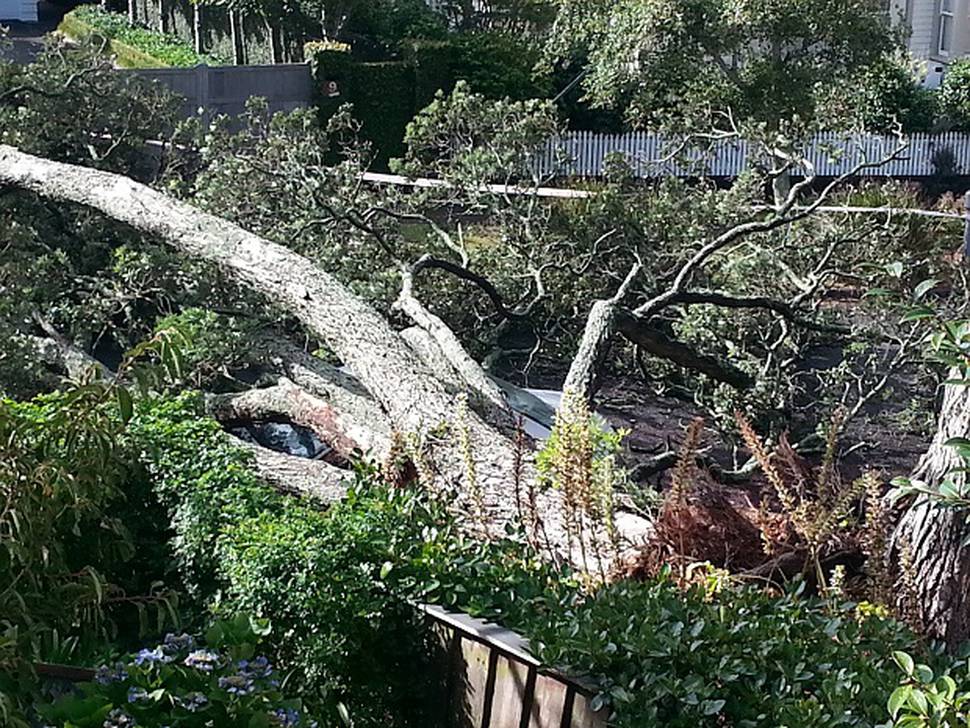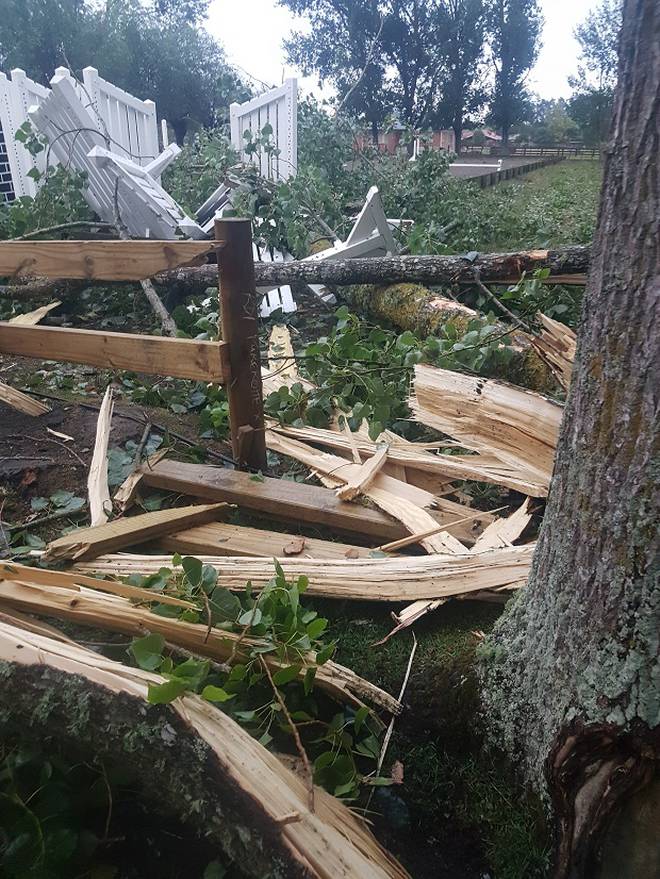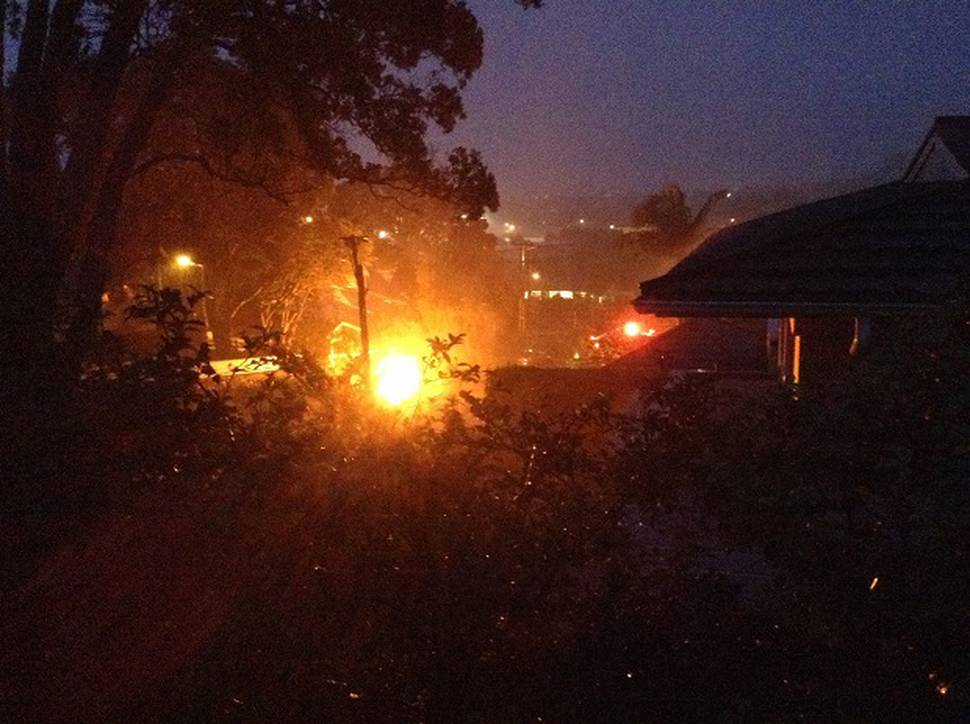 A Sandringham resident with an 18-month-old daughter, who asked not to be named, said being without power was "really frustrating".
"We've been out of the house all day because we don't have any hot water here and only candles for light.
"We went out to a restaurant for dinner and got my daughter's bottle heated up there because we couldn't do it at home."
The resident said half of his street appeared to have electricity, while the other half was still in the dark.
He wasn't sure when power was expected to be fully restored to his street.
Blockhouse Bay resident Sandra Ellison was also without power. She said they were "using camping skills" to get by.
She lived with her mother, who was in her mid 70s, and a 12-week-old puppy.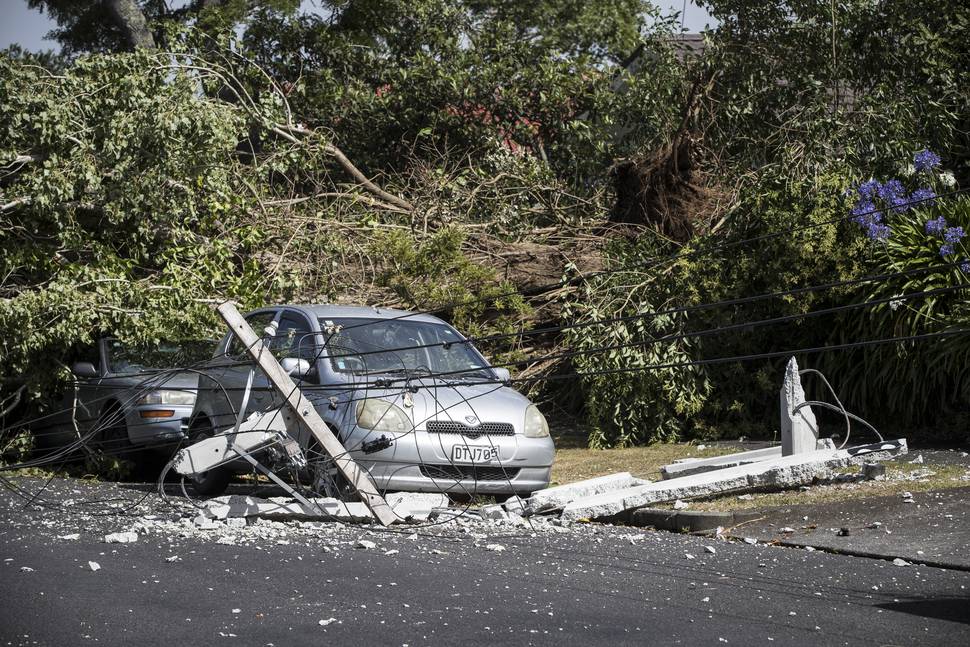 Herald
readers reported having no power for more than 24 hours in New Lynn, Wiri, Clevedon, Papakura and at Orere Point.
A Vector spokeswoman said at 9pm she wasn't able to confirm the exact number of houses without power, or when it would be fully restored.
Matt Baird, of Auckland Tree Masters, has been flat out with a colleague removing toppled trees since a call at 10.30pm on Saturday.
At 7pm last night he had just removed a tree that had fallen over into another tree in St Johns and was about to attend to a substantial branch that had crashed over a fence and house in New Windsor, followed by a tree half lifted out of the ground in Massey.
He has other bookings in Otahuhu and Manurewa.
"I'm reasonably busy," said Baird, who did not expect to finish work until 10pm last night, despite having worked through Saturday night.
Saturday night's storm did not rank with a storm that ripped through West Auckland four years ago, but was pretty reasonable, he said.
There were 15,000 Auckland homes without power at the peak of the storm, with hundreds waking up today after a second day in the dark.
Two people, who were taken to Middlemore Hospital after a tree fell on the car they were driving in on the Southern Motorway on Saturday night, remain in a stable condition this morning. Seven people were in the car.
A Police spokesman said the tree "came straight down on top of the car".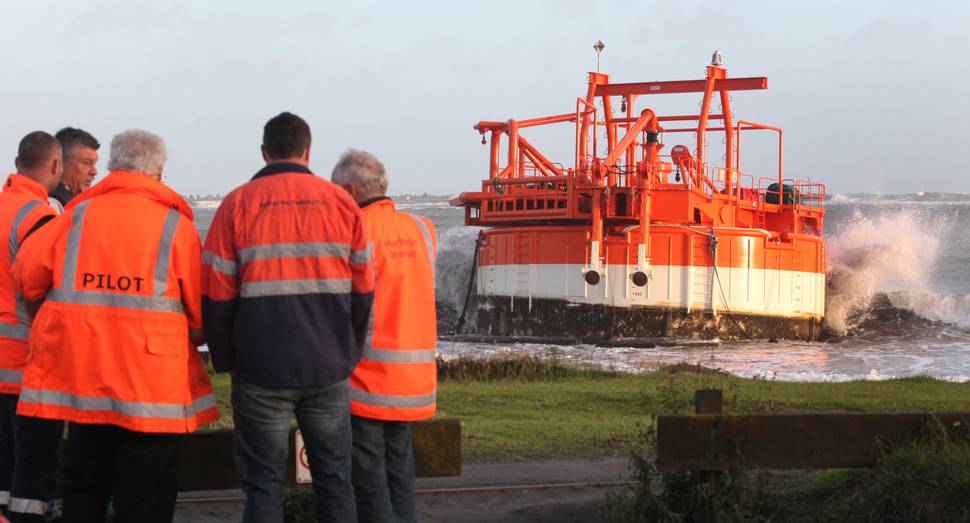 A member of the public following the vehicle pulled all seven occupants out after the crash. The passengers were aged from 5 months old to their early 50s.
Roofs lifted in the wind, trees down on roads and properties, and flooded garages kept the Fire Service busy yesterday.
Firefighters attended more than 100 weather-related call-outs nationwide on Sunday.
A majority of the call-outs were in the North Island following Saturday night's storm and patches of wild weather.
Vector said several power poles need replacing, with each requiring about four to six hours of work.
They received a report a bouncy castle had become tangled in powerlines in Kumeu.
"It's very important that people stay well clear of fallen power lines or damaged electrical equipment ...
"People using medical equipment that relies on electricity should let their retailer know and ensure they are prepared for power disruptions. If there is an immediate health threat, they should contact their health provider or call 111."
Onehunga resident Catherine Somerville-Frost said half of an 80-year-old coral tree - the width of a man's torso - came within a metre and a half of her home.
"It was impressive ... We've got big 150-year-old Norfolk Pines around us that were bending over. It was moving our wicker furniture and a barbecue across the deck which was quite impressive," Somerville-Frost said.
"Usually the wind comes in off the harbour, but this time it was more coming from the northwest, which meant it was hitting trees from a different direction which is why I think it was doing so much damage."
Somerville-Frost said she was surprised at the strength of the gusts.
"We didn't really have a warning about it. Wellington got warnings and we were told it would be bad weather, but not that it would [gust] like that. We had to rush out [during the wind] to tie down things that were loose ... I don't recall seeing any [warning] like that."
Other weather-related damage
A large tree was uprooted and fell on an Onehunga state house. Tim McCready said the house suffered damage as a result.
A tree - about 25m high - collapsed on to a police car parked at the Howick Police Station.
Steve Smith was working in the area and said the tree's trunk had snapped in half, with the other half falling on the car.
"The cop car is damaged. The windows aren't broken but it's dented panels. Half the trunk has split away and half the tree has snapped on to the cop car. There's going to be a bit of a clean-up, that's for sure.
Stuart Chapman sent in photos of a tree in Titirangi that was completely uprooted, seriously damaging a car.
Twelve passengers had to be evacuated after a tree came down on a train near Papatoetoe, none were injured.
A 250-tonne buoy broke its mooring and washed up on Ngamotu Beach in New Plymouth after strong winds that left more than 1500 homes without power in Taranaki.
Flights were cancelled in Wellington and part of Vivian St in Wellington was cordoned off because of glass falling from a building. A gust of 140km/h was recorded at Mt Kaukau.
A car was blown off the road on SH2 at the Pakipaki roundabout after gale-force winds hit in Hawke's Bay.
A 160km/h gust was recorded at Mahia Peninsula, while a gust of wind ripped a wedding reception marquee out of the ground and left it in shreds in South Taranaki.