The sun is expected to return to many parts of the country today - a welcome relief after a stormy weekend that left thousands with strewn debris to clean up.
Dozens of large trees crashed down during the peak of the storm, damaging homes, cars and power lines in many areas.
In Auckland, at least 3000 homes were still believed to be without power last night despite Vector staff working around the clock to try to repair the damage.
Some residents told the Herald they were becoming frustrated after 24 hours in the dark.
Maria Lovelock had about 40 people at her Kawakawa Bay house for her husband's 50th when the power went out on Saturday.
Now, they have three fridges full of food which could go to waste.
"Saturday night was okay. We put candles out and made the most of it, but now we've still got dishes all over the bench because we can't wash them, we're flushing the toilet with sea water, and ... there's hundreds of dollars worth [of food] we're going to have to throw out."
Lovelock hadn't seen any trees down affecting powerlines in the area -- or any Vector vans doing repairs.
"It's been such a long time ... We've been told we'll be updated at 11.30pm which we've basically taken to mean another night without power."
Others said outages in their areas weren't even showing on Vector's site. A Vector spokeswoman said at 9pm she couldn't confirm numbers, or when all power would be back.
At the peak of the storm 15,000 Auckland homes were without power as trees and branches crashed.
Twelve passengers had to be evacuated after a tree fell on a train near Papatoetoe and three people were hurt after a tree toppled on their car on the Southern Motorway. Two of the motorists remained in hospital in a stable condition last night.
In Howick, a police car parked at the local police station was damaged after a tree about 25m tall collapsed.
St John's resident Sam Green is one of many who will be out cleaning up today. The 21-year-old was in bed at 10pm on Saturday when a large tree in her family's courtyard came down.
"There were multiple big thuds," she said. "It was like a cross between an earthquake and the sound of a roof ripping off."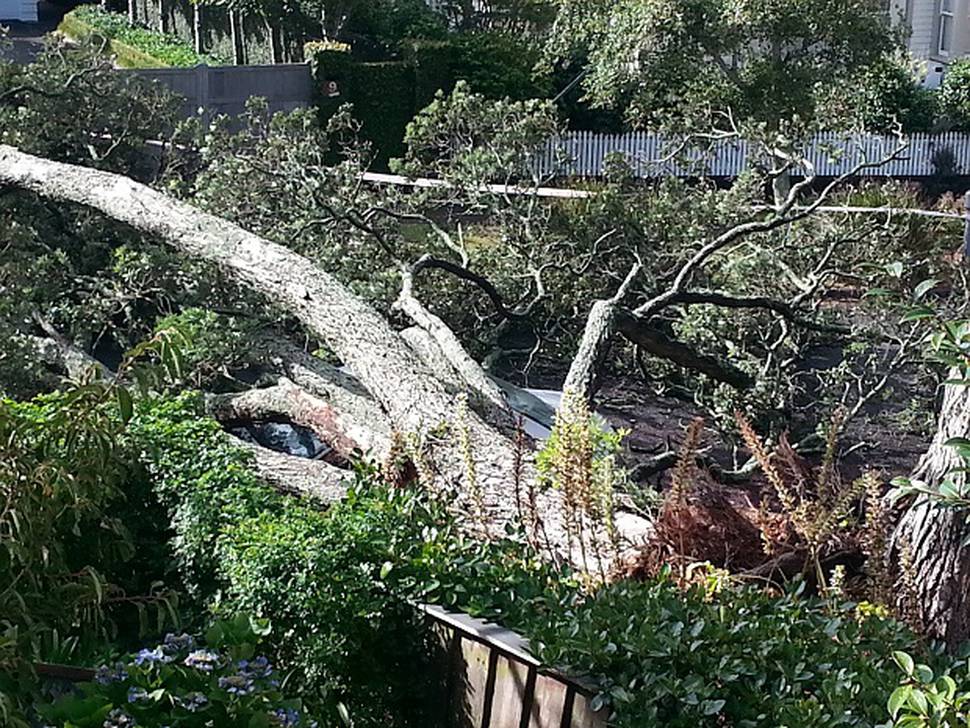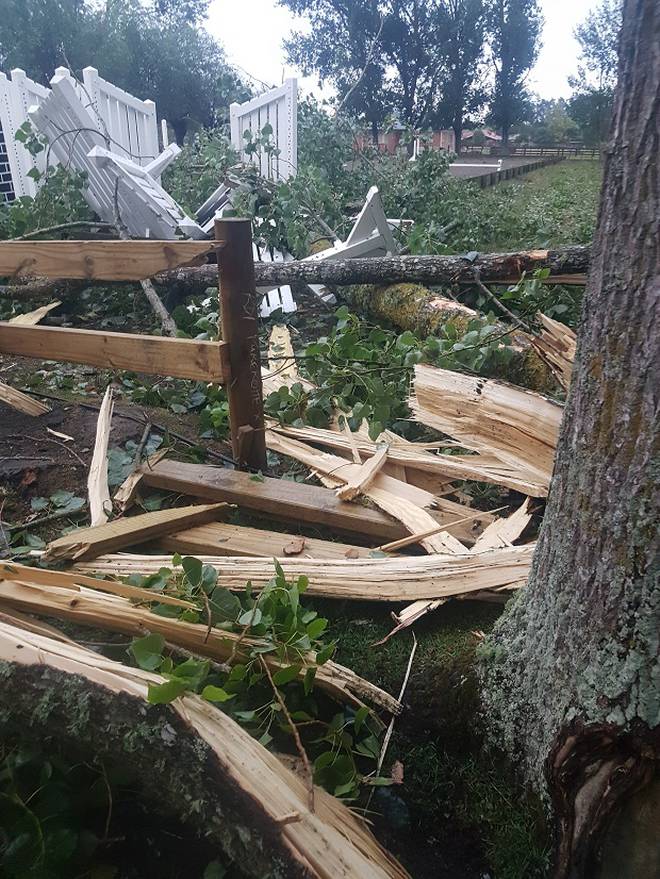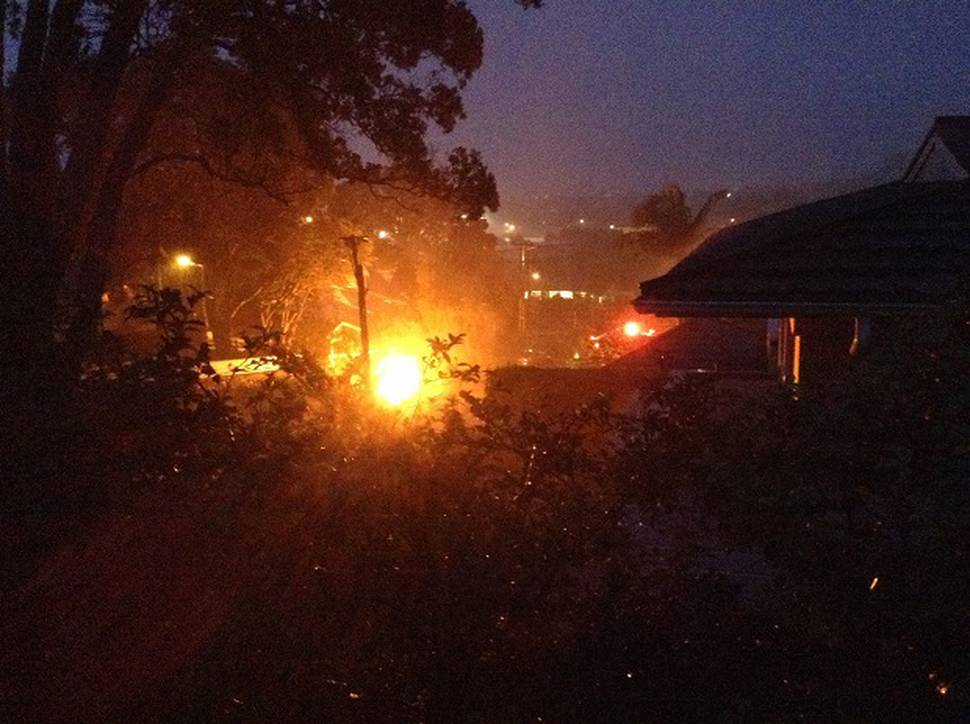 Several of the branches broke off, including one that smashed a pane of a glass door.
In other parts of the country:
• A gust of wind ripped a wedding reception marquee out of the ground and left it in shreds in South Taranaki.
• A 250-tonne buoy broke its mooring and washed up on Ngamotu Beach in New Plymouth after strong winds that left more than 1500 homes without power in Taranaki.
• Flights were cancelled in Wellington, where part of Vivian St was cordoned off after glass fell from a building. A gust of 140km/h was recorded at Mt Kaukau.
• A car was blown off the road on SH2 at the Pakipaki roundabout after gale-force winds hit in Hawke's Bay. A 160km/h gust was recorded at Mahia Peninsula at 10am.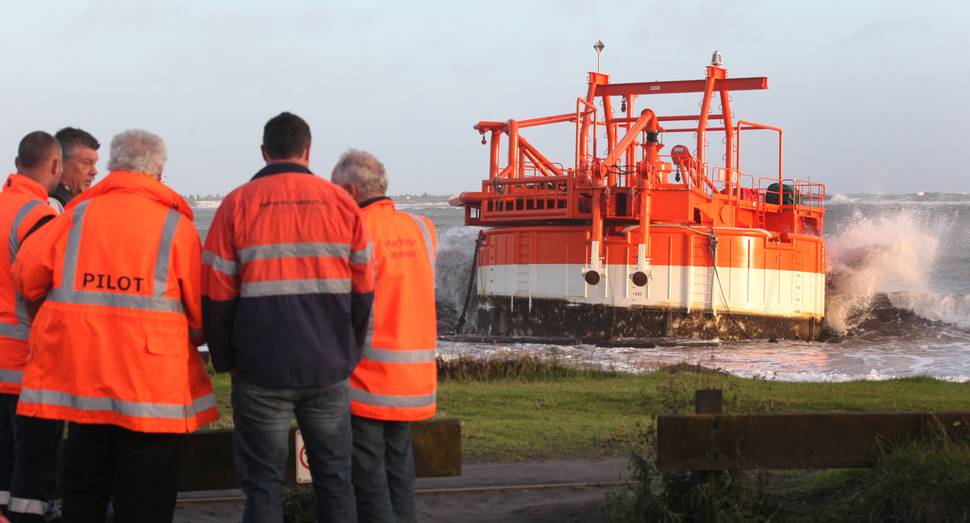 An Auckland Council spokesman said between 130 and 150 calls were logged about storm damage. The majority related to trees falling on to roads, yards, footpaths, streetlights and vehicles. There was also damage to bus shelters and debris blew off construction sites. All the calls about storm damage were given priority and contractors were dispatched as soon as possible, the spokesman said.
By last night power had been restored to the majority of homes after Vector staff battled throughout the afternoon with problems, including a bouncy castle caught in fallen powerlines near Kumeu.
Today, there's better news in store as the cleanup continues.
MetService meteorologist Sarah Sparks said there was an improving trend for most the country with the low that brought strong winds and rain moving away today.
"Wind is easing in most places. There is just a wind warning in place for coastal parts of Otago and Banks Peninsula until [this morning].
"The rest of the South Island will be pretty good. It's already clearing up on the West Coast."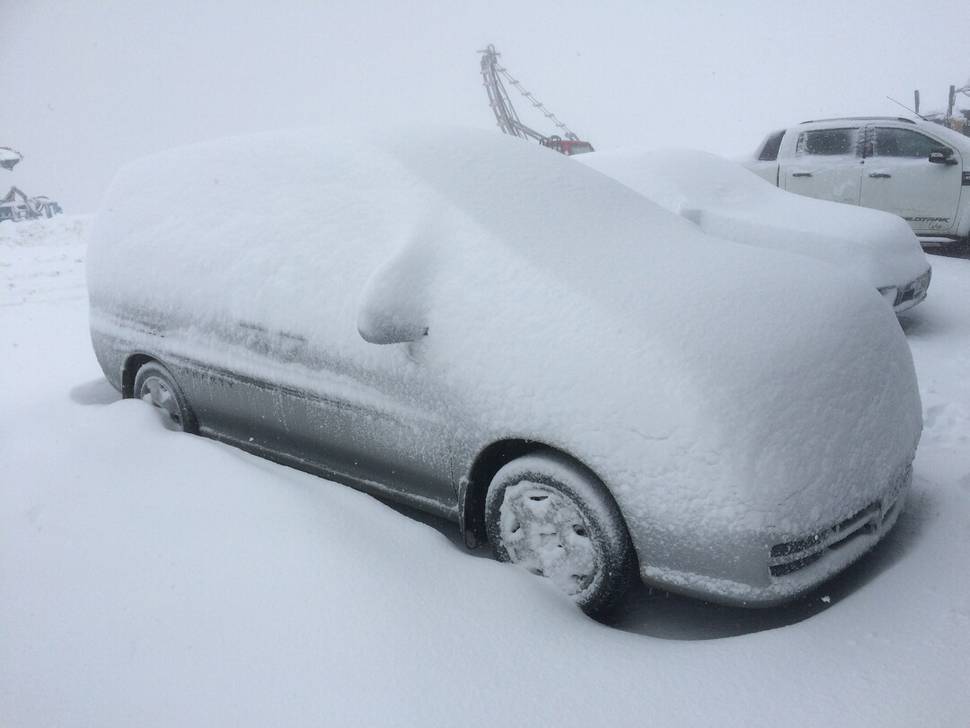 Auckland would have sunshine throughout the day, with a few morning showers and strong southwesterlies easing in the evening.
The improving trend would not last, however.
"Another front will move across the country on Wednesday," Sparks said. "It won't be as bad as in the weekend but it will bring more rain and wind."
Eastern parts of the country from southern Hawke's Bay down would have strong winds, while rain could be heavy in Fiordland and Westland.
The rest of the week would be mostly fine, she said, with fine weather indicated for Auckland Anniversary Weekend next weekend.