Amazing pictures show a massive slip blocking a major South Island route as wild weather wreaked havoc on the West Coast today.
State Highway 73 through Arthur's Pass has been closed overnight due to numerous and substantial slips.
One of the slips has seen debris strewn across the road and into the Taramakau River, blocking traffic in both directions.
All but one of the main roads into Greymouth were closed this morning after the promised weather bomb hit overnight, prompting late-night flood meetings and stranding motorists and trucks.
Only SH6 south of Hokitika was open, with occasional surface flooding.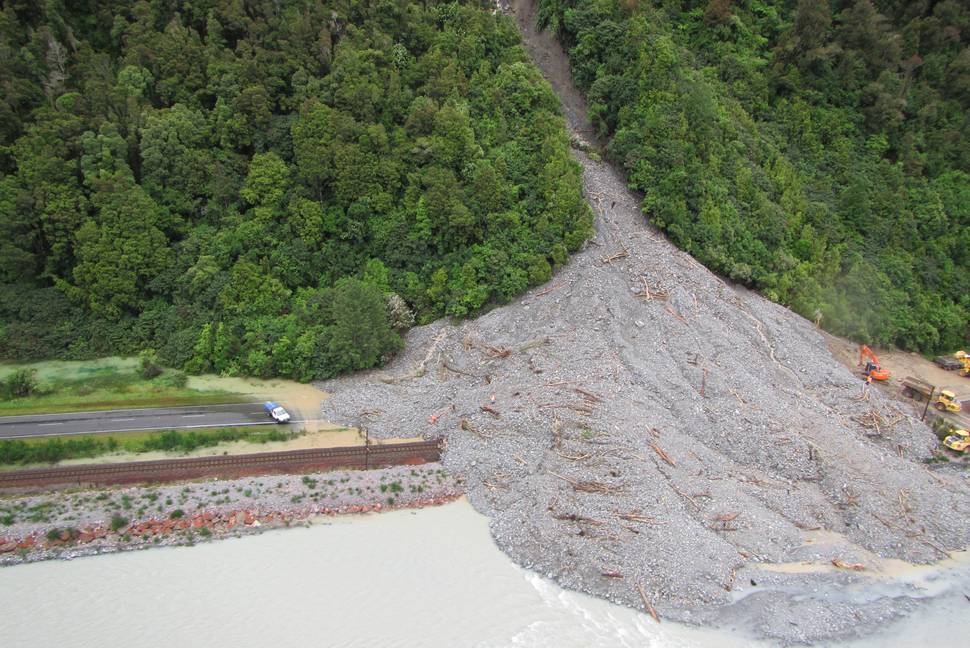 A slip just north of Barrytown closed the Coast Road, which opened and closed several times. It was closed again just before noon due to severe flooding at Wingham Park and Coal Creek, cutting off Runanga township.
The weather kicked up a gear about 9pm yesterday, after a lull, as the first thunderstorm rolled in.
Metservice recorded 209 lightning strikes over Westland from last evening.
Rotomanu farmer Katie Milne recorded 136mm of rain in 24 hours and she was told Inchonnnie got over 200mm, plus very strong winds of over 100km/h. Greymouth was soaked with 84.2mm and Hokitika with 85.6mm, but Arthur's Pass had a staggering 307.4mm.
DOC Arthur's Pass ranger Chris Stewart said several trucks were stuck in the village, in between slips on both sides.
"There's a big blowout at Wardens Creek. The rocks are right across the road. They've not been able to get to it yet (but) they've bigger problems at Otira."
Trucks were also stuck at Otira, in between slips.
Otira resident Gillian MacDougall said one slip was brought down across the highway about 11.30pm.
"There has been no one to clear it as we are blocked in on either side," MacDougall said.
SH7, between Greymouth and Reefton, was closed by deep floodwater at the Stillwater underpass, and the Taylorville-Blackball Road was only accessible to 4WD vehicles this morning.
Lewis Pass reopened to one lane about 10am.
A slip closed the road between Murchison and Westport, from the intersection with SH65 through to the intersection with SH67.
Amid fears with the rising Grey River, the Grey Flood Committee met in Greymouth after midnight and again at 5.30am. The river peaked about 8.30am but remained high for hours afterwards. The concrete flood barriers were erected across Preston Road at 4am but were not needed.
West Coast Regional Council chief executive Mike Meehan said a hydrology team closely monitored river levels throughout the region overnight and today continued to monitor the Buller, Mokihinui and Karamea rivers and tributaries.
"I'm encouraging all Coasters, and visitors to our region, to be aware of the warnings that have been issued and to keep up to date with any new information that may come out, this includes road information from the NZTA website and Metservice weather warnings," Meehan said.
In Hokitika, Westland Mayor Bruce Smith was out and about at 3.30am, after the town's rest home was evacuated as a precaution about 8 o'clock last night. It was badly flooded by localised flooding in 2015.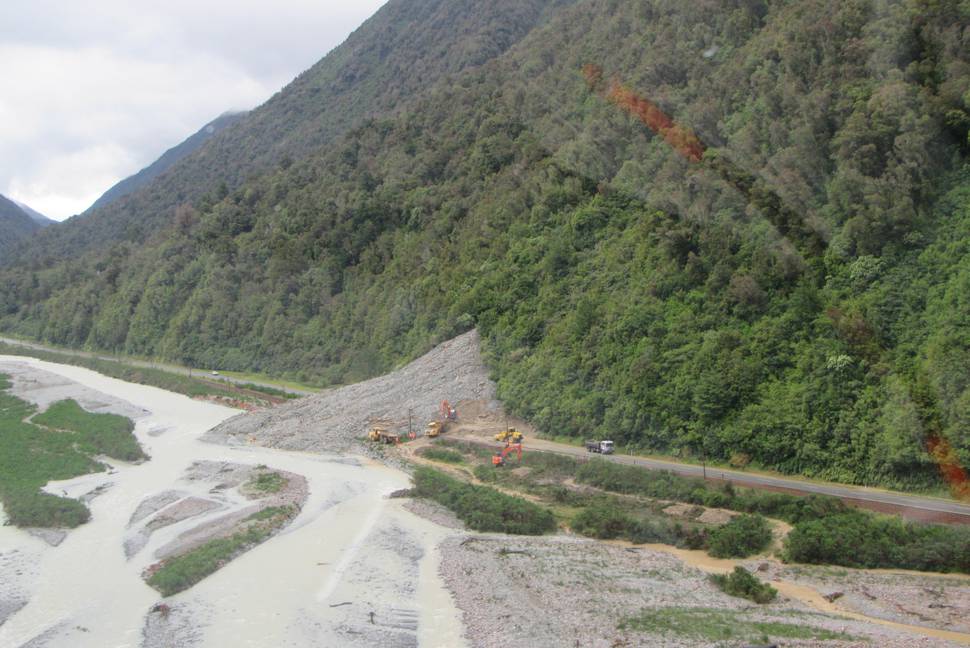 West Coast District Health Board interim manager Grey-Westland Philip Wheble said the evacuation was a precautionary measure.
"With the help of another facility, 32 residents were moved and the remaining 10 residents stayed with relatives. This morning planning is under way to return the residents."
However, in the end Hokitika barely even had surface flooding.
Smith said council staff got on to Westroads and had a "blitz" on every drain and every drain cover in town, to guard against a repeat of the 2015 flooding.
Westpower chief executive Rob Caldwell said only small pockets of consumers were without power in a number of areas.
"Staff responded to a range of wind and lightning related faults through the night, however the conditions meant that in some cases we could not initiate repairs immediately," Caldwell said.
Areas where consumers remained without power had been prioritised for repairs, which would be carried out over the course of the day, as long as it was safe to do so.
West Coast police prevention manager sergeant Vicki Walker said police staff were out and about "all night".
"We had to move all of the freedom campers, who had set up beside the Cobden Bridge, to safe ground as the Grey River was rising due to the heavy rain," Walker said.
Police also worked with civil defence in monitoring both the Blaketown and Cobden tipheads.
However, police were unaware of any serious incidents.
- Greymouth Star