Devonport shopkeepers have turned to bicycles to promote their stores after a council push to cut down on signboards cluttering up the footpath.
A number of shops in the area have started to use chained-up bicycles to get around an Auckland Council bylaw that limits the signage - including portable signs, posters, event signs and real estate signs - placed outside stores.
The concern is that having several signs outside a group of shops compromises safety for pedestrians and vehicles.
But using bikes gets around the bylaw because they are regarded as vehicles - so long as the primary use is for transport, such as an employee using one to get to work.
Devonport Chocolates is one of the shops which now has branded bicycles parked outside.
Retail general manager Caroline Everitt said they had seen a significant jump in foot traffic since they got their bike in November, with people keen to find out more about their store after spotting the bike down the road.
"We're off the main road and with 50 per cent of our business being tourists, it was essential that we get their attention.
"I realised that you can have a company vehicle parked outside. If you can have a car parked on the road, we thought: 'Surely you can have a bike'.''
Devonport Lingerie owner Donna Gustafson's bicycle is pink and is usually decorated with flowers.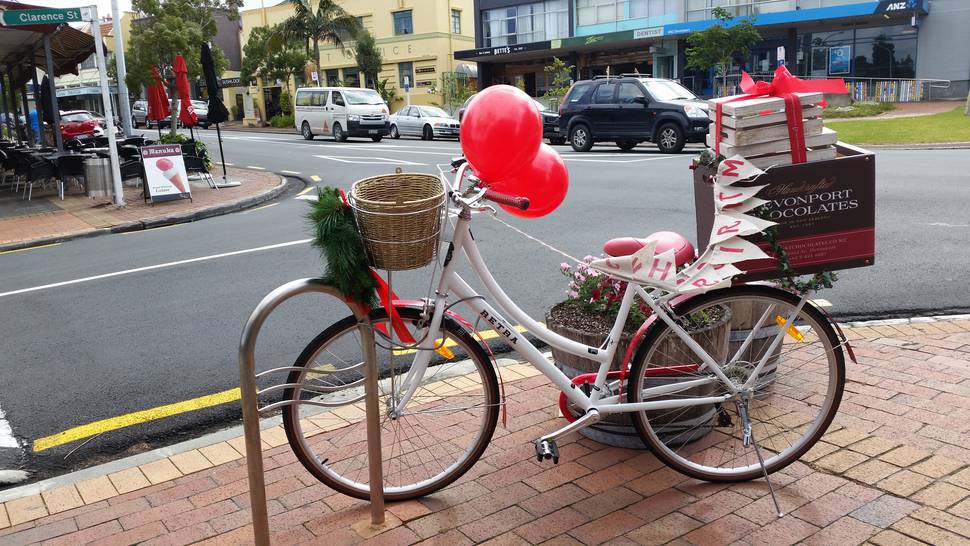 After riding her bike to and from one work one day, she decided to add a promotional sign to it to help get the word out about the shop - and also to get around rules about having a sign out front.
"It does create interest and it doesn't make the area unsafe. It makes people smile.''
Auckland Council said the bylaw was created to address public access and safety issues.
Council team leader for bylaws and compliance, Adrian Wilson, said: "The excessive use in the Devonport area was causing pedestrian access issues in a very busy and popular tourist destination.
"The council's staff worked with local businesses to reduce the clutter and looked at other forms of promotion.
"The use of pedal cycles was a local initiative devised by a few of the businesses themselves. It hasn't increased clutter or caused any unnecessary obstruction."