The search for a man missing on Lake Rotoiti has been suspended for the day.
The police dive squad spent more than eight hours searching the lake today but have not yet found the body of the man, who disappeared after he jumped off a boat on Wednesday afternoon.
The divers will resume the search tomorrow morning.
Earlier:
The search for a missing 48-year-old on Lake Rotoiti continues.
Coastguard Rotorua president Barry Grouby said the search had covered good area this morning and they were setting up for a third area.
"I think we have done about three or four of these searches before. It's an elimination process and it's time consuming.
"We will just keep going."
He said the incident highlighted the importance of correct lifejackets and communications.
"Had he have been wearing the right life jacket he would have been pulled out and no drama."
Earlier in the day the family of the man were taken out on the lake with the Police Dive Squad to point out where he was last seen.
It is understood he dived into the water to retrieve his hat and failed to resurface.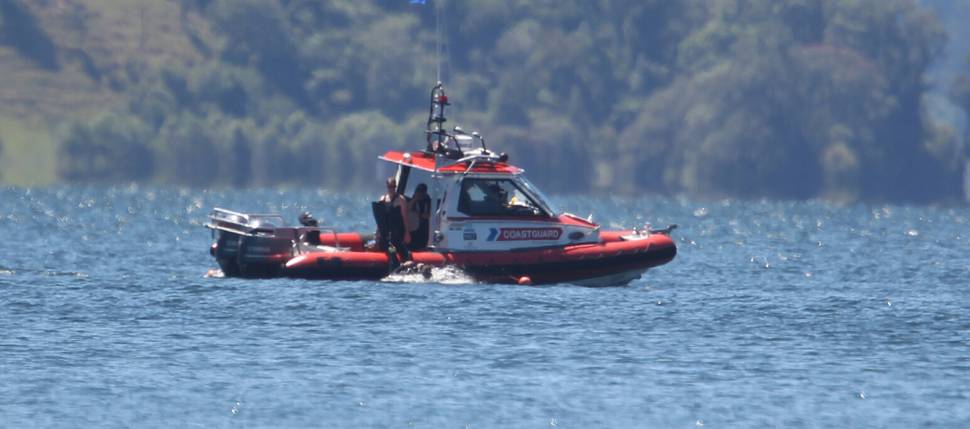 Constable Colin Fraser from Search and Rescue said the man's partner went out with the initial search to help map out the search zone.
"She will show them where it happened, then they will bring her back and the divers will go back out and start searching.
"We have all the experts here, this is what they are trained for, it's what they do for a job. There's no one better in the country that could do it."
Mr Fraser said the man had been heading out to Manupirua Thermal Springs when he lost his hat overboard.
"[They] went back to retrieve it and he got in the water to grab it and we don't know what's happened in there."
Mr Fraser said locals had opened up their homes to the family and looked after them.
The search for the man was officially changed to a recovery operation last night after police, the Coastguard and a rescue helicopter failed to find the boatie.
There will be a shoreline search and also a search of the water, with Coastguard assisting the dive squad.
Local inspector Ed Van Den Broek said late last night that the man had been with members of his family when the incident happened yesterday afternoon.
He had jumped off the boat and did not resurface.
The alarm was raised about 2.10pm.
Mr Van Den Broek said the man's family were being supported by relatives, police and Victim Support.
A reporter at the scene said about a dozen family members and friends were waiting at the wharf. She said the man's partner was in tears.