Police deny chasing a white hatchback through West Auckland yesterday, saying police vehicles attended the incident after the car was located by helicopter.
The car was seen speeding and erratically weaving in and out of traffic on Auckland's Northern motorway before it crashed into a truck in Massey yesterday afternoon.
Several people told the Herald they had seen police cars pursuing the car on State Highway 1, but police said this was not the case.
"There were several Police cars involved in the incident but not in a pursuit," a spokeswoman said.
"Police arrived at the scene after the man's car was located by the police helicopter. A pursuit was not initiated at any stage by police due to the dangerous driving of the fleeing vehicle."
A number of police attended the crash about 2pm and several marked and unmarked police cars were at the scene.
The front of the white car was badly damaged.
Earlier reports that the driver of the car was armed and had robbed a bank were incorrect, police said.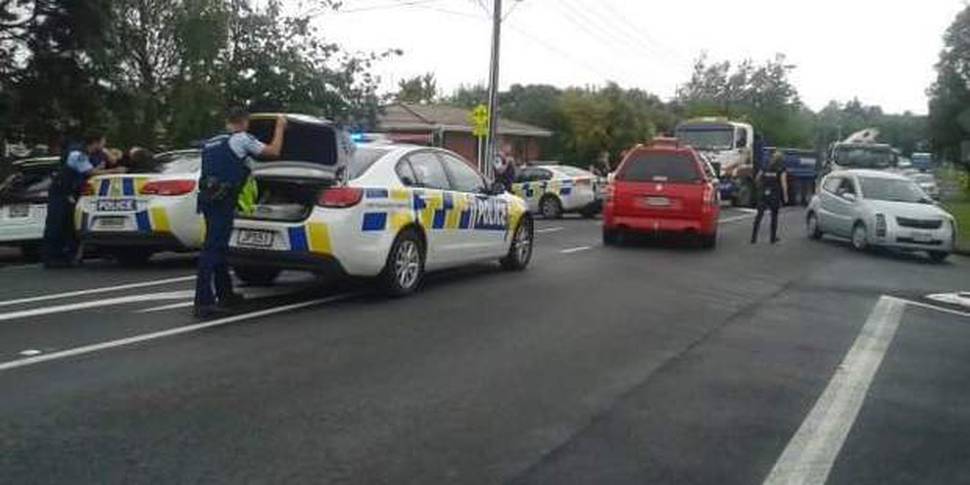 He was arrested at the scene on Don Buck Rd for a range of charges relating to unlawful possession of a weapon, possession of a pistol and operating a motor vehicle recklessly.
He will appear in court on 6th Dec in North Shore District Court.
Several people told the Herald they had seen the car driving dangerously and erratically on the Northern and Northwestern motorways.
One reader said he saw the car weaving in and out of traffic at over 100kmh near the Massey motorway onramp.
"There was little room for error and [the driver] was endangering the lives of every one around him. I then saw a police car in my mirror, lights flashing. I moved over to let [the police car] pass.
"They chased [the white car] to the Te Atatu offramp. [It] went over the bridge and back onto the motorway heading back to Massey. Where I lost sight of [the car]."
Another person who wrote the Herald said the car "was flying down State Highway 1" about 1.50pm.
"[It] was weaving in and out of traffic... [It] dived onto the motorway shoulder to avoid a truck.
"By the time I arrived at the Constellation exit he was well past a series of marked and unmarked police cars [which] were exiting behind me."