Kylee Guy's new partner, Kent Martin, has spoken about his family's lucky escape from their crumbling home during Monday's 7.8 magnitude earthquake.
Martin and Guy, widow of slain Feilding farmer Scott Guy, were at their home on the high country station Mason Hills near Mt Lyford village when they were woken at 12.02am "to the house just shaking."
"It was pretty horrific really. The first thing in our minds was just get the kids out," said Martin.
"That was pretty tricky because there was stuff falling all over the ground."
When the family finally made it outside, they were met by neighbours who had also evacuated their homes.
"Everyone was pretty scared, pretty shaken up," said Martin.
The couple's young baby would almost certainly have been crushed to death in the earthquake if not for the quick actions of his father.
Baby Husky, who is not yet one, was asleep in his cot at the 3000-hectare farm on the Inland Kaikoura Road, when the restored California bungalow began to break apart with the force of the quake.
One of the farm's owners, Mike Phillips, said the family, including Scott Guy's two sons Hunter, 8 and Drover, 6, escaped the crumbling home "by the skin of their teeth".
Phillips said as the earthquake began to take effect Martin, the station manager, grabbed baby Husky from the cot and together with Guy and the two boys the family ran outside to safety.
Minutes later, having retrieved a torch from the dog kennel and when the shaking had finally stopped, Martin made his way back into the destroyed home where he was greeted by a chilling sight.
A large block of concrete had landed in Husky's cot and would likely have killed him, Phillips said.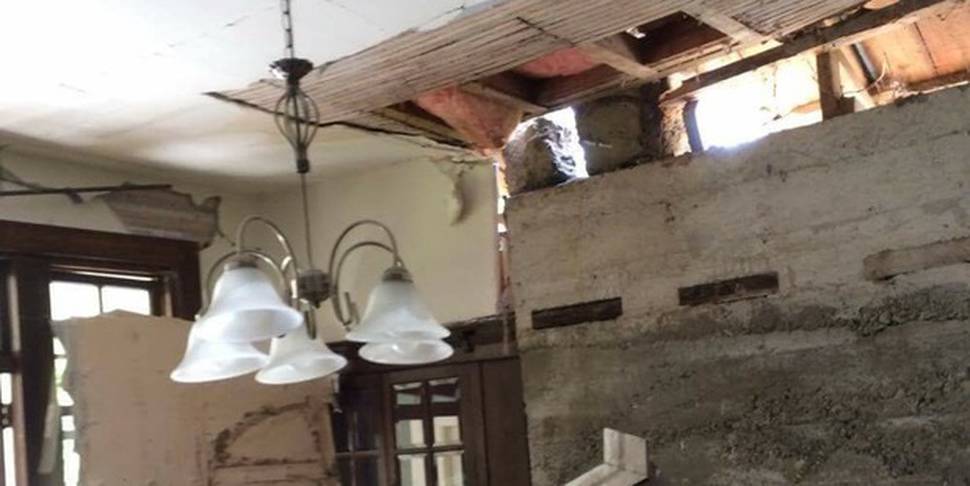 "The homestead's totalled. It's absolutely munted. They're walking around like stunned mullets down there at the moment."
Photographs of the home depict a violent scene including a collapsed stone chimney and fireplace, smashed walls and ceilings, a broken roof and guttering, piles of rubble inside, open draws and a hot water cylinder ripped from its cupboard.
Phillips said Guy was so traumatised by the event she would not set foot inside the house.
"At the moment they're living in a tent on the lawn. She won't go inside any house. She's traumatised."
A shepherd in a neighbouring cottage on the property is believed to have dived through a glass window to escape the rubble and needed stitches to his arm.
Phillips said his son Ben Phillips owns the sheep and cattle station through a joint family trust. The trust only bought the well-known station last year.
Martin managed to make contact with Ben Phillips on a satellite phone about 1am that day but reception was patchy and communication remains limited.
"He couldn't go up the road because that's all munted but he went up the riverbed to a high place and managed to get a bit of reception."
Mike Phillips said from what he knew the five-bedroom house, which had only been fully renovated in recent years, was completely destroyed.
"All their possessions everything, they're stuffed."
He said the farm was also badly damaged.
"There's no farm water. There's two 30,000 litre tanks full of water just crumpled and down the bottom of a gully, taken all the pipes out."
At the moment the lost water was not a problem Phillips said but it would be when the "big dry comes" at Christmas.
"They're supposed to start docking this week. I don't know what's going to happen there. And they've got honey contracts with Manuka Honey which is supposed to start soon. All those sort of things which may not happen."
Phillips said Mason Hills wasn't the only farm badly damaged in the region.
"There's a lot of people in the same boat. There's a lot of grief down there. It's going to be years and years and years."
Ben Phillips, who was travelling to Mason Hills to assess the damage, was now tasked with lodging insurance claims.
To help the Red Cross appeal for earthquake victims donate money here or text redcross to 3181 to make an instant $3 donation.