Squally thunderstorms and heavy rain are forecast to hit the North Island overnight, with a severe weather watch in place.
A front will cross the South Island today, according to MetService, bringing with it periods of heavy rain to the west of the mainland.
Overnight and into tomorrow, the front will head north.
For Auckland, Great Barrier Island and the Coromandel Peninsula, rainfall intensities may reach 15 to 25mm an hour, especially during any thunderstorms, MetService reported.
In Northland, rain is expected to become heavy for a time tonight and early tomorrow morning. Rainfall intensities could reach 15 to 30mm per hour in northern and eastern areas, especially during thunderstorms.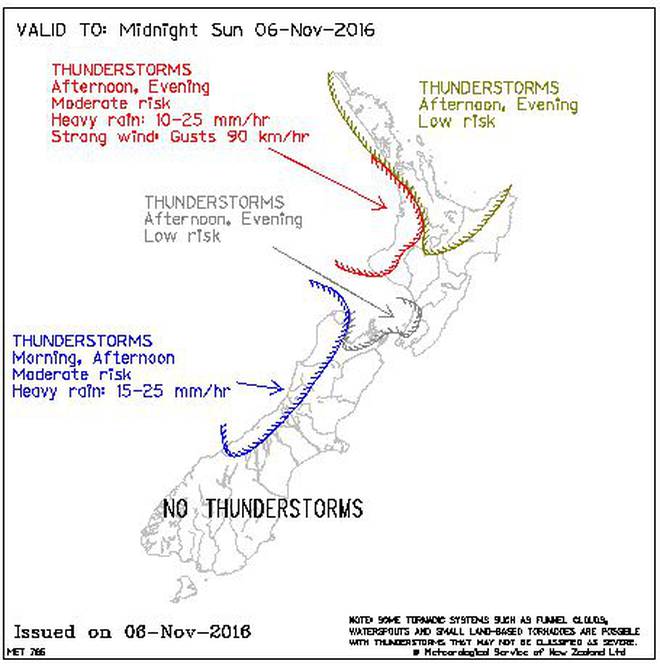 In the Bay of Plenty and east of Rotorua, rain is expected to become heavy from tonight, but should ease tomorrow afternoon.
In Taranaki rain is expected to become heavy this afternoon with possible thunderstorms, but should ease overnight or early tomorrow morning.
A severe weather watch has been issued for Northland, Auckland, Great Barrier Island, Waikato, Waitomo, the Coromandel Peninsula, Bay of Plenty, Rotorua, Taumarunui, Taupo, Tararua, Wairarapa, Taranaki, Whanganui, Manawatu, Kapiti, Horowhenua, Westland and Fiordland.