Warning: This article contains images that some readers may find distressing
An explosive audio recording played in court that captured Warriena Wright's final hours in Gable Tostee's Gold Coast apartment has revealed the New Zealander was drunk, at times incomprehensible and repeatedly violent towards the man charged with her murder.
"I've met some weird people on Tinder," the 30-year-old murder accused is heard to say, as the drunk Wright apparently swings in and out of violent episodes towards him.
The first part of the secret recording Tostee made of the 26-year-old New Zealander was played to the jury in his murder trial yesterday afternoon.
Wright plunged 14 floors to her death from Tostee's apartment on August 8, 2014.
The Crown has argued Wright was fleeing for her life when she tried to climb down off Tostee's balcony to the level below and lost her grip. Images of a police re-enactment of Wright's legs dangling off the balcony were tendered to the court yesterday.
Tostee has pleaded not guilty to murder.
In the expletive-laden tape, which runs for more than three hours, Tostee is heard to repeatedly try to calm Wright as she becomes aggressive and lashes out at him.
At one point, she accuses him of stealing her phone.
"Where's my f***ing s***? My f***ing data," she says.
Asked what it looks like, she yells, "it looks like a f***ing iPhone".
Wright insists on leaving, but Tostee tries to stop her.
"I didn't say you have to leave, I just said stop beating me up," he said.
She asks him again where her things are.
"I will f***ing destroy your jaw. It's not f***ing funny," she says.
"Look, that's your stuff right there," he replies.
"Get it for me. Get it for me. Get it for me," she yells.
"I'm calling the police, get it for me. Get it for me now.
"I'm going to call the police and they are going to come here. I'm going to call the police. You stole my f***ing phone."
"I didn't," he protests.
"I should never have given you so much to drink.
"I don't deserve this s***, I'm a nice f***ing guy."
Wright was on a two-week holiday in Australia when she matched with the then 28-year-old carpet layer, who lived in his father's Surfers Paradise apartment.
The couple spent the evening of August 7 in the apartment, drinking and having sex, before a final confrontation was followed by Tostee locking her on his balcony.
Soon after, she plunged 14 floors to her death.
The downstairs neighbour testified that she was woken by something that sounded like furniture being thrown around the apartment above her, before hearing a panicked woman crying, "No, no, no".
She opened her balcony door to see Wright's legs dangling before her, then watched as she fell to the driveway below, clipping her balcony rail in the fall.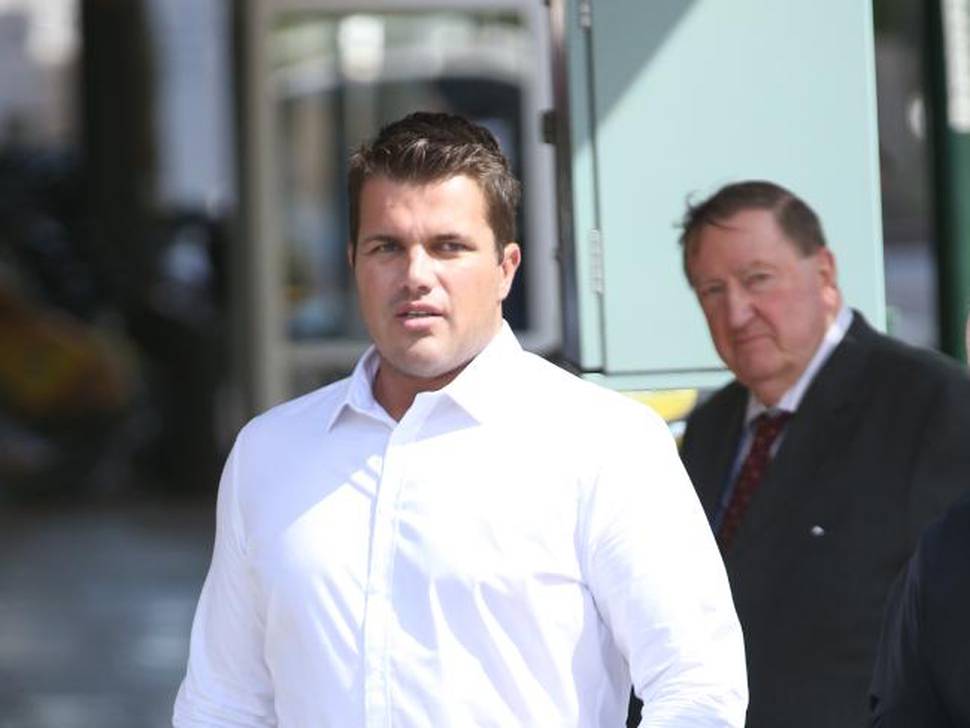 Wright died of extensive head injuries.
The 30-year-old displayed no emotion in the dock of the Brisbane Supreme Court on Monday, as the audio of him and Wright was played for the jury.
To the background sounds of James Blunt and Kanye West, among others, Tostee is heard to profess an apparently healthy self-confidence, when Wright compliments his good-looking feet.
"I know, everything's good-looking with me," he tells her.
"But I won't look like that if you keep beating me up. I'll look like tenderised meat."
At one point, Wright tells him the decorative rocks on his coffee table are gods, before apparently throwing them at him.
He tells her he gave her too much to drink, but it apparently does not dull his attraction to his Tinder date.
"I'm totally flattered my vodka has done this to you," he says to her.
"You're kind of mental but really cute in a way."
As opposed to his date, Tostee sounds relatively sober, which he acknowledges.
"You're so much drunker than me, I need to catch up," he says.
The trial, before Justice John Byrne, is continuing.