New Zealand artist Reuben Paterson is best known for his large-scale glitter-encrusted public murals and sculptures.
But tonight, in his newly adopted home town of New Plymouth, his work Ki te Aroha e Ipo will go under the hammer to help raise money for the Taranaki Women's refuge.
The 1200 x 1200mm glitter and synthetic polymer on canvas floral work would normally be priced at about $17,000 in a dealer gallery, Paterson said.
"This is my first auction to be involved specifically for New Plymouth since I've been living here," he said.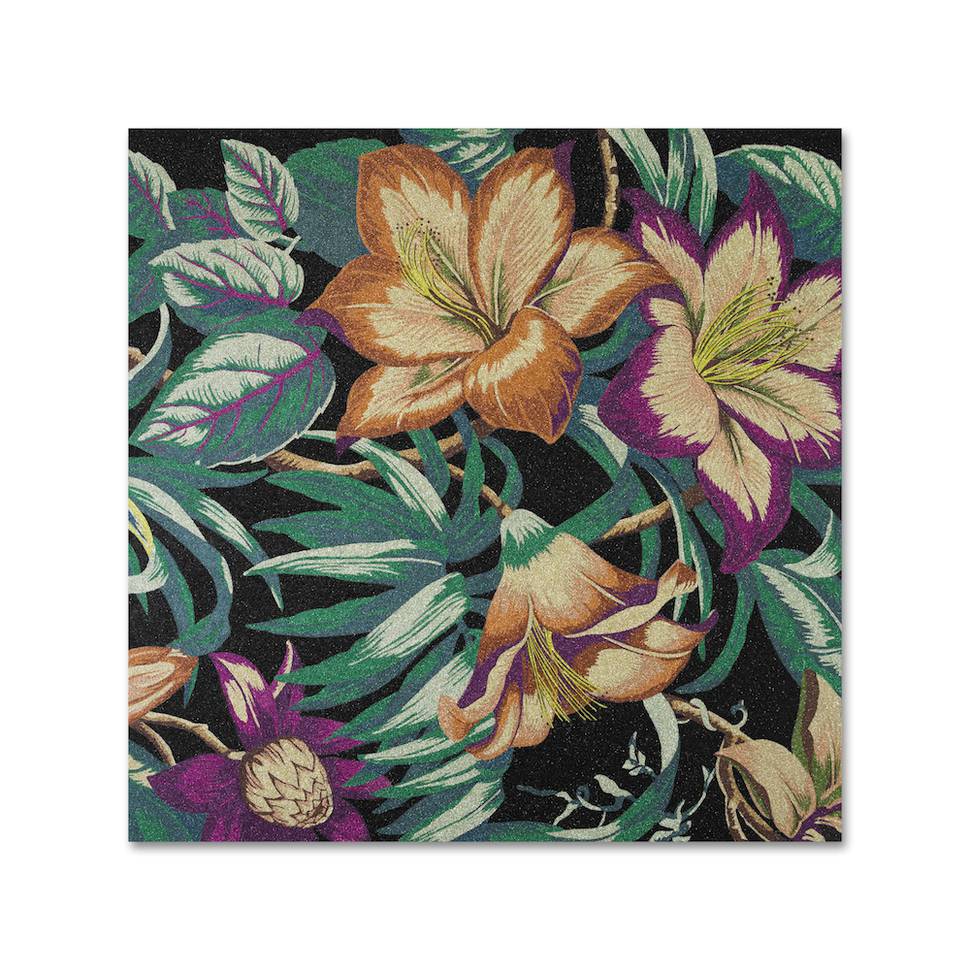 He said the refuge was an important and special cause that he wanted to support by gifting proceeds from the work, which will be sold at an auction in New Plymouth's Novotel, alongside works by local artists Marianne Muggeridge, John McLean, Jordan Barnes and others.
"Every auction is for an important and special cause - because they help create and nurture this small community but refuge is very important - more so because Women's Refuge Taranaki also runs the Aspire Men's Project, where men can learn more about relationship dynamics," Paterson said.
Taranaki Women's Refuge is 65 per cent Government funded, but there is still a substantial shortfall to cover other essential services, so fundraising is always necessary, spokeswoman Sherryl Kiely Henning said.
In September, the Government announced more than 50 changes would be made to the Domestic Violence Act - including creating new offences of non-fatal strangulation, coercion to marry, and assault on a family member.
The changes will cost about $130 million over four years - none of which will go towards organisations like Women's Refuge.
New Zealand has the highest reported rate of intimate partner violence in the developed world and last year police attended about 105,000 domestic violence incidents.
But if all incidents were reported, they estimate they would have attended at least 525,000 calls for help.
Children are present at about 80 per cent of all violent incidents in the home.
Kiely Henning said the number of artworks donated for the cause was overwhelming, and estimated the total value of artworks and jewellery at more than $100,000.
Contact womensrefugeevents@gmail.com to organise placing phone bid on the night. To view the works, go to Taranaki Women's Refuge on Facebook.
Taranaki Women's Refuge Art Auction:
When: Tonight from 5.30pm, auction starts at 7pm.
Where: Novotel New Plymouth, Corner of Hobson and Leach Streets.
Cost: General Admission $10, corporate tables of nine by appointment.
Contact: womensrefugeevents@gmail.com for details.
Where to get help:
If you're in danger NOW:
• Phone the police on 111 or ask neighbours or friends to ring for you
• Run outside and head for where there are other people
• Scream for help so that your neighbours can hear you
• Take the children with you
• Don't stop to get anything else
• If you are being abused, remember it's not your fault. Violence is never okay
Where to go for help or more information:
• Women's Refuge: Free national crisisline operates 24/7 - 0800 REFUGE or 0800 733 843 www.womensrefuge.org.nz
• Shine, free national helpline 9am- 11pm every day - 0508 744 633 www.2shine.org.nz
• It's Not OK: Information line 0800 456 450 www.areyouok.org.nz
• Shakti: Providing specialist cultural services for African, Asian and Middle Eastern women and their children. Crisisline 24/7 0800 742 584
• Ministry of Justice: www.justice.govt.nz/family-justice/domestic-violence
• National Network of Stopping Violence: www.nnsvs.org.nz
• White Ribbon: Aiming to eliminate men's violence towards women, focusing this year on sexual violence and the issue of consent. www.whiteribbon.org.nz