Drones will be flying into Christmas stockings this year as prices hit an all-time low.
The remote control devices have rapidly become a hit with Kiwis - being used by commercial photographers, surveyors and recreational fishers who are snapping up a drone which can take your fishing line out to sea.
Pizza company Dominos is also in the development phase of using drones to deliver their wares.
It's not only the way in which drones can be used which has rapidly evolved since they first went on the market in New Zealand about four years ago.
So too has their price - with New Zealanders now able to pick up a drone for less than $150; a far cry from remote controlled craft with price tags of about $5000 when they first went on sale.
RC Hobby City store manager John Parkin said $130 will get you a Hubsan X4 mini drone, complete with a video camera
The store's most popular drone is a Traxxas Alias model, which has a price of $200 without a camera. It can fly for about 15 minutes.
Action camera company GoPro unveiled its first drone last week. The $1300, foldable Karma drone sells without an attached GoPro camera.
For those with bigger budgets, a DJI Phanton 4 - with a camera and the ability to remain in the air for up to 28 minutes - will set you back $3000.
Parkin said the popularity of drones has seen his store sell about 15 drones a month - previously he was selling just one a month.
"Everybody wants one. They're in demand ... it's a cool toy to have."
He said would-be drone owners should be aware that price was an indication of a machines abilities and potential use; cheaper ones tend to be made out of plastic, whereas pricier ones are made from aluminium and carbon fibre.
"The bigger your drone, the more weight it can carry and the more expensive it is," he said.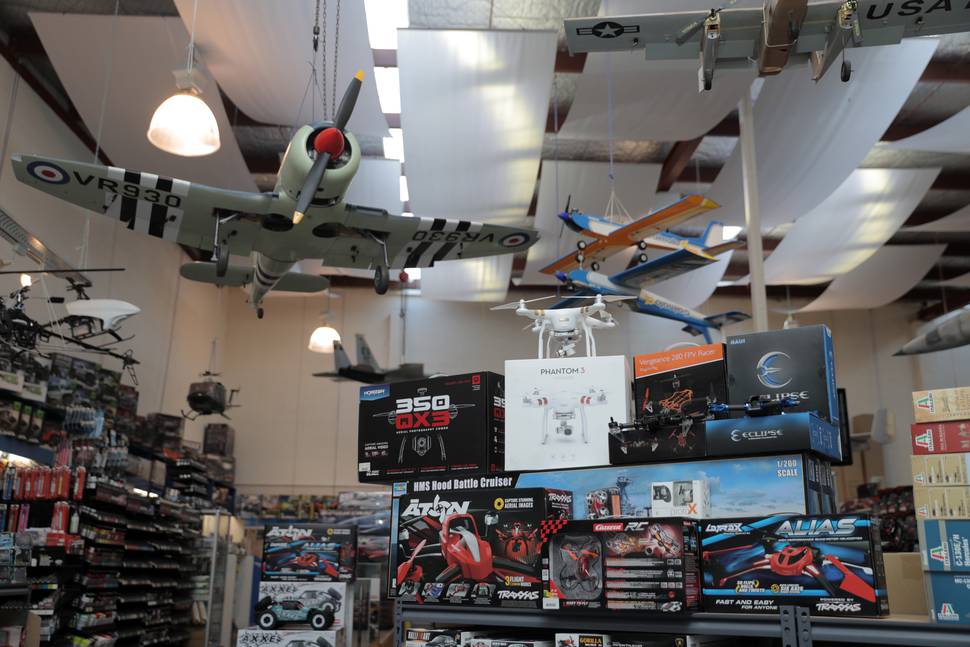 Photographer Sam Kynman-Cole got his first drone three years ago because he was interested in photography.
He bought it second hand for $1500 and tried to stick his GoPro onto it with "limited success". He said flying it was a nightmare.
Kynman-Cole has gone on to buy two more drones. With each upgrade the flying and capabilities get better, he said.
"With the Phantom 4, you can have no clue on how to fly and still be quite competent."
Kynman-Cole started his photography business TopVIEW Photography 18 months ago.
His best drone session came when he snapped orcas in Army Bay. The incident ended up in national media after he recently caught a kayaker jumping into the water to play with the whales.
"I was totally surprised to see him get in the water. It looked really cool ... It was certainly a close encounter."