A fire that engulfed a West Auckland factory is being treated as suspicious.
More than 100 firefighters have been battling the blaze which broke out at Total Plastics on Aetna Place in Henderson about 10pm.
Advance Japanese Carparts is also based in the two storied building and both businesses are believed to have been completely destroyed.
A Fire Service spokesman said firefighters have been dealing with fallen powerlines, explosive debris, water runoff, dense smoke and unknown chemicals.
He confirmed the fire was being treated as suspicious.
By midnight all of Auckland's four aerial appliances were at the scene, along with 22 fire engines.
The spokesman said firefighters, including crews from all over the Auckland region, would fight the blaze through the night. They would rotate to make sure the region was still covered and a shift change would occur at 7am.
Civil Defence were last night working alongside the Fire Service in monitoring the situation and advised Henderson residents to stay inside and keep doors and windows closed.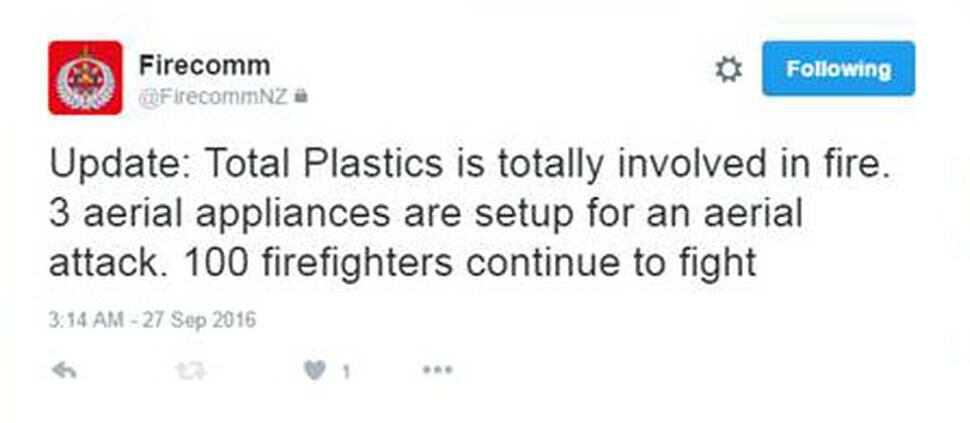 The Fire Service spokesman said he couldn't remember the last time there had been such a large fire in Auckland.
"Fire alarm levels go up to five. It was a fourth alarm fire; that's quite rare.
"It may well be the biggest fire in Auckland this year."
Eye-witnesses described hearing large explosions and seeing fireballs, including at least one which erupted 60 metres in the air. One person described the fire as looking like a volcano.
Resident Julie Beazer said there had been lots of thick black smoke and "big embers in the sky".
There were also "big explosions and white arcing like electrical explosions."
Sunnyvale resident Mandy Vanderwee said she saw the smoke from her deck when the fire started.
"It was lovely white smoke until about three past ten and then it turned black."
"I knew it was an industrial area. I was hoping it was just a factory and there were no people trapped."
A fire has broken out in a plastics factory in Henderson
Millbrook Rd resident Devon Neaves said she was inside when she got a call from a friend asking if her home was on fire.
She went outside and saw flames that were higher than the trees and powerlines near her place.
She phoned her landlord who lives onsite.
"Just as he came out there was a massive, massive explosion and then a mushroom cloud".
Herald
readers have sent in pictures from as far as the Waitakere Ranges.
"The plume of smoke over half of Henderson is enormous," said Oratia resident Bev Davidson.
Other readers have told the Herald they heard loud bangs and the sound of "metal crashing" from several kilometres away.
A fire has broken out in a plastics factory in Henderson
A local resident described the fire as the biggest he'd ever seen.
"It's monstrous."
Total Plastics started in 1970. According to its website, it specialises in injection moulding and electroplating on plastic. It also processes all types of plastics and does specialist engineering.
Auckland Council's Head of Emergency Operations Aaron Davis said Auckland Civil Defence would provide any support needed. Train services on the western rail line were stopped earlier in the night.
"At the moment we are on standby to help with weather assessments, provide assistance if evacuation is needed (not currently required) and make sure that Auckland Council's other services, like pollution response, are available.
"We urge people in the Henderson area to remain indoors and keep doors and windows closed," he says.
The council's pollution response team was also providing assistance.