A "brazen" burglar has allegedly been caught staring down the lens of a CCTV camera - and then stealing from the Auckland home anyway.
The man was filmed at a Pakuranga address on Friday morning, entering the property as the owner slept.
Footage shows him casually entering the Swan Crescent section with his jacket tied around his waist. He looks directly into the security camera, before putting his jacket on and using it to slightly obscure his face.
He can then be seen walking around the house, before he leaves with an iPad. He then returns and leaves with a shopping bag.
Campbell Anderson said he was asleep when the man scaled their fence and began "casing out the property" at about 5.30am.
"He saw the camera but didn't care, it wasn't his first rodeo," he said.
His wife, Claire Farrelly, said the footage showed the man staying on the property until shortly before 6am when he left with one of their re-usable shopping bags allegedly filled with her husband's wedding ring, a family crest ring, his wallet and an iPad.
"Our place is fully fenced with a gate, but we think he might have entered through the neighbour's fence at the back and into the property, but he has climbed over the fence to leave.
"He came in once and just stole the iPad, and then got ballsy and came in again and stole one of our recyclable shopping bags and filled it up."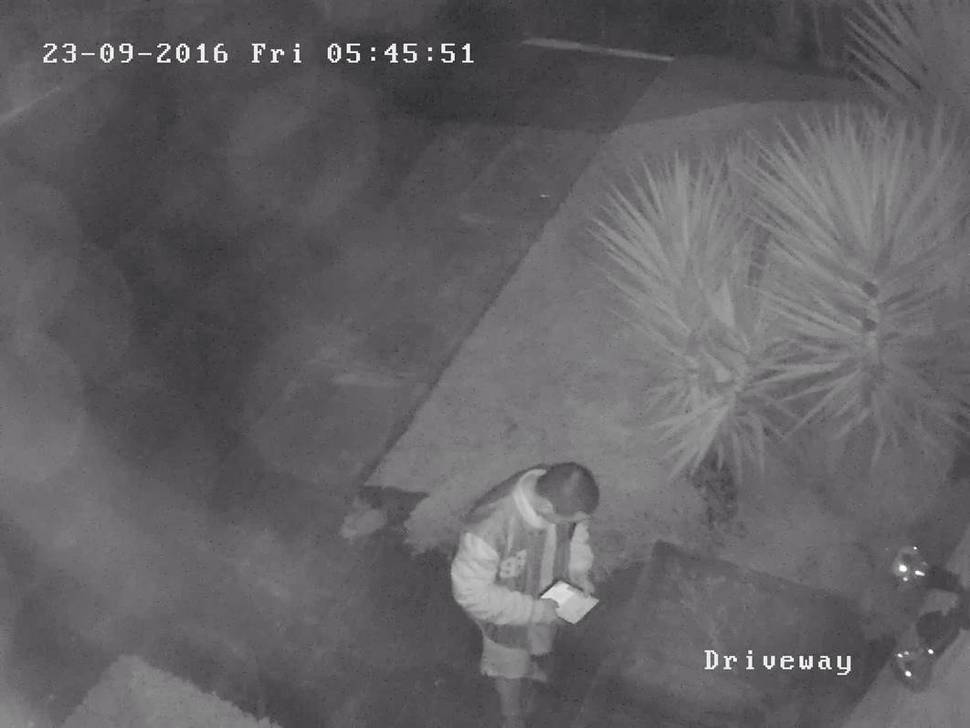 Anderson said he had taken his rings off to go the gym, and left them with his wallet at one end of the house, while he slept at the other.
His wife was away on a work trip, and he had forgotten to lock the door.
Their dog did not stir during the burglary.
"When you're most vulnerable is when you're sleeping, you think when you go to bed at night that no one is going to break into your home because you are there," said Farrelly.
"You think they are not going to be that brazen but now that they have, it takes that sense of security away.
"My sense of violation is strong, I haven't slept very well at all the last two nights."
Anderson said he was angry.
"It's just rage, I just wish I had woken up or my dog had woken up."
He discovered the burglary when he went to buy some milk on Friday morning.
"I realised [my wallet] wasn't there and I started looking and noticed the other stuff, so started looking through the CCTV.
"When I finally found it, because I was looking for times like 12am and 1am, there he was - coming right up to the camera.
"I was shaking with rage."
The couple wed just three months ago, so the loss of Anderson's wedding ring was a blow. So was losing his family's crest ring, which commemorated his Scottish lineage.
They have lived at the house for nearly eight years, and had security cameras installed last year after learning of a plot to steal their dog.
Anderson reported the incident to police on Friday morning.
Police said they were investigating the incident, that was attended by an officer and forensic evidence collected.
"The matter is now being investigated by the Counties Manukau East Tactical Crime Unit," said a police spokeswoman.
UPDATE: Sergeant John Roberts said a 23-year-old man was arrested and charged with burglary about 4pm.
Some of the stolen property had been recovered, and Roberts said it was in the process of being returned to the owners.
Farrelly said the couple were grateful of the work by police and the public.
"The rings have been located and are in the process of being returned. Counties Manukau Police were amazing today - especially Sergeant John Roberts who bent over backwards to locate the intruder, keep us informed and specifically to get back the rings," she said.
"We couldn't speak highly enough of his work today. Such a great response from the police goes a long way to making us feel more secure once again."