The hunt for a local hero who saved a boy from two out of control dogs has come to an end with thanks and tears from the 8-year-old's family.
Ihaia Herewini pulled the dogs off Cameron Bidois, who had been knocked to the ground, and yelled at them to get away, ending the ferocious attack on Monday.
The boy's mum Kryselle Swinton, was so happy to find the man that she cried when she thanked him for saving her boy.
"I'm just really thankful. I still can't believe that this happened to him. I'm so thankful that [Mr Herewini] stopped and helped my boy.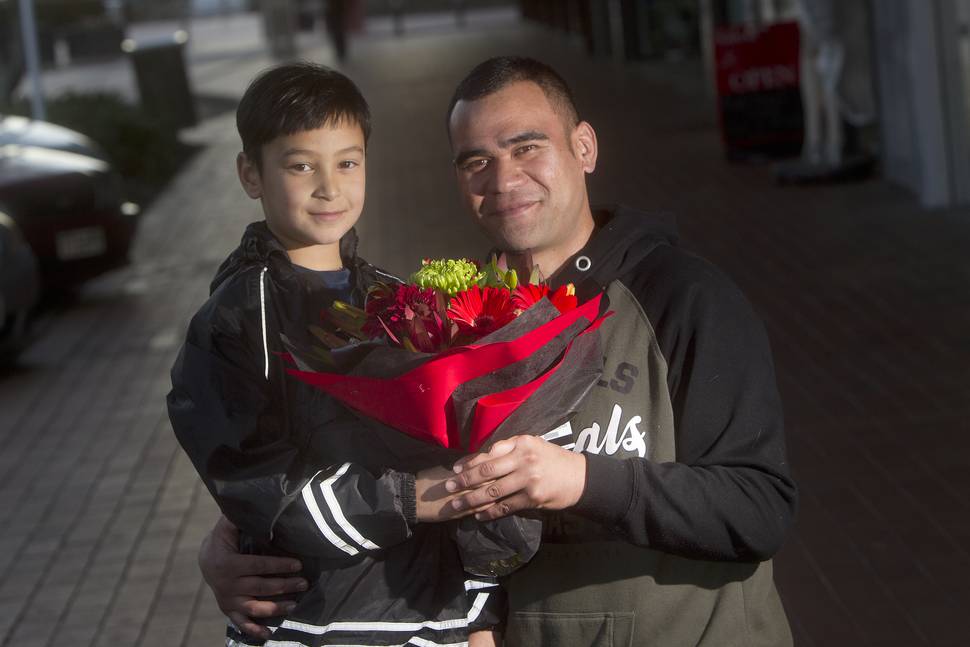 "Not a lot of kids come out of those sort of attacks. I keep thinking what would have happened if it was his face? The fear of not being able to see his face again is horrible."
Cameron has six bite wounds on his legs and side - four of them deep enough to need paper stitches.
Mr Herewini has two boys who attend Selwyn School with young Cameron.
"I was picking my boys up from school and I heard a lot of crying and yelling.
"I was a little bit scared, I didn't really know what had happened. I ran down when I saw the dogs chasing him, but I didn't realise he had already been bitten.
"I was a little bit hesitant but he is just a little kid and I'm a grown adult.
"The dogs ran away, I went around the corner down the alley way to see where they had gone and saw a hole under a fence and dog chains broken."
He said there were other kids around who he told to stay with Cameron while he made sure the dogs were gone.
"I just comforted him and then he just wanted to get back to see his sister. I made sure the kids who were around got him to his sister safely. There was a big group of them.
"He was in a little bit of shock.
"I think the dogs should be put down. They have had a taste of blood. That's hard to say because I love dogs."
He said he was sure animal control would make the right decision, whatever they decided.
"I wish the boy all the best and his parents, I just hope everyone would do the same thing."
The Rotorua Lakes Council's Animal Control Unit has the two dogs in their possession and an investigation is under way.