New Zealand is hunkering down for the big chill tonight - including in Wellington where footy fans are set to be endure a low of -1C for the Super Rugby final.
A sell-out 35,000 crowd at Westpac Stadium are set to be welcomed by strong winds and rain as they watch the Hurricanes taking on the Lions for Super Rugby supremacy.
Further north, hurricane-force winds are lashing Mt Ruapehu and surrounding areas.
Both the Turoa and Whakapapa ski fields were closed today due to blizzard conditions and an estimated 50cm of snow has fallen in the past 24 hours.
The strongest wind gusts recorded at Whakapapa measured 242km/h.
The winds are expected to drop overnight. Heavy snow and rain is forecast to continue overnight in the Hawke's Bay - and more snow is also forecast for the Taupo area.
Today's bad weather led to widespread power outages in the Hawke's Bay, Taupo, Poverty Bay and East Coast, with about 200 customers expected to be without power until at least Sunday morning.
Aucklanders have also been told to brace themselves for a bitterly cold night and day tomorrow, with polar southerlies on their way.
Power out as polar blast strikes
Wild weather has hit the country overnight, with blizzard-like conditions leading to a mass power outage and weather warnings put in place.
There are severe weather warnings over Hawke's Bay, eastern Taihape and the eastern ranges of Taupo, which is forecast for significant heavy snow and blizzard conditions, the MetService said.
"In these places a further 50 to 80cm of snow could accumulate above 700m on top of what has already fallen - and snow drifts in excess of 1m are possible. Expect lesser amounts of snow down to 300m,'' the warning said.
Hurricane-force winds are whipping Mt Ruapehu, with gales reaching 225km/h.
Philip Duncan of Weatherwatch said the winds were consistent with a category two hurricane, or category three tropical cyclone.
A large chunk of the North Island lost electricity about 10am, with reports the black-out stretched from Hawke's Bay to East Cape.
Hawke's Bay Hospital is operating on generator power and says everyone is safe. However, the hospital is appealing to the public to please leave the Emergency Department for emergencies only until power is fully restored in Hawke's Bay.
Lines company Unison said just after 1pm that power had been restored to most parts of the Hawke's Bay region and work was now being done to provide "critical load capacity,'' should there be another mass outage in the next few hours.
People were being encouraged to prepare in an event of another outage throughout the day or later tonight because of heavy snow on local transmission lines.
A Transpower spokeswoman said: "We are trying to keep power on in the region. However, weather conditions are making it difficult to gain physical access to the lines."
People were also warned to always treat powerlines as live.
Heavy rain is forecast over lower lying areas of the Hawke's Bay region today and overnight. And the heavy snow fall on the Kaikoura hills and ranges is set to ease later this evening.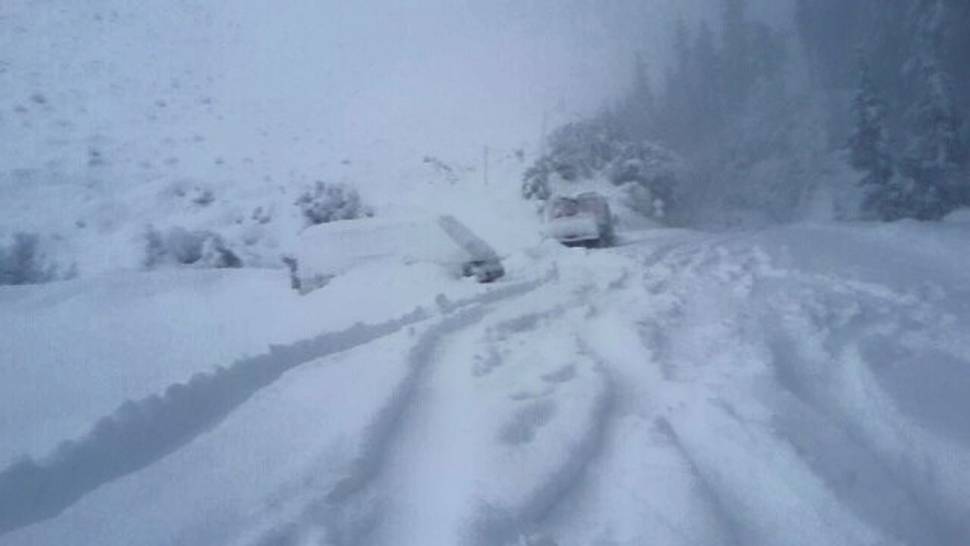 The MetService said: "Heavy snow can cause major distruption to transport as well as significant stress to livestock, and could damage powerlines. Blizzard conditions are also likely in the ranges of the central North Island. Heavy rain has the potential to cause rivers and streams to rise rapidly, and may produce slips and surface flooding."
Motorists are also being warned to drive carefully and to the conditions.
Authorities have closed off a part of Breakwater Road, in Napier, because of a slip. The road is closed between Hardinge Road and Marine Parade and motorists in the area are being encouraged to avoid the road.
There are also road snowfall warnings in place for Napier-Taupo Road (SH5), Desert Road (SH1), Lewis Pass (SH7) and Porters Pass (SH73). Desert Road remains closed late this morning.
The bad weather this morning also meant that most sport - including all Napier-Hastings netball and dozens of children's rugby, hockey and football matches - were cancelled.
Snow fell on runners at the Taupo Marathon, which went ahead despite inclement conditions.
Police are warning motorists to stay off the roads in the Taupo and Turangi area unless it is an absolute neccessity.
They are considering closing the Eastern Arterial Link in Taupo due to the severe conditons, ahead of more snow being predicted late this afternoon.
One of the most affected places is Hawke's Bay, where the weather bomb has wreaked havoc overnight; causing a mass power outage.
Unison Networks' relationship manager, Danny Gough, said Transpower suspected the outage was caused by snow loading damage between Taupo and Hawke's Bay.
"The outage hit our region just before 3am this morning and the team worked with Transpower as they progressively restored power. Everyone was back on by about 5.30am.
"Transpower will confirm the cause of the outage once this wild weather clears, but snow damage is the suspected reason for the outage which hit Hawke's Bay through the night. Transpower has advised their contractors will patrol during daylight to assess what the damage is, but the Napier-Taupo road was closed currently which would make that challenging.''
Gough said the Hawke's Bay region was fed by Transpower's Wairakei GXP, where the fault occurred.
Customers should prepare for outages as this wild weather was set to continue for the weekend, he said.

"Our regions are being battered by severe weather, and we currently have pockets of customers out across the Taupo Plains, Esk Valley and other smaller pockets of customers in Puketetri, Pohukura and Otamauri.

"Our crews will continue working hard to restore any power outages that occur over the weekend but, in weather like this, it is imperative we make sure it is safe for our team to carry out repairs, so we will be patrolling first to ensure it is always safe before network repairs commence."

He said it was timely for customers to prepare for power outages, and to ensure they always treat fallen lines as live, and to beware of falling poles and lines.

"As part of your household emergency kit, make sure you have a battery operated radio and torch, a full gas bottle for cooking on your BBQ, and if you rely on electricity for heating, we also recommend a portable gas heater."
About 200 customers in Taupo will be without power overnight, where wild weather has wreaked havoc on the network.
Unison has managed to get the majority of its customers' power back on after the outage this morning, but those in high country and rural areas are still without electricity as access makes restoration a challenge.
Gough said the snow has caused safety issues in trying to restore power.
"We should have a better idea tomorrow morning about when we can restore power. In the meantime, we are advising these customers to prepare for long periods without power and thank them for their patience as we work to reconnect those who are experiencing no power."
Households in Flaxmere will without power late this afternoon, with Unison advising they are "working tirelessly" to get the area sorted.
"Our restoration process is determined by Transpower. They are experiencing an issue with a switch that supplies Flaxmere, which needs to be sorted before Unison can get customers in the area back on," Gough said.
WeatherWatch said it had received several reports of heavy snowfall in various inland areas, while snow showers peppered parts of the eastern South Island to sea level overnight.
Snow is expected to fall in Canterbury today from Banks Peninsula south with light flurries down to sea level. Snow fell overnight on Dunedin and Otago, but forecasters said the worst of the weather was shifting north leaving bitterly cold temperatures in its wake. Alexandra is expected to drop to -11C and Ashburton to -6C.
Heavy rain is expected over some of the North Island's east coast today and although it will be intense, it will not be widespread.
There was heavy rain fall over Wairoa to north of Napier and covered the Mohaka area as well. Those in Auckland, Waikato and the Bay of Plenty are in for long dry spells today, but with a mix of widespread showers and larger more isolated rain.
"At the same time as this rain is falling, the polar southerly is continuing to head into the North Island today. Many in the upper North Island have still had milder weather across Friday and even overnight - but today that changes as south to south-east winds move in,'' WeatherWatch said.
"If you're expecting a wet and rough day in the upper North Island, that isn't really the case. The centre of the low isn't usually too active and even as the low tracks east and the south to south-east wind comes in, this airflow is usually quite dry for the upper North Island.''
Temperatures are expected to drop to the double digit negatives in the South Island and those in the North Island are forecast to get a cold Monday morning.
Drive safe
NAPIER-TAUPO ROAD
Further heavy snow is expected through to Sunday morning. Expect another 20 to
30cm of snow above 700 metres, with 10 to 20cm of snow down to 400 metres.
DESERT ROAD
Snow is expected on the road through to early Sunday morning, where 2 to 5cm
of snow may accumulate.
LEWIS PASS
Significant snow is no longer expected but frosty conditions are expected through
to Sunday morning.
PORTERS PASS
Significant snow is no longer expected but frosty conditions are expected through
to Sunday morning.
- Source: MetService
Chilly outlook
WHANGAREI
Today: Showers, some heavy, easing. 13C
Tomorrow: Odd shower. 13C
AUCKLAND
Today: Showers clear. 12C
Tomorrow: Fine spells. 11C
HAMILTON
Today: Cloudy, spot of rain. 10C
Tomorrow: Mainly fine. 11C
TAURANGA
Today: Cloudy, spots of rain. 11C
Tomorrow: Mainly fine. 13C
WELLINGTON
Today: Few showers, mostly clearing in the afternoon. 8C
Tomorrow: Fine spells, showers. 8C
- Additional reporting: Hawke's Bay Today