Key Points:
Make sure you wrap up warm for the next few weeks - frigid temperatures are set to make August the coldest month of the year. Meanwhile a heavy blanketing of snow is on the way and has a large chunk of southern New Zealand, as well as the central North Island, in its sights, the Metservice says. The national weather service last night posted a severe weather watch on its website for the Canterbury Plains, including Christchurch, as well as Central Otago, Southern Lakes, Dunedin, Clutha and Southland. The watch was for heavy snow about eastern parts of the South Island from Wednesday until Friday.
DO YOU HAVE ANY WEATHER PHOTOS/VIDEOS? SEND US AN EMAIL
MetService meteorologist Chelsea Glue said the snow will be "pretty huge". "There's a watch out already, it'll be quite nasty and quite severe."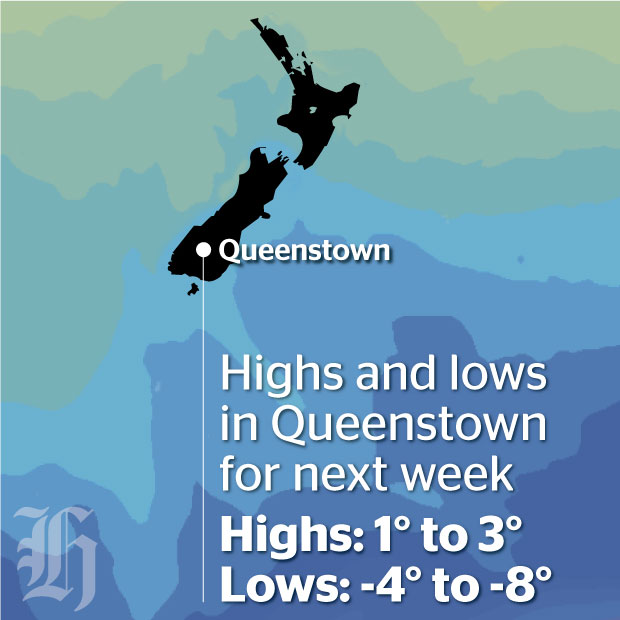 Snowfalls could reach warning levels above 400 metres for inland Southland, Otago and South Canterbury on Wednesday, and possibly to low levels in Otago the following day. There could also be snow to low levels in Canterbury and Kaikoura on Thursday and Friday. "A complex low pressure system is expected to move onto the country from the south Tasman Sea during Wednesday, then move slowly northeastwards across New Zealand during Thursday and Friday, bringing rain to many parts of the country, with snow lowering to low levels about the east of the South Island." Those in affected areas should stay up to date with forecasts, as parts of the watch could be upgraded to a warning, and further areas could be added, Metservice posted. A severe weather outlook also posted to the website last night said the low could also possibly deliver heavy snow above 700 metres about Tongariro National Park and Taihape on Saturday. Forecasters are also keeping an eye on the potential for heavy rain in Westland, Buller and the north-west ranges of Nelson, and western parts of the North Island from Waikato to Tararua Range mid-week and in the east of the North Island, from Hawkes Bay to Wairarapa, during Friday and Saturday. In addition, easterly winds are expected to become strong for the lower parts of the North Island from Napier to Wellington during the same period. Metservice meteorologist Tom Adams said the watches and severe weather outlooks were about keeping people informed of what might happen. "This far out we have to look at possibilities. A lot of the things we are looking at show the amount of snowfall is outside the averages for those areas. "It's a significant snow event but we get one or two of these every year. It's not going to be something we haven't seen before." A number of State Highways in the South Island are affected by black ice, and motorists are advised to take extra care. Queenstown Lakes District Council is warning of black ice forming on roads in the area as temperatures drop to as low as -5C. Colder weather is also on the way during August, as the month is typically the coldest of the year according to Weatherwatch. Southerly winds will bring low temperatures, with Auckland expected to have highs of 12C over the next two weeks. Further south, Wellington will be even colder with highs of less than 10C, and Dunedin will have sleet and freezing rain in the next 10 days. Canterbury will get rain in the first half of the month, as a low pressure system drifts towards New Zealand from the Tasman Sea. A long stretch of rain has hit Auckland, with the city experiencing showers every day since July 21. Across July, Auckland had 22 days with rainfall, whioch is above the average of 19 days for the month. Police are warning motorists in the Southern regions to take care in frosty conditions. Emergency services are attending ice-related crashes in Dunedin, Southland and Clutha, and sections of road in those areas have blue catseye devices which indicate dangerous conditions. Police are urging drivers in the Dunedin, Southland and Clutha areas to be wary as black ice becomes prominent on the roads. Motorists are advised to increase their following distances, avoid erratic steering movements and heavy braking.
Great to see the mountain now fully covered with snow
Skiers were expected to flock to Mount Ruapehu this week as the latest storm cycle clears, leaving behind fresh dump of snow. After two big snow falls yesterday and over the weekend, the upper mountain bases had 181cm of snow in Turoa and 212cm in Whakapapa. Ruapehu Alpine Lifts chief executive Dave Mazey said more than 15 centimetres of fresh snow fell in the last 24 hours at Turoa and 10 centimetres at Whakapapa. This was on top of the metre which fell over the last four to five days. "It's great to see the mountain now fully covered with snow, especially with clear days forecast this weekend at Turoa and Whakapapa," said Mazey. "Turoa opened with light south east winds and blue skies this morning. Most facilities including the freestyle terrain parks are now open. We hope to open the Nga Wai Heke just after midday, once de-icing and avalanche control work has been completed." Whakapapa, Happy Valley and the Rangatira Express were open today, with the upper mountain on-hold due to strong winds and de-icing, he said. "This latest snowfall has provided us with a lot of snow to work with and will provide some superb skiing and riding for our visitors. "The grooming fleet will be will working around the clock to get more trails and park features open over the coming days," he said.