When an Auckland University student lost his wallet in central Auckland he didn't think he would see it again. But it was returned the next day with a $10 note.
Taniora Ngatai, an earth science and geography student, realised his wallet was missing as he was about to sit a test. The 19-year-old said it was the worst timing. "It had my student ID and I needed it for a test so I was really gutted."
That evening he received a Facebook message from another student, Kathryn Murphy. She had found it and would return it the next day. When Ngatai received it, he was surprised to see $10 with a note: "Here's a hot chocolate on me ... Stay warm during winter! Best of luck for exams. Enjoy your last week of semester."
He posted the good deed on the "Overheard @ University of Auckland" Facebook page, which garnered more than 2000 likes.
"Lost my wallet last night, stranger picked it up and messaged me saying she found it and would return it to me today. The relief alone that she returned it was enough, but with a small message and a tenner included? People like you is what uni needs @Kathryn Murphy, bless you and good luck to everyone in exams," it read.
Ngatai told the Herald on Sunday he was surprised by the extra $10. "It was really good to know people do random acts of kindness." He said he would be passing on the good deed to someone else.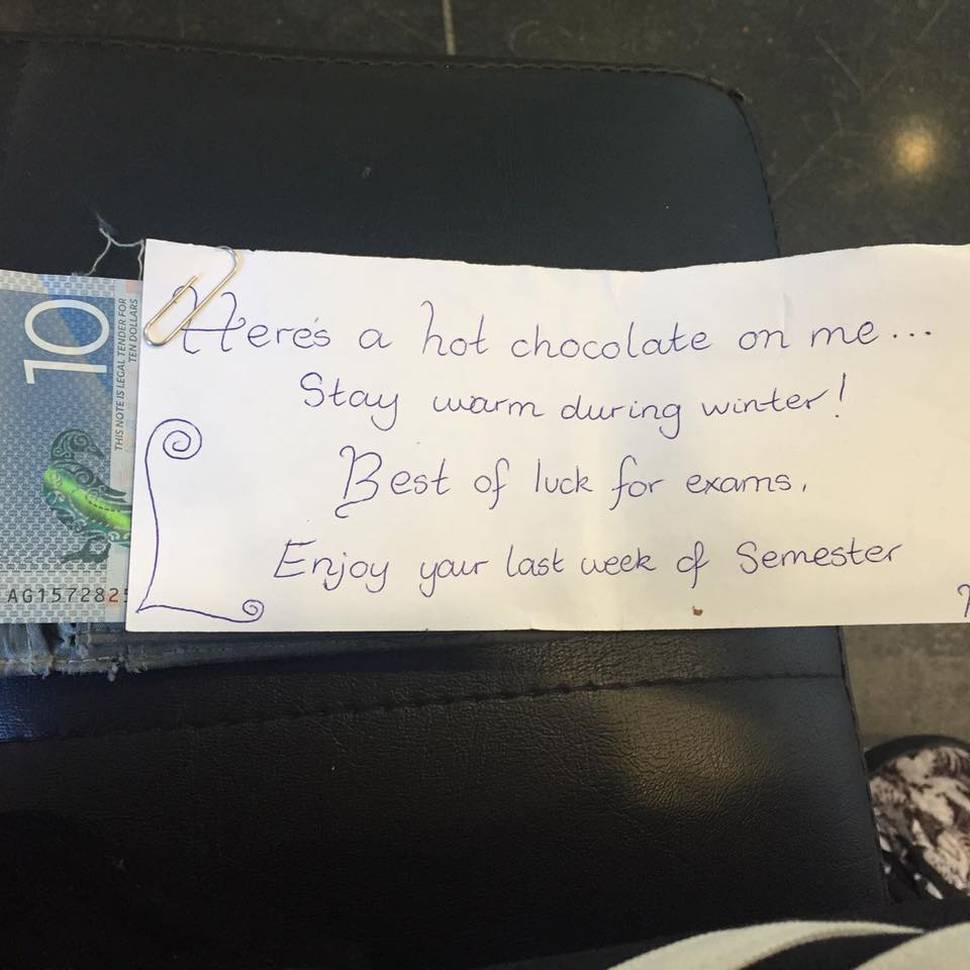 Murphy said she was shocked by the response on social media and didn't think it was a big deal.
"I suppose kindness is something that isn't just a one off. It's something you should be doing every day."
The 21-year-old said the chilly weather meant a hot chocolate could "make your day". She had worried about the AT Hop card, because the owner might not have been able to get home that night.
"So it was an incentive to do something extra on top of giving his wallet back."
He sent a message saying he was "so grateful". "He asked if I wanted anything and I told him to pass on the kindness, it's all I ask."
Social psychologist Marc Wilson congratulated Murphy for her kind-hearted actions. He said often altruistic behaviour had an evolutionary basis.
"When we help people who are part of our broader social group we are helping that group to survive and also helping to ensure if we ever find ourselves in need then those same people would reciprocate," he said.
As such, very few acts were truly altruistic as the person performing them usually benefited by feeling good. It's in line with the "norms view": if someone returns your wallet it's a bit like someone smiling to you on the street.
"We know that when someone smiles at you you're more likely to return it then smile at other people. If someone lets you into the traffic you're more likely to let subsequent people in."