As former PM Helen Clark tosses her hat into the ring for the top United Nations job, Claire Trevett asks those who know her best what kind of world leader she will make.
Labour MP Grant Robertson, a former staffer to Helen Clark when she was Prime Minister, vividly recalls the rigours of prepping Clark for Question Time in Parliament.
"We had a saying, and I don't know if she knows this, to 'just download the whole internet'.
Clark is renowned for her attention to detail. It is one of the ingredients she has listed as critical for leadership success, saying to get success it was important to be well briefed.
In announcing her bid to be Secretary-General, Clark spoke of the leadership skills she had shown as Prime Minister, including in building consensus - or as she later later put it on Radio New Zealand, her "bringing people together skills".
One of the examples she gave was of her time leading minority governments with support from variously, the Alliance, NZ First and United Future - and, to a lesser extent, the Green Party. But those skills got a workout much earlier than in 2008.
Though Clark may have pointed to her dealings with coalition partners as evidence of her ability to bring together "disparate groups", perhaps the starker example of that was her feat in bringing together the Labour Party itself.
Clark took over the reins of Labour in 1993 by rolling Mike Moore. After staring down a challenge from Moore's supporters in May 1996, Clark managed the Herculean task of wrangling a very divided caucus to win in 1999. She began by promoting the same people who had called on her to step down into high positions in caucus - Michael Cullen was made deputy leader, Annette King was given more responsibility. "It would be fair to say those of us who did challenge her became her closest allies in Government," King says.
Discipline set in with stability.
King recalls that after the 1996 election, "The stability in the caucus became real. She stepped out of the shadow of Mike Moore in 1996 and showed what she had as a leader. The respect for her leadership was accepted by the whole caucus. From that time on to 2008 she had the most united caucus of any I have been in."
Such was her effectiveness at holding control, the Opposition coined the term "Helengrad" to describe her reign. It was meant as an insult. But it is also a back-handed compliment - discipline is critical in Parliament. That control held the Government together for nine years and continued even as she was heading for the exit - it was Clark who decided Phil Goff should take over as leader in the immediate aftermath of the 2008 election during a Cabinet meeting.
Clark did have a ruthless streak. The Green Party found that out the hard way in 2005, when they were jettisoned from being part of Government after NZ First leader Winston Peters said he would not work with them.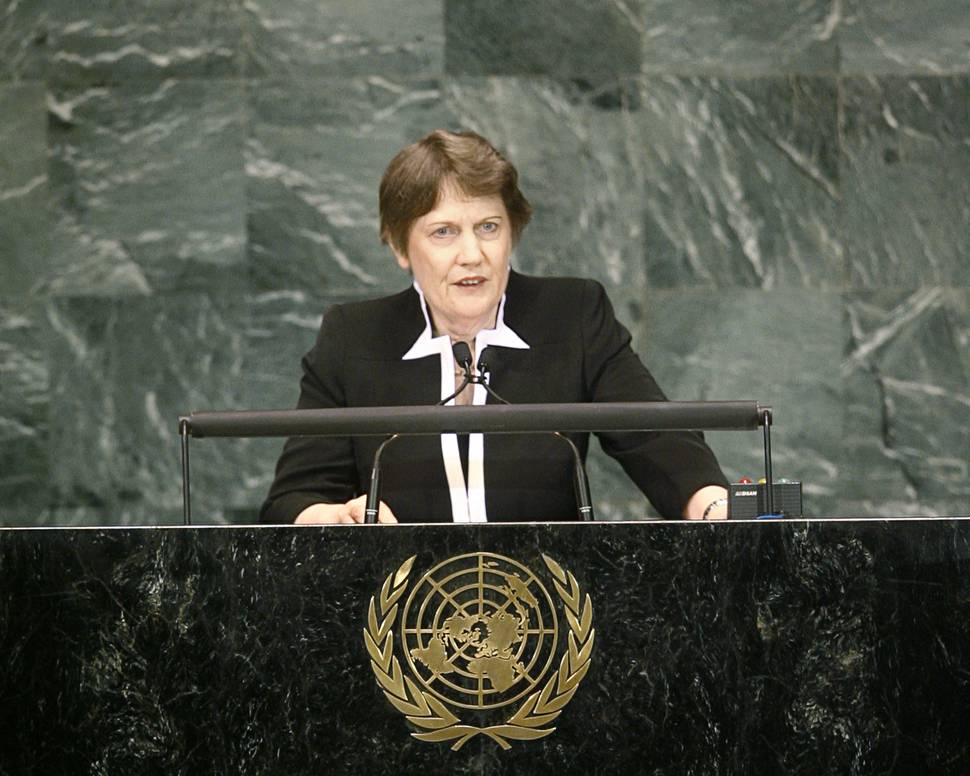 Jeanette Fitzsimons, the co-leader at the time, says Deputy Prime Minister Michael Cullen was sent over to break the bad news to her.
"It was obviously political pragmatism. We weren't going to go and align with National against her, and [NZ First] might have."
She said the thing that most rankled with her over those talks was that Clark had said early on that no other party would get more than the Greens. "She broke her word on that. I sat across the table from her and I said, 'We feel there's a breach of good faith here', and she wouldn't meet my eye. She stared at the papers in front of her and said, 'I don't believe I've broken my word at all'. What else could she do, really?"
Fitzsimons said that did not mean Clark was not good at managing co-operative relationships, and she supported Clark's bid at the UN. "That doesn't translate into what she might do at the UN. I think in the UN role she is a very suitable person. She has a very longstanding and deep interest in foreign policy and a very deep commitment to the UN and collaborative processes. Whatever you say about what she's done, she is a strong leader. So I think she can pull different factions together."
Most agree the greatest challenge of her leadership in government came in 2003 and 2004 over the Foreshore and Seabed Act, when the Maori caucus went into near revolt and Tariana Turia walked out. King describes it as the most dividing political issue Clark and Labour faced.
It still rankles with Turia, but she sees it as an aberration in Clark's usual style.
"In terms of leadership, I've always had great admiration for her. She has a lot of integrity. I didn't agree with her all the time. What mattered was the trust we had built up between one another and for a while there it was sorely tested."
Turia also points out that although Clark lost her, she did have the political skill to salvage the rest of the Maori caucus and keep them onside after threats of a mass walkout.
Clark's willingness to do what had to be done has also been on display at the UNDP. The most obvious example was overseeing the restructure of the UNDP announced in 2014. It was decided by the UNDP's executive board, but Clark had to fulfil it. It involved significant staff layoffs and demotions, which one UN staffer told the Inter Press Service news agency was "one of the largest mass-scale UN firings in living memory".
Because it is not an elected position, Clark no longer has to cater her leadership style according to what might be publicly acceptable or popular. But in many ways, her "constituency" is even more complex and tricky - the 189 countries that make up the UN and the non-governmental organisations that sit alongside it. If the Labour caucus in the late 1990s was a fractured and tricky beast, the leaders of those countries are in a different league altogether.
In a 2013 interview with Australia's ABC Radio, she was described as being forced to play "Agony Aunt to embattled heads of state".
Clark said part of that was because of her own past as a Prime Minister: "Because I've been a leader, you do get admission of course to the offices of current leaders; a lot of people are looking for someone to talk to and chew the fat over how you do things."
Clark's past as a Prime Minister has been painted as a virtue by some - including herself - because of the experience it gave her.
But others say it could be her downfall. An academic in Australia observed that the five permanent members on the Security Council would prefer a foreign minister, because they were used to being told what to do.
Clark is almost universally described as direct. Dunne and NZ First leader Winston Peters said her direct style was one of the best features of dealing with her as support partners. She is also seen as a cautious and deliberate leader - weighing issues up before coming to a decision.
But she could also come across as controlling. Says Turia, "Of course she was. I don't believe that she could have managed the type of caucus we were in if she wasn't. So I didn't ever resent that, because I saw it as necessary."
It's a feature former Greens co-leader Jeanette Fitzsimons also observed. "Helen is a much more controlling person than John Key. She likes to feel that she was in control of everything. Whether that's a good characteristic, I don't know. She's also highly competent."
Clark also had a more sensitive side.
Within days of Clark's announcement, a T-shirt and sticker company in Auckland had designed T-shirts with "Aunty Helen for Secretary General" written on them.
The affectionate term began in Labour's Maori support base and was frequently used by the likes of Parekura Horomia and Shane Jones before gaining wider traction. Robertson: "You don't generate among New Zealanders the 'Aunty Helen' factor from nowhere. People found something they could relate to in Helen."
Trevor Mallard recalls the funeral of Peter Blake, for whom Clark had a great deal of respect.
"Of the four times she bruised my arm, one was at Sir Peter's funeral." An emotional Clark was waiting to speak, gripped his arm to try to ensure "she could hold it together. I had a bruise the next day." The other three times were at critical moments in sports events.
Tears should not be mistaken for weakness. And Clark could not have survived nine years without a ruthless streak. Her former rival Dr Don Brash put this in rather unstinting terms, describing her as "cynical". "She knew how to manipulate power. She did it effectively as Prime Minister and could do it effectively at the UN."
United Future leader Peter Dunne has a more generous way of putting that. "She never lost sight of what her ultimate objective was. That was to run a sustainable, stable government. That was never far from her focus."'
One sure sign of displeasure was Clark's infamous "death stare", used on anyone from media to opponents to her colleagues.
The cartoonists are already having fun with the prospect of a death stare-off between Clark and Russia's President, Vladimir Putin. King laughs and says Clark had another weapon in her arsenal. Charm. "I'm just wondering whether she might not have charmed him. She could be absolutely charming."
That charm was also used to great effect in New Zealand's bid to host the Rugby World Cup in 2011. Former NZRU chief executive Chris Moller recalls a dinner Clark hosted at Premier House during the Lions Tour in 2005. About half the IRB executive were at the dinner and Clark set about cajoling and charming them.
Moller is full of praise for Clark's decision to get personally involved in that bid - most notably her decision to make the presentation to the International Rugby Board at Dublin in person alongside Jock Hobbs, Colin Meads and Tana Umaga.
"It was a risk politically, because there was no guarantee New Zealand was going to win. She was the first ever, and I suspect the last, head of government to have ever presented to the International Rugby Board. In her inimitable style, she did a class job on the day."
On Thursday, Clark faces another presentation - to the UN General Assembly, complete with a two-hour grilling. She won't have All Blacks beside her either. Her campaign then will be on trying to win the likes of Russia, the United States and China to her side. The odds are uncertain.
But the Rugby World Cup bid win, too, was against the odds - the bookies were betting on Japan or South Africa hosting the tournament. It is perhaps no surprise then that Clark has reprised the "Stadium of 4 million people" catchphrase for her UN bid.
How you can get behind Clark
Those wanting to show support for Helen Clark's bid to be Secretary-General for the UN have been asked by Clark to hit social media such as Twitter and Facebook. New Zealand diplomats around the world have already kicked off the campaign - several have tweeted almost identically worded tweets such as this from EU Ambassador David Taylor: "Prime Minister for 9 yrs. 7 yrs leading UNDP. Helen Clark has right skills/experience to lead the @UN."
Others have tweeted in languages such as Spanish and French.
Clark's campaign hashtag is #Helen4SG and her campaign Twitter account is @Helen4SG.
For those who steer clear of social media, there is a more traditional way to show support: get the T-shirt. An Auckland-based T-shirt and sticker designer has already produced an "Aunty Helen for Secretary General" T-shirt, complete with Clark's face and the UN logo selling on TradeMe.
The position is chosen by the Security Council - but this year's is a more transparent contest, with candidates all expected to publicly nominate and present themselves to the General Assembly. Those hoping to catch Clark's appearance at the General Assembly will have to be up early - she's up at 3am NZ time on Thursday. They are expected to be livestreamed - a chance for people on social media to provide a running commentary.