Parnell eateries owned by company put up Wild West-style posters banning couple as two-year row steps up.
Wild West-style posters have been put up around one of Auckland's swankiest suburbs in a spat between a couple and the landlord of a strip of fashionable eateries.
The scrap between Parnell residents Dean and Mary Gordon and City Construction Ltd - headed by Kevin Harvey and owner of several Parnell establishments - has been intensifying for more than two years.
Over that time the Gordons have lodged several noise control and alleged breach of consent complaints to Auckland Council over venues operating in City Construction premises.
They also unsuccessfully opposed a resource consent application from City Construction Ltd for the use of existing decks and a courtyard for outdoor dining at four of its properties.
According to documents given to the Weekend Herald, in July 2014 City Construction trespassed the couple from 317 Parnell Rd, where City Construction has an office and tenants that include The Java Room.
The couple were also trespassed by City Construction tenants The Coffee Club, The Chocolate Boutique and Thai Friends, all based between 305 and 323 Parnell Rd.
In the latest chapter in the stoush, posters have appeared over the past week titled "Trespass Notice" and featuring portraits of the Gordons, their names, and the words: "Have been formally warned to stay off the premises at 323-305 Parnell Road, pursuant to the Trespass Act 1980. If you see them on the premises please call police on 111."
Mr Gordon has also this month been trespassed from three further Parnell Rd sites - all owned by City Construction and more than 180m from his home. One of those notices was issued by City Construction, the others by the Blue Elephant Thai Restaurant and Kilberry Associates.
City Construction is an investment vehicle owned by various trusts of the wealthy Harvey family.
It was the family's late patriarch, Les Harvey, whose multi-million dollar property portfolio includes many properties in Parnell and is held in trust for his descendants.
The Harvey family was worth $125 million in last year's Rich List.
Mr and Mrs Gordon - who live directly behind most of the eateries they have been banned from - did not want to be interviewed, instead communicating through their hired public relations consultant, Carrick Graham.
A statement issued by Mr Graham said the couple were the target of "bullying behaviour and intimidatory tactics". They believe the eateries were pressured by City Construction to ban them.
"It is disappointing that the owners of Parnell Village aren't living up to the legacy of Les Harvey, who spent a lifetime of service, where nothing was designed to denigrate people or make them feel small."
Kevin Harvey did not want to comment when contacted by the Herald. Family lawyer John Cox, a City Construction director and trustee, said the allegation of bullying was "absolutely denied". He also said the trespass notices were served by their tenants at the eateries, not City Construction, but would not comment further.
However, a staff member at one of the eateries in the strip, which includes The Java Room and The Chocolate Boutique Cafe, told the Weekend Herald the notice was put up by landlord City Construction about a week ago after the couple made repeated noise complaints over two years.
The "Trespass Notice" poster went up after a City Construction worker saw Mr Gordon eating at another City Construction-owned cafe, but one which he did not believe he was trespassed from, Mr Graham said.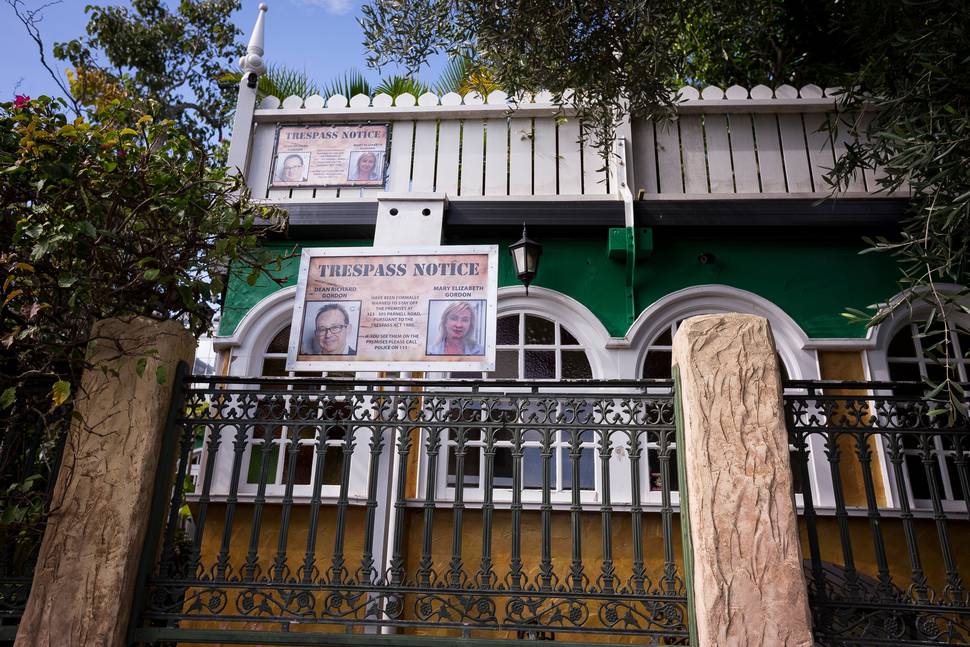 A council spokeswoman told the Weekend Herald three noise complaints had been made about The Java Room in the past two years. There had been no noise complaints about neighbouring eateries.
The council's compliance manager for resource consents, Stefan Naude, said it had investigated six complaints relating to 305, 311, 317 and 323 Parnell Rd since early 2014.
It was unclear if the Gordons had made the complaints, which included alleged early hours and rubbish and recycling collections, breaches of consented hours of operation and use of decks, and a boundary infringement.
An abatement notice was issued following one investigation into 317 Parnell Rd in January 2014.
Abatement notices were issued in December last year against two properties, requesting rear decks were not used until they were compliant with a consent granted the previous June. That followed a complaint that resource consent conditions were being breached at 305, 311, 317 and 323 Parnell Rd.
"No further enforcement has been required since these abatements were issued in February 2016 - the investigation is ongoing while further consents are being processed."
Another complaint was made two weeks ago over working hours and noise levels at 317 Parnell Rd, Mr Naude said.
"This was attended by a council contractor. However, they were unable to successfully verify the noise and no further action could be taken."