Thousands of people were without power in the South Island tonight.
Mainpower spokesman Peter Hurford said supply had earlier been cut to areas including Rangiora and Kaiapoi.
Power has since been restored in Rangiora, and should be back on in Kaiapoi by 11pm.
Contact had been lost with Transpower's national grid, Mr Hurford said.
He said a large team was working to establish the cause of the problem.
North Island warned to brace for a deluge
As surface flooding continues to hamper mop up operations in the south after last night's wild storm, many parts of the North Island have now been warned to brace for a deluge.
High winds and heavy rain have lashed the country, causing widespread flooding, hundreds of evacuations, thousands left without power, and chaos on the roads.
As contractors work to shore up breached riverbanks and downed powerlines, the MetService has issued severe warnings with heavy rain expected for Coromandel Peninsula, Bay of Plenty, Rotorua, Taupo, Tongariro National park and Gisborne.
Localised thundery downpours could peak with rain falling at 30mm to 40mm an hour in the worst hit areas.
Northeasterly gales blasting many parts of the North Island -- gusting 120-130 km/h in Taihape, Whanganui, northern Manawatu and Wellington this morning -- are expected to ease this afternoon. However, strong wind warnings remain in place for those areas.
Weather mayhem continued on wet highways
The weather has meant mayhem on the wet highways ahead of Easter holiday weekend, with multiple road closures and several nasty crashes including a 4WD towing a caravan colliding with a truck and causing a gas bottle to explode near Warkworth, and a minibus rolled causing multiple injuries on State Highway 5 between Tirau and Rotorua at around 9.30am.
Severe Weather Forecaster Paul Mallinson said Auckland and Northland recorded gusts of 120km/h and 12,800 customers are currently without power in the Auckland region. At its worst there were 18,000 customers without power in Auckland.
Westland District Council declared a state of emergency
Westland District Council early this morning declared a state of emergency in the Franz Josef and Waiau region after a night of extreme flooding.
More than 180 people, mostly tourists, were evacuated in Franz Josef after the Waiho River burst its banks about 700m north of the main township at 11.50pm.
Flooding swept through several hotels including the Scenic Hotel where staff accommodation was under water.
The Top 10 Holiday Park campsite on the banks of the Waiho River was swamped by the floodwaters.
Emergency rock work is underway to stem the Waiho riverbank's breach.
Welfare centres have been set up in the Franz Josef township and the Red Cross has delivered supplies from Christchurch.
Flooding has also disrupted the town's water supply.
Scenic Hotel Group released a statement this afternoon confirming that its Scenic Hotel Franz Josef and Te Waonui Forest Retreat "remain fully operational" and have capacity to accommodate additional guests.
Both hotels are outside of the flood area which is in the Franz Josef township and currently under a local Civil Defence state of emergency, it says.
Heartland Hotel, 'The Mueller' is flood affected and guests have been relocated to the Scenic Hotel Franz Josef. This will remain the procedure for existing bookings until the end of the month.
"Our priorities are ensuring the safety and comfort of our guests and staff and where this is in any doubt, we are relocating to our two unaffected properties within the region," Scenic Hotel Group managing director, Brendan Taylor said.
The neighbouring township of Fox Glacier and two Heartland Hotels are untouched, the group says.
Nelson hit with the most rain
Nelson Marlborough received the most rain overnight, with 240mm, and it was expected to continue throughout the morning.
While the skies are clearing, rain receding, and the majority of rivers are dropping in the Tasman District, it will be at least mid-morning before rivers recede to safe levels.
There is still a large amount of surface flooding throughout the Riwaka and Golden Bay areas causing road closures.
Riwaka was the worst hit, with "a small number of homes" being evacuated after flooding from the Riwaka River.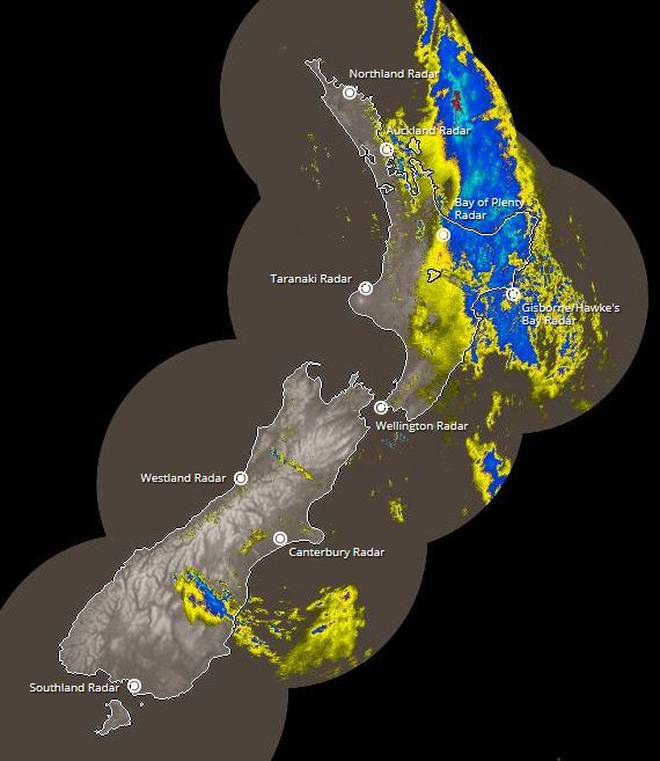 A Civil Defence Centre has been set up at the Motueka Recreation Centre.
State Highway 6 at Rocks Rd around the coast in Nelson has now been closed due to high seas.
A detour through local roads is in place for light vehicles, while heavy vehicles are being let through at this time.
Motorists are being urged to allow extra time when travelling through the area. Nelson City Council has issued a swim and shellfish ban after the heavy rain resulted in various council sewer pump stations to overflow, causing sewage to spill into Nelson Haven.
Contractors are currently visiting the affected sites and monitoring the systems.
The public is advised not to swim at Tahunanui Beach, Waimea Estuary and Nelson Haven until Sunday morning.
Signage is in place.
Council also warned that shellfish should not be collected from the affected areas at anytime.
The Nelson Marlborough District Health Board Public Health Service, Department of Conversation, pollution control officials and local iwi have been notified of the spill.
Wild weather left upper North Island without power
Wild winds also battered the upper North Island leaving scores of households without power.
Severe Weather Forecaster Paul Mallinson said Auckland and Northland recorded gusts of 120km/h.
At its worst there were 18,000 customers without power in Auckland.
Severe gale force winds hit a sustained wind speed of 100km/h for over an hour last night with gusts to 110km/h.
Vector says the weather has cleared sufficiently to give crews a chance to work on the faults this morning after conditions were too dangerous in some instances last night.
"Each storm has its unique characteristics and this weather event has proven no different. Instead of a few larger outages, this storm has produced smaller, localised outages," a Vector spokesman said.
The latest update from Vector says the number of customers remaining without power is now down to just over 1500.
"Crews worked tirelessly in atrocious conditions to ensure that customers could be restored as quickly as possible," a spokesman said.
"Vector wishes to thank customers for their continued patience."
Auckland Civil Defence say they monitored the storm overnight and kept in touch with Metservice, emergency services, transport agencies and utilities across the region.
High winds peaked in the early hours of the morning, bringing down some trees and branches which have been dealt with by the council, and prompting around 90 callouts from emergency services -- Police and Fire -- but not causing widespread damage.
A yacht has been washed onto Okahu Bay beach after breaking its moorings during the storm.
Auckland Civil Defence Head of Emergency Operations Aaron Davis said there may still be minor travel disruption on the roads.
"While it's been a wild lead-up to the holiday weekend, we expect the weather to settle down later today. Nevertheless, drivers should remain vigilant and take extra care on the roads," he said.
Wild weather also caused havoc in Northland
Top Energy spokeswoman Philippa White said high winds and heavy rains had caused fallen trees in power lines to knock out power to around 6000 Northland homes.
There are currently still about 1000 homes without power, with the worst hit areas being rural ones around Kaitaia, Kaikohe, Moerewa and Kawakawa.
Line crew are "working as quickly as we can under the circumstances" to restore power.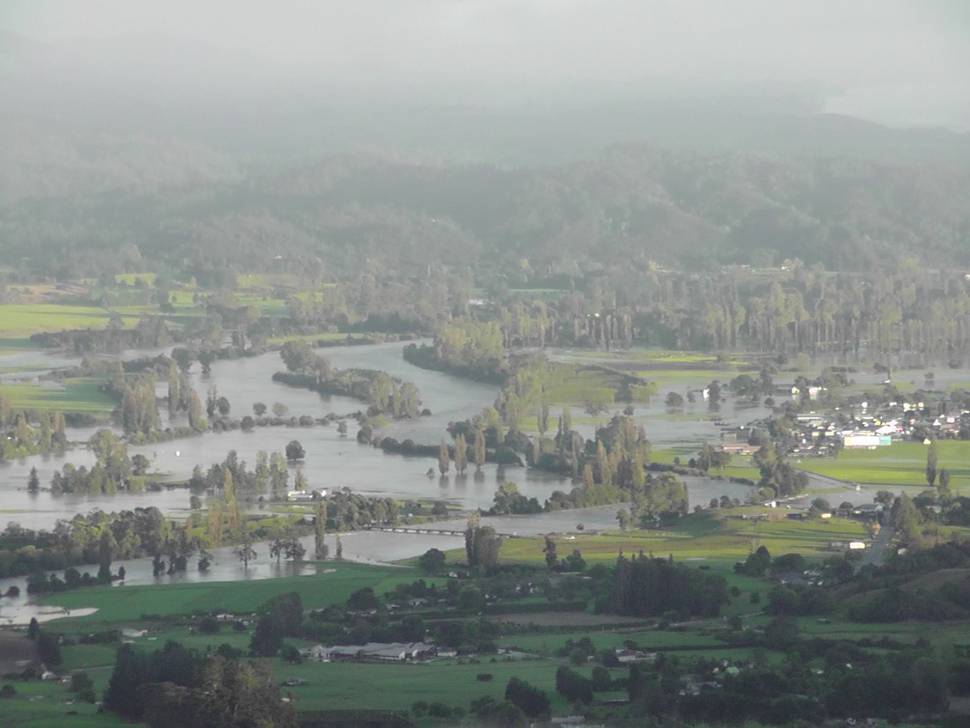 Northern Fire shift manager Dallas Ramsay said crews attended more than 70 weather-related call-outs throughout Northland and Auckland overnight clearing trees fallen across roads, arcing power lines and securing lifting roofs.
Mt Wellington, Epsom and the North Shore bays are all badly hit with power outages and have been for at least two hours.
Weather is being monitored
Bay of Plenty Civil Defence Emergency Group is continuing to monitor conditions as severe weather warnings remain in place for region.
With intense rain pockets of up to 40mm per hour expected this afternoon, they are urging the community to remain alert and be extremely careful on the roads.
At this stage, all roads are open and no reports of flooding have come in.
"Mostly it's just really wet out there. This rain isn't over yet though and we encourage people to keep up-to-date with weather reports", Group Controller Clinton Naude said.
WeatherWatch says the rough weather has mostly eased in Auckland, with the odd isolated heavy downpour.
The strong gales seen overnight have now mostly eased off.
Cause behind the strong winds
WeatherWatch head weather analyst Philip Duncan said the strong winds overnight in Auckland were caused by a large high pressure system which pulled down subtropical air combining the two.
"There is no deep low pressure or storm system near New Zealand -- we're just in the squash zone -- where the isobars squash up on the weather map -- on the back of a very intense high pressure system to New Zealand's east."
AA Insurance has released "some tips to keep yourself and your property safe" during the Easter bad weather.
• Secure or move your outdoor furniture inside.
• Unplug appliances that may be affected by electrical power surges -- if power is lost unplug major appliances.
• Pull curtains and drapes over windows to prevent injury from shattered or flying glass.
• Do not attempt to repair any damage until it is safe to do so.
• If there is water in your light fittings, turn your lights off and call an electrician immediately.
• If it is safe to do so, place a tarpaulin over any areas where the roof is leaking. * If the floors are wet, lift your furniture off the floor to prevent staining.
• Keep your damaged items if you can or take photos -- this is useful to confirm.
* Call your insurance company as soon as possible to report any damage to your property, especially if you need emergency repairs.