A woman wanted by police has responded to an alert for her own arrest to taunt officers.
Counties Manukau Police wrote on Facebook that they were looking for Dayna Paparoa, 19, for breaching her home detention conditions.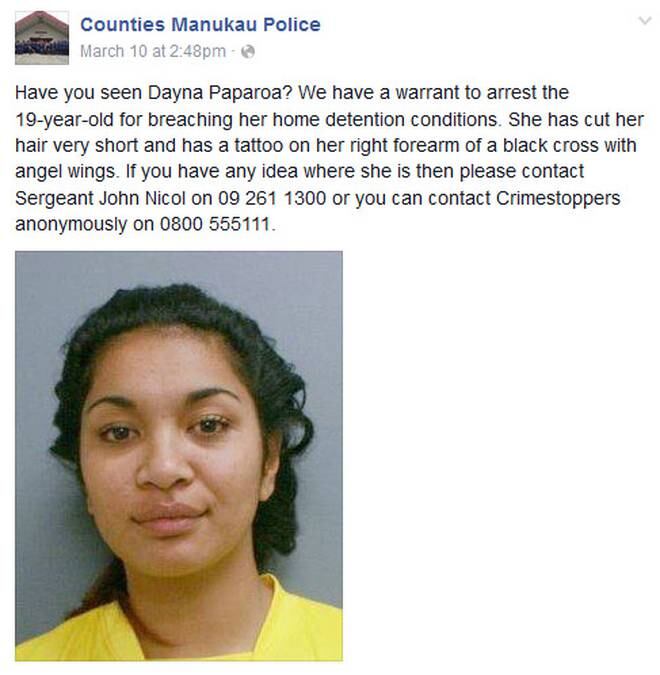 But it was unlikely they expected what happened next - a comment from Paparoa, stating: 'You not doing your jobs properly my bros hahahah'.
Police replied, writing: 'Hi Dayna Paparoa, if you want to make it easier for us, why don't you pop into a Police Station and we can sort out your breach. Thanks'.
But the wanted woman had other ideas, writing a post that implied she was going to smoke Cannabis first.
Another Facebook user wrote on the post that he had just been with her in another city and told police where to find her - but she wrote back: 'givin my location away'.
Other users who made comments on the post also received comments from the woman.
So far, the post has been commented on hundreds of times.
While some social media users condemned Paparoa's actions, others voiced support and encouraged her.
It is not the first time a person wanted by police has taunted them on social media.
In 2014, Samuel Evan Lake responded to a similar Police post and photograph of himself, writing: 'I need to get a new mugshot'.
Police wrote back: 'Come see us and will arrange at no cost'.
Lake was later arrested and eventually sentence to six months in jail.
- Daily Mail