A man shot dead in the South Auckland suburb of Papakura early this morning was a young father of four.
Shon Tyson Wanahi, 26, was one of two men shot on Railway St, outside the Papakura Railway Station, about 1.15am.
Mr Wanahi was taken to Middlemore Hospital but was pronounced dead.
A second man, a 27-year-old who was shot in the arm, remains in hospital in a serious but stable condition.
A 28-year-old man has been charged with murder and other offences and will appear in Manukau District Court on Monday.
A pool of blood can be seen at the scene, where a homicide inquiry is underway.
Police said Mr Wanahi was originally from Taranaki but had been living in Papakura for many years.
He had four children, including a newborn baby.
Neighbours on his street in Papakura said he was a good man who looked after his friends and family.
"Shon was humble. He kept to himself and made sure everyone was safe around here," a school friend told the Herald on Sunday.
The man still in hospital with a arm injury was also a friend, the woman said.
They were unsure if the incident was gang related but said Mr Wanahi had affiliations with Black Power.
Mr Wanahi's friend, Lewis Tarei, said he had a young family and was straightening out his life.
"He was all good. Sometimes he got in a bit of trouble. But he's just got a new house. He was trying to keep things together for his family."
Mr Tarei said he had grown up in Papakura and was well known. Mr Tarei said his family were devastated.
He believed his friend was walking home when he was shot.
"He was only young."
The man shot dead today in Auckland's Papakura had a young family and was straightening out his life, a friend said. "He was all good. Sometimes he got in a bit of trouble. But he's just got a new house. He was trying to keep things together for his family," Lewis Tarei said.
Part of Railway St remains cordoned off between train tracks and Central Park.
A white tent had been put up at the edge of the park that fronts on to Railway St West.
Detective Senior Sergeant Rod Honan, of Papakura CIB, said a sawn-off shotgun believed to be the murder weapon had been recovered.
The accused will face a murder charge and other charges relating to the death - including firearms offences.
One man is dead and another is seriously injured after a shooting in Auckland's Papakura early this morning.
Mr Honan said he believed the murder was not gang related.
Three men at the scene, aged in their 20s, said one of the men involved in the shooting was a very close friend, "like a brother."
They believed three people had been involved in the armed incident. One was shot in the shoulder, the men said.
People arriving at the train station were told this morning that they could not use platforms three and four because of the shooting.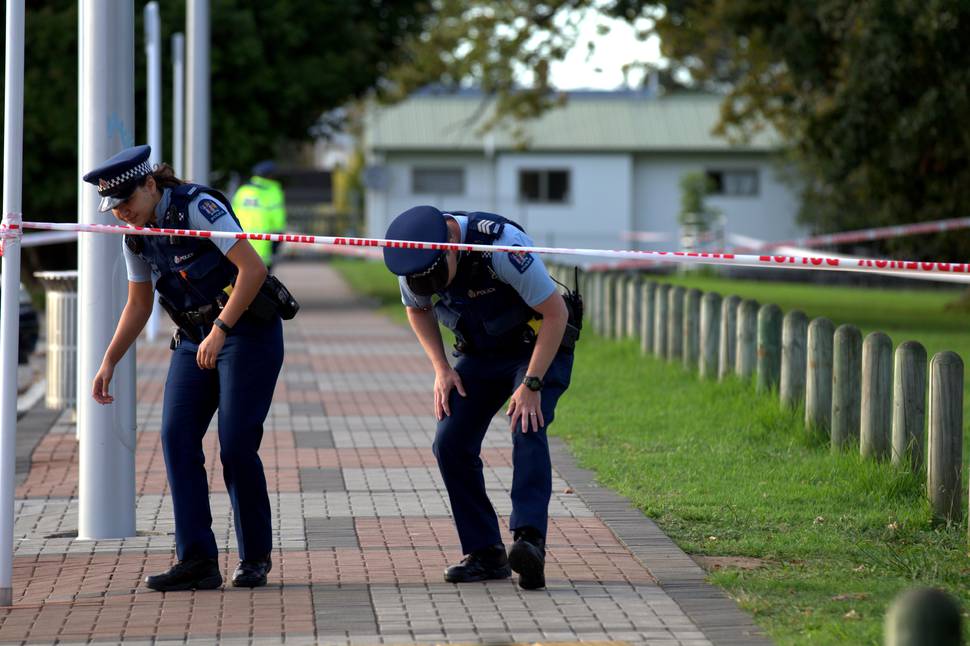 A neighbour whose home fronts on to the crime scene said she heard a lot of yelling early this morning.
A wire fence is all that separates her property from a large trail of blood, a pair of black sunglasses, a cap, a lighter and a cardboard box - all strewn across the concrete pavement.
Another man said his daughter heard two loud bangs from their home about 2km away.
A man whose home neighbours Central Park said he heard a lot of commotion last night about 1am, including aggressive shouting and arguing, and a loud noise that could have been gunfire.
"Someone sounded very distressed," he said.
The man, who wished to remain anonymous, said there were often people in the park between Wednesday and Saturday night who had been at nearby bars.
Young people often drank in the park, and property was vandalised frequently, he said.
A witness told Newstalk ZB he was on the western side of the railway station, right beside the Papakura police station about 3am, where there were armed police and cordons in place.
He said Central Park was cordoned off, and he thought Opaki Rd was also cordoned off.
"There's quite a lot of police out there, they've got their lights flashing and their rifles out."
A police spokesman said there was no danger to the public.