It had survived 110 years of choppy waters, but all that could be seen of the Kestrel this morning was its roof floating amid the debris.
The beloved Auckland ferry sank overnight at its berth in Wynyard Quarter devastating some who held treasured memories of times spend on board.
Aucklander, Colleen Hemingway, was about 9-years-old when her father James Benfell started working on the vessel as a mate before becoming the ship's captain a few years later.
"We used to take his lunch down to him sometimes as kids because we loved to go back and forth on it and I loved a rough day. There are just a lot of good memories," she reminisced.
"When it was rough, gosh the the big waves would crash and we would all just sit there loving it.
Then we would get off in town to go to work and we would all be standing on the side of it waiting to get off and the boat would be on its side by the time we all lines up to get off and you would think my god it is going to tip over, but it never did."
The 86-year-old said the news of the Kestrel's sinking had brought her close to tears.
"I was really quite upset. I have known it for 86 years and I went to work on it, going to movies in the evenings and did so much on that boat."
Some of her most cherished memories were of fishing at night off the side of the Kestrel with her siblings and father once it was closed to passengers.
"Dad used to tie it up at night sometimes on the last run and he would come and get us young ones down, we would climb on board and we would fish off it," she said.
"We would catch piper -small sliver fish - and then we would go home and mum would fry them up in a little bit of butter and we would sit and eat them at midnight."
Ms Hemingway said the Kestrel's sinking would be hard for many people because, "it had a lot of memories for a lot of people."
It is unknown what caused the Auckland icon to sink.
General manager of Panuku Development Auckland Marinas Tom Warren said the sinking had come as a surprise to the council and "definitely a loss for Auckland" and for the Preservation Society.
Mr Warren said it was unclear what caused the Kestrel to sink. "We are still looking into that at the moment. We were told at about 5.50 this morning and we are now just working through how to deal with the challenge that we have here.
"We have bonded the area so we will contain any hydro-carbons. The Kestrel was supposedly meant to be completely clear of any oil so there should be none of that," he said.
Video will play in
Play now
Don't auto play
Never auto play
Source: Vimeo / Vanessa Clarke
"The [cordon] will hold the debris that are there and once the Kestrel Preservation Society has contacted their insurance assessors they will start to clean up the debris that is there."
Mr Warren said the plan now was to contain the debris and then work on dealing with the wreck and how it is removed.
"We are not sure on that yet, it is up to the Preservation Society's insurance company to advise on that. We will make sure that whatever debris is there will be removed."
The area where the Kestrel sank was 6 to 7 metres deep and the boat was sitting on the bottom of the marina floor.
Chairman of the Kestrel Preservation Committee Mike Alston said he was "not really" shocked at the vessel's sinking.
He was unable to comment further.
CEO of Auckland Seaplanes Chris Sattler said he was alerted to the incident at about 6am.
"At that stage there was no debris in the water and there was no danger to navigational safety in the harbour," he said.
"They have now cordoned off the area where the Kestrel has sunk and they are retaining all the parts you see floating there."
Mr Sattler said it was a huge loss to the trust who were looking to restore it the vessel.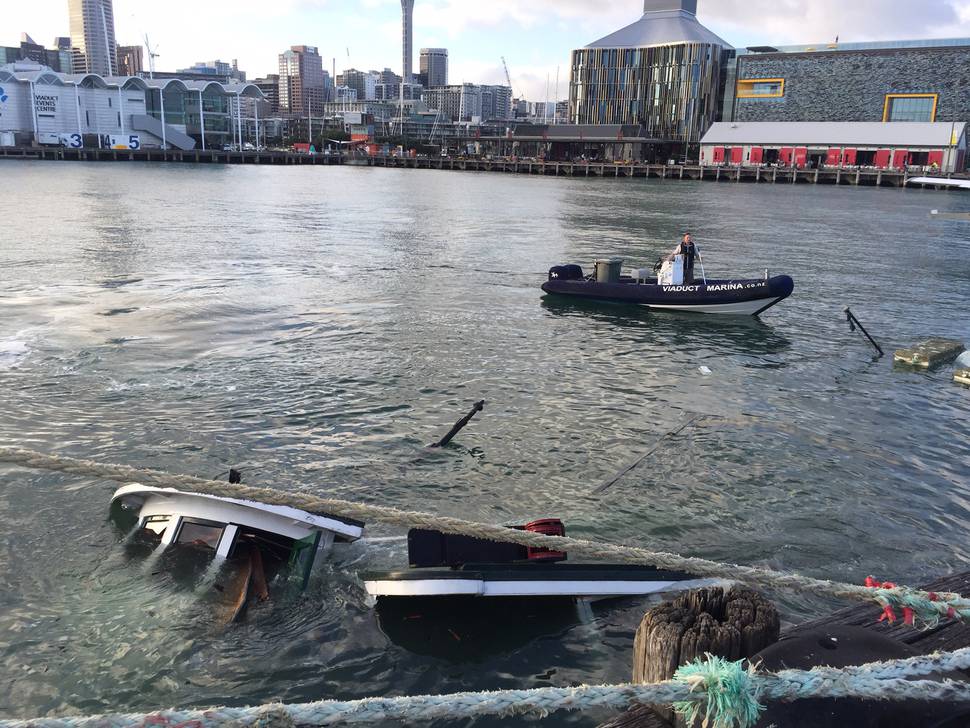 "It is a bit of a sad story because they were looking to restore the Kestrel but it was just a bit too expensive for the trust so they were waiting for something positive to happen and unfortunately I didn't happen."
He said his business would continue to operate today.
Meanwhile an worker at Wynyard Quarter said he was completely shocked and saddened when he saw the boat.
"We got told at work that it looked like it had sunk so we came to look and there was nothing there, just rope. Now bits and pieces are bobbing on top of the water. There is so much history here."
The Waitemata harbourmaster is investigating the incident.