• Three houses were struck by lightening in Central Otago
• There were 181 lightening strikes within a 60km radius of Alexandra
• There were at least 15 crashes in the Waikato region
Rough weather and stormy seas caused havoc for boat owners in Auckland overnight, with six boats coming loose and two written-off completely.
Auckland Transport spokesman Mark Hannan said five boats had either broken their mooring or come off their anchorage, and while some would simply need to be brought back to a marina, one was completely wrecked and another had sunk.
A front moving from the west yesterday brought huge amounts of rain and strong winds to the North and South Islands, causing flooding in many parts of the South Island as well as thunderstorms in Central Otago.
Read more:
• Two men rescued near Farewell Spit
• Tourists rescued after capsizing
• Mum, baby rescued after river swallows car
"One has sunk, one is wrecked, one was found in the mangroves at Herald Island, one has been beached at Waiheke and one was collected from the Tamaki River."
Another boat, which Mr Hannan said Auckland Transport did not have record of, washed up on rocks next to Tamaki Drive in the Waitemata Harbour.
Mr Hannan said it was not clear exactly what happened in each case but "it was the weather, absolutely" which caused the chaos.
Auckland's Harbourmaster Bruce Goff said the boat near Tamaki Drive broke its mooring and at some point the owners were aware of the incident and were on their way to the site where the boat had washed up to try to find out what happened.
A weather warning for gale-force winds in the harbour was issued by MetService early this morning.
"A strong northerly flow covers the area ahead of an active front that becomes slow moving over the North Island today before moving away to the northeast on Friday, followed by a ridge. Another front moves onto the North Island by Sunday," MetService said.
Meanwhile, MetService has put weather warning in place for the West Coast of the South Island and Bay of Plenty and Rotorua.
A front should stay slow moving over the North Island, before drifting eastwards and weakening tomorrow afternoon, bringing periods of heavy rain in Bay of Plenty.
MetService warned of surface flooding and slips in the area as up to 150mm of rain could accumulate in the next 30 hours, a "significant amount".
Heavy rain and thunderstorms were also expected about Fiordland, Westland and Buller through to Friday morning, where another 150-250mm could accumulate on top of what has already fallen on the ranges of Westland.
Severe gale warnings in Taranaki have been lifted but MetService warned those in the area that heavy rain was forecast overnight tonight.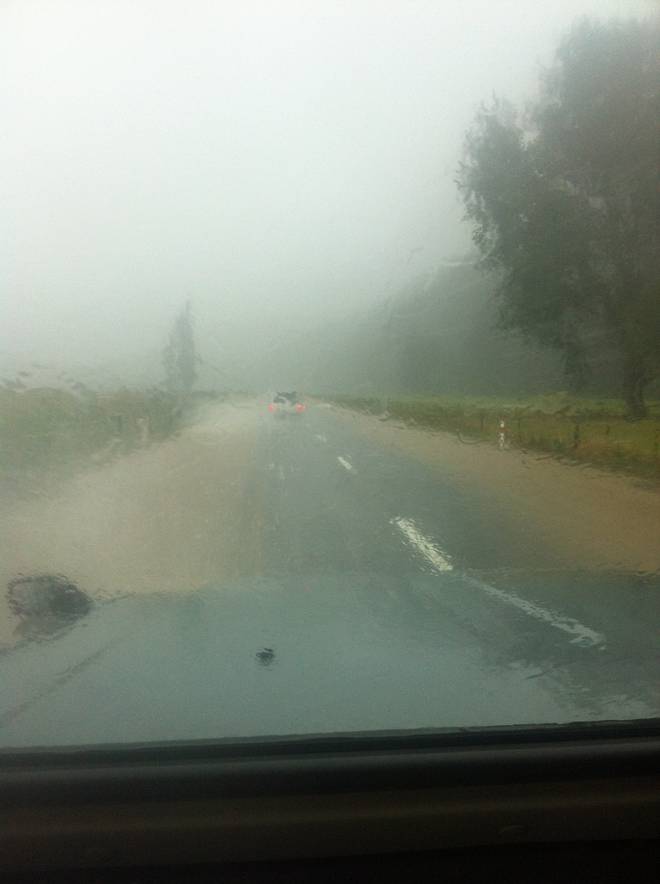 Yesterday's weather caused havoc all over the country as cars crashed, roads flooded and a house was struck by lightning as severe winds, rain and thunderstorms lashed the country.
In Central Otago, three houses in Bell Ave, Cromwell, were struck by lightning with one resident describing seeing an orb of "orange crackling fire" light up her spare room yesterday evening.
"I was just putting some mail away in my filing cabinet in the spare room, and there was this almighty bang," said one Bell Ave resident affected, Shirley Field.
"I thought, 'What the ...'
"I turned around and there was just this ball. It looked like fire light and it was sparky - it really crackled. As quick as it was there, it was gone."
The MetService said the lightning strike was one of 181 to strike within a 60km radius of Alexandra from 2pm to 11pm yesterday.
Heavy rains also caused surface flooding on State Highway 6 south of Ross and Haast on the West Coast yesterday with reports there was surface flooding across South Westland, Fox and Franz Josef Glaciers. A slip blocked one lane in the Fox Hills area.
Dangerous driving conditions caused at least 15 car crashes in the Waikato alone yesterday as a result of drivers not adjusting to weather conditions.
Following distances need to increase from the two-second rule to at least the four-second rule in bad weather," said Waikato road policing manager Inspector Freda Grace. "Driving to the conditions is not just about the weather, it's about making sure we as drivers and our vehicles are also fit for the conditions."
Further south, a Nelson woman was rescued overnight as floodwaters rose around her and her baby daughter next to the Waimea River, 20km southwest of Nelson.
As floodwaters rose around their trapped vehicle, the young mother tucked her baby between her body and a lifejacket and climbed, in the darkness, into an inflatable rescue boat.
The pair, along with the 9-month-old baby's father and another man, had become trapped on a flooded stopbank road next to the river.
A rescue helicopter couldn't reach them due to stormy weather, so two surf life-saving volunteers in an inflatable rescue boat came to their aid, cutting through several fences to reach them.
Nelson Surf Lifesaving Club president Marcus Gardner led the rescue, with help from fellow volunteer Aaron Lyttle.
"[The mother] was just keen to get out of there," Mr Gardner said.
"She was worried about how cold and wet it would be to get out of there, but we bundled them up ... with thermal blankets ... and put them in the boat."
The baby was too small for a child's lifejacket, so was tucked inside her mother's where she "snuggled into mum, she barely even squawked", Mr Gardner said.
Heavy rain leaves in its wake high and choppy seas and people were warned several West Coast beaches would be unsafe over the next few days.
"Over the next few days expect high seas and dangerous beach conditions to spread northwards, including the west coast of Waikato, Auckland and Northland," said WeatherWatch head analyst Phillip Duncan.
For now, the worst of the weather has already passed for most places.
In Wellington and Auckland, rainy mornings were forecast to ease into drier afternoons with strong northerly winds easing by the afternoon in Auckland and Wellington before picking up again in the evening in Wellington, MetService predicted.
Tomorrow was forecast to be similar in both regions, with morning rain easing by afternoon and Wellington winds easing as the day wears on.
In Christchurch today the day should be fine, MetService meteorologist Chelsea Glue said, with a small potential for rain in the evening and some high cloud cover.
Looking to the weekend, Mrs Glue said another front would start to move up the South Island on Saturday, bringing with it rain and winds.
"The North Island should be dry on Saturday apart from a few afternoon or evening showers. The front will move up the South Island on Saturday bringing a few showers but not as much rain or wind as the current fronts."
Parts of the east coast of the North Island could be spared from weekend rain over the weekend and the west coast of the South Island would likely be hit hardest by rain brought in from the front she said.
Mrs Glue said despite the wind and rain battering the country, temperatures would remain in the low to mid 20s for most areas - "summer's not quite over yet."
Civil Defence reported extensive surface flooding across the Nelson Tasman region after parts of the area were drenched by more than half a metre of rain over the past 48 hours.
528mm was recorded at the Paradise raingauge in the hills behind Takaka.
Significant rainfall accumulated in the region's rivers with the Wairoa River reaching 25 year flood level, Anatoki River reaching 10 year flood level, and the Maitai reaching annual flood level.
Civil Defence recommended people take extreme caution around rivers and streams, and stay away from them altogether if possible.
Strong winds were responsible for a crash in South Westland yesterday afternoon where one campervan was blown across State Highway 6 into another, causing the two to crash.
A strong wind gust caused one vehicle to veer across the road and hit the other, which was travelling in the opposite direction.
The incident, on the long straight north of the Wanganui River near Evans Creek about 1.30pm, came in the midst of yesterday's storm which closed State Highway 6 for a time.
None of the occupants in either of the campervans needed medical attention.
The bad weather was believed to be responsible for three other crashes in the area yesterday.
A vehicle was found in a ditch after skidding off the road and two vehicles hit power poles in separate crashes.
There were no serious injuries reported in any of the crashes.
What to expect
North Island
Whangarei
Today: Periods of rain, some possibly heavy. Strong northerly. High 26C.
Tomorrow: Morning rain, then a few showers. Westerly developing. H 27C.
Auckland
Today: Some rain, some possibly heavy. Strong northerly. H 25C.
Tomorrow: Morning rain, then a few showers. H 26C.
Tauranga
Today: Rain, possibly heavy. Strong northerlies. H 25C.
Tomorrow: Rain easing to a few showers. Northerly eases. H 26C.
Hamilton
Today: Rain, possibly heavy. Northerlies. H 25C.
Tomorrow: Morning rain, then a few showers. Westerly developing. H 26C.
Wellington
Today: Rain clearing in the morning with fine spells. Gale northerly with gusts of up to 100km/h. H 22C.
Tomorrow: Rain then a few showers which clear later. Strong northerly. H 22C.
South Island
Christchurch
Today: Early rain, then fine/high cloud. Brief afternoon showers. Northerly. H 26C.
Tomorrow: Fine, with variable high cloud. Northwesterlies. H 26C
Dunedin
Today: Rain clears early, few afternoon showers, chance they'll become heavy. Northerly. H 22C.
Tomorrow: Fine, variable high cloud. Northwesterlies. H 24C.
Invercargill
Today: Rain clears early, a few afternoon showers. Northerly. H 20C.
Tomorrow: High cloud, brief afternoon rain. Northwesterlies. H 19C
Queenstown
Today: Periods of rain. Gusty northerlies. H 19C.
Tomorrow: Fine, variable high cloud. Northwesterly. H 20C