It's been a warmer dryer Spring for much of the country.
NIWA has released its October climate summary which shows many areas reaching the warmest temperatures since records began.
Timaru exceeded a daily maximum temperature of 25 degrees centigrade on five occasions, the highest number for October since records began in 1885.
Kaikoura (Middle Creek) reached the highest maximum daily temperature of 31.8 degrees centigrade on October 7 - its highest since records began in 1963.
The lowest daily minimum temperature was -3.7 degrees centigrade at Pukaki Aerodrome on October 26.
The nationwide average temperature for the month was 12.7 degrees centigrade - 0.6 degrees above the 1981 to 2010 average.
Record or near-record sunshine hours for the month were also observed in 10 locations from Balclutha to Kaitaia.
The sunniest four locations to the year ending October 31, were Bleinheim with 2239 hours, Whakatane with 2212, Appleby 2189 and Lake Tekapo with 2149.
For Lake Tekapo October was the sunniest month since records began in 1928.
Of the six main centres last month, Auckland was the warmest, Christchurch was the coolest, driest and sunniest, Dunedin was the wettest and Hamilton was the cloudiest.
Record rainfall in October
Record maximum air temperature in October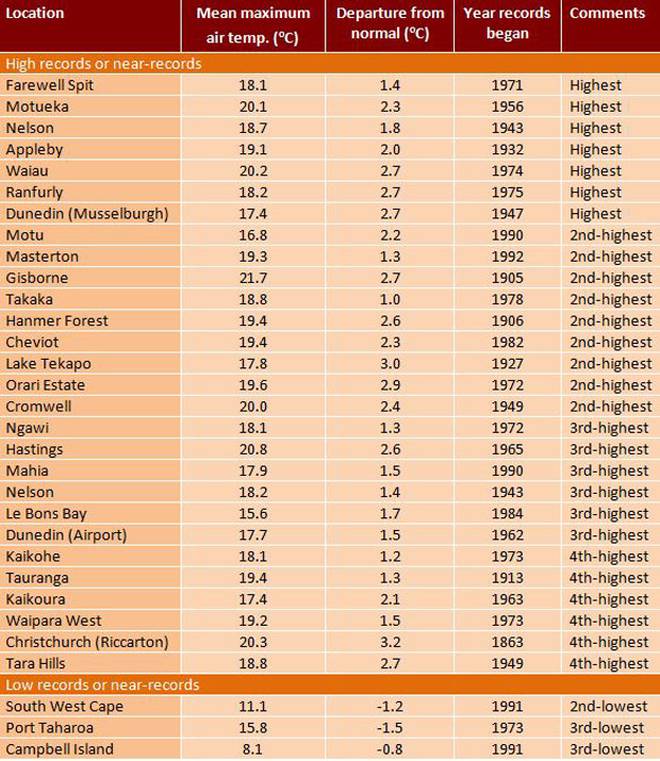 Record sunshine hours in October
Main centre climate statistics in October