Heavy rain lashing the Manawatu region has forced the Moutoa floodgates to open this morning - and river levels are still rising.
State Highway 2 between Wairoa and Napier has reopened and would remain open until 8pm, when it will be closed to enable crews to clean up, NZTA said.
But State Highway 6 was likely to remain closed overnight.
Motorists were advised to use State Highway 57 as a detour.
Drivers should also remain vigilant for debris on the roads in the region.
Crews remained "out in force" to clear slips and keep motorists safe on the roads, NZTA said.
It could be several days before Maniatutu Rd - between Otaramarae and Pongakawa - is reopened.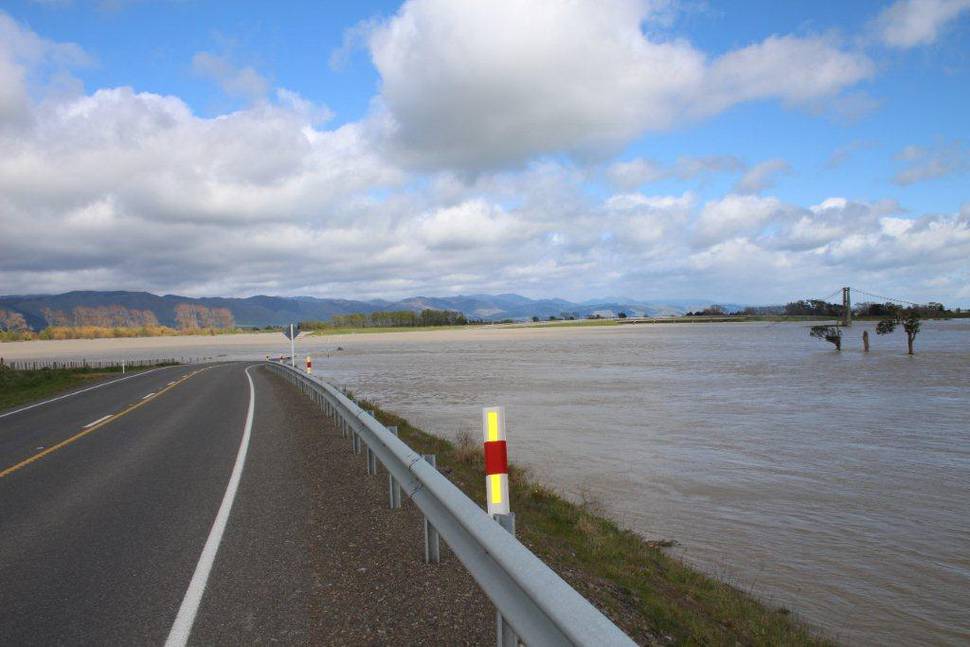 The Manawatu River was still rising and was expected to reach a peak of more than 5m today, Horizons Regional Council spokesman Allan Cook said.
It meant the floodgates were expected to be open for at least 24 hours, he said.
Water levels at Moutoa had reached more than 8m while other rivers in the region were being closely watched.
Operations and emergency staff had been monitoring rainfall and river levels overnight, Mr Cook said.
"The Manawatu River is still rising and we are expecting it to reach a peak of 5.3 metres at Teachers' College around midday.
"We anticipate this will result in the floodgates being open for approximately 24 hours."
The Rangitikei River had reached a 6.1m peak - similar levels to those seen in the June deluge - while the Oroua River had reached 3.2m last night.
"Fortunately there was little rain in the lower parts of the western catchments so there are no concerns with the Makino or Mangaone Streams ... [and] in the Whanganui, Whangaehu and Turakina catchments," he said.
Motorists were being urged to take extreme caution around Hawkes Bay and Gisborne as heavy rain continues to swamp the region.
Hawkes Bay Police has advised State Highway 2, Napier-Wairoa Rd remains closed but will open temporarily between 3pm-5pm. It will then close for the night.
Motorists are urged to delay non-essential travel and take alternative routes if possible.
Slips and flooding have reduced SH5 from Napier to Taupo to one lane in several places.
Inspector Dean Clifford said there was surface flooding as well as multiple slips and trees down in many rural roads throughout the region.
Motorists were urged to delay travel if possible, particularly in rural areas, he said.
"If you do have to travel, be on the lookout for road hazards and keep your speed down. There is a lot of wet, unstable ground that could potentially cause problems and road blockages so drivers need to be very careful," he said.
The major slip that closed Maniatutu Rd is about 9km north of the Rotoiti end, and the Rotorua Lakes Council is advising those with medical conditions to make precautionary arrangements in case of an emergency.
The New Zealand Transport Agency said SH56 from Opiki to Palmerston North was closed and motorists should use SH57 as an alternative route.
MetService meteorologist Emma Blades said residents in Hawkes Bay and Gisborne might have to wait until the end of the weekend to see some clear weather.
Some spots in Gisborne had received 200-300mm of rain this week while more than 100mm had fallen in the Hawkes Bay region.
A few showers are expected to remain in the Gisborne area today, as residents begin to clean up the damage caused by yesterday's floods. But a slow moving low trough over the north of the country means it's possible there will be further rain in Hawkes Bay and Gisborne on Thursday and Friday with possible heavy falls in the ranges, a MetService spokesman said. Footage: Jordan Perry/YouTube
She said an area of high pressure would start to spread over the South Island on Saturday, bringing more settled weather.
"This week has been a shocker for many, with hardly a glimpse of blue sky for eastern and central parts," Ms Blades said.
"It's not going to be a stunning weekend, with cloud and a few showers hanging around, but compared to what we had for most of this week it's not too bad a start to the school holidays."
Weather Watch head analyst Philip Duncan said the easterly flow bringing rain to New Zealand was a bit unusual for late September - particularly in light of the El Nino weather pattern.
The weather should dry up in October but the rain was a good thing for farmers in the Canterbury region who needed some wetter weather before summer, he said.
"This wet easterly is the odd one out - so a drier, westerly pattern should return in October.
"But for a while, many farmers can perhaps rest a bit easier knowing there's a lot more moisture in the ground and water tanks heading in to our driest half of the year."
Hopkins Farming Group owns the toll bridge farm in Opotiki - half of which is now underwater.
Supervisor Ricky Tuck said it was the second time in the last three months that farms in the area had been flooded.
Farms would have to by animal feed because of the loss of grass and a lot of fences would need to be repaired, he said.
The toll bridge farm was made aware of the rising floodwaters last night and started moving animals out and getting equipment ready from 9pm, he said.
"There will be other farms worse off [by this time tomorrow]. The water is quite fast moving so there will be little silt for the toll bridge farm, but for those on Main Drain Rd the water is slower and they will have more silt to clean up."
He said there had been no loss of stock on the farm to plenty of warning giving them "time to move everything".
The toll bridge farm had recovered a lot quicker in the last flood than the company's farms on Main Drain Rd, where water was now coming over the stock banks as well, he said.