A whale is basking close to shore at Auckland's waterfront.
Authorities have warned the public not to jump in their boats to ogle at the sea mammal - believed to be a southern right whale - which is swimming around in Mechanics Bay, and is visible from Tamaki Drive.
Truck driver John spotted the whale at Fergusson Wharf while delivering to the Ports.
It was near the rocky channels close to the Westpac Rescue Helicopter's helipad, he said.
It was a "very unusual" sight, he said, and there was hundreds of people taking photographs.
"He's rolling around in the water here with his flippers up, and his tail out of the water."It looked like a baby sperm whale, he said.
"I was going down the inside of the container wharf, just by the fence line, and it [the whale] was only about 25ft away. He was right hard against the rocks just about."
He had never seen a whale so close to the wharf before, John said, and had managed to snap a couple of pictures on his phone.
"I've seen pods of dolphins over towards the entrance to the harbour on the North Shore, above the Naval base, but I've never see anything like this down by Fergusson at all."
He added: "It's pretty cool, pretty cool and it raised a lot of eyebrows and attention from people."
The whale was not in any distress, Department of Conservation spokesman Nick Hirst said, and was not lost or stuck. It was merely "following its nose", he said.
Both DoC and police were on the water "keeping an eye" on the whale, to keep it safe, and Fullers ferry's had also been informed, Mr Hirst said.
"Basically we're just asking people to stay off the water, don't get in your boat and go and have a look," he said.
"You can see it fine right here, I'm on Tamaki Drive now looking at it. You can see it from the shore.
"Let's just keep this thing safe. Enjoy it, watch it, but let's keep it safe."
It was believed the whale has been swimming up the east coast of the North Island, Mr Hirst said, and was believed to be the same whale which was spotted off the coast of Mt Maunganui nearly three weeks ago. It appeared to be travelling north, he said.
Southern right whales normally swim quite close to shore, Mr Hirst said.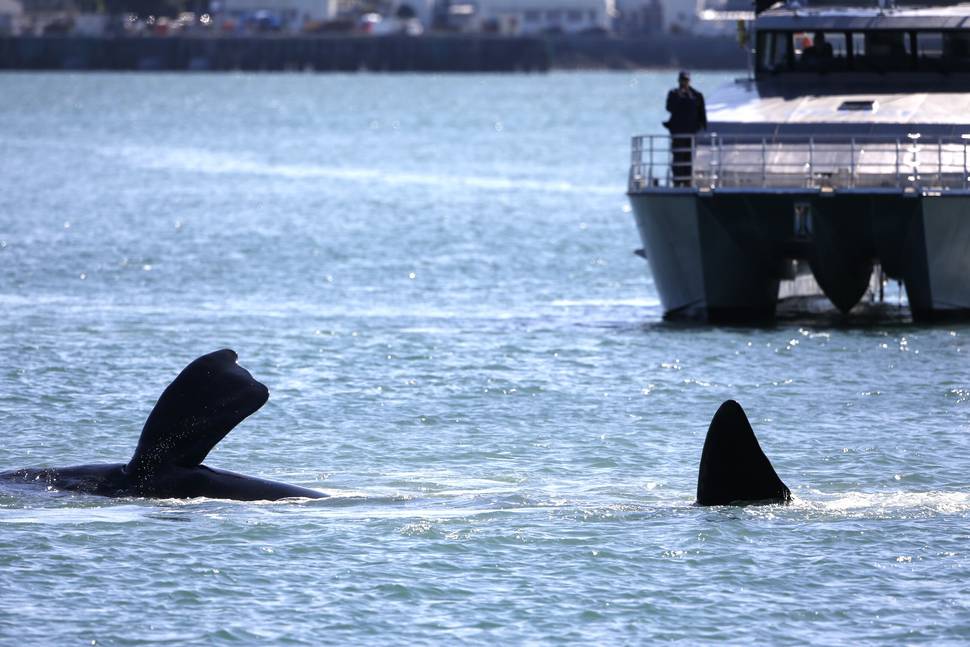 "This is what they do, they do stay close to shore. [It's] just doing what it would normally do. It's not in any distress, and we're just making sure it stays safe."
The whale had been spotted by members of the public earlier this morning.
Primatologist Julie Robson tweeted: "Whale off Tamaki Drive opposite mini golf. I hope it isn't trapped."
Last month DoC was called to a possible whale stranding off Moturiki Island in Mt Maunganui, after a whale was spotted in shallow water. It was not stranded however, and later moved into deeper waters.
Whale rescue group Project Jonah said at the time that southern right whale's were a rare species and people should keep their distance to avoid causing it any stress.
Also this morning around 20 dolphins were spotted between the Devonport Ferry terminal and the Navy base shortly after 8am.
One ferry passenger said: "Everyone on the ferry was like 'wow' and texting each other, announcements from Fullers."
Herald writer Suzanne McFadden also sent in photographs of a small pod of dolphins swimming close to the beach at Whenuapai last week.
She also snapped photographs of a similar pod jumping and playing in the water last month too.
"We have had a couple of visits from the bottlenose dolphins in the past fortnight," she said.
"The first pod came all the way up the Upper Waitemata to Riverhead, which I understand from locals doesn't happen often. They were very playful - jumping and twisting - on their first trip up and return late morning."
More dolphins, believed to be the same group, were spotted off Whenuapai boat ramp at low tide last Tuesday, she said.
"[They] played right on the edge of the channel, almost rolling in the muddy banks."It's so fantastic to see them up here; we never tire of them."
Southern right whales:
• Southern right whales, or Eubalaena australis, are a baleen whale, which can be easily recognised by their strongly arched mouth, lack of dorsal fin and v-shaped blowhole spray.
• They are typically black in colour but can have irregular white patches. The flippers are large and paddle-shaped.
• Also known as Tohora, they are slow swimmers but very acrobatic. They are also inquisitive.
• Their head and lower jaw is covered in callosities - large, white, rough growths on the skin that are usually infested with parasitic worms, whale lice and barnacles. The number and arrangement of these is unique to each animal, making it possible to identify individuals.
• An adult southern right whale can measure between 11m and 18m in length; while a newborn is typically between 4.5m and 6m.
• They are migratory mammals, and are only found in the southern hemisphere.
• The are the only large baleen whales that can be seen from the beach, and can come very close to shore.
• They are typically solitary animals, or part of a very small group.
Source: Department of Conservation