Gale-force north-easterly gusts of wind downed trees and signs, punched out office windows and tore vessels from their harbour moorings in Auckland today.
"It was a solid wind and a solid rain," said Weather Watch head analyst Philip Duncan, who estimated some gusts hit the CBD buildings at up to 100 km/h.
Auckland has been battered by strong winds today, with a trampoline slamming into one South Auckland house.
Fire Service Northern shift manager Colin Underdown reported 46 storm-related call outs, mostly to do with damage caused by the wind to trees and windows.
Rain and high winds were last night hampering efforts to clean up an oil spill in Tauranga Harbour.
On Auckland's east coast, Marine Services Auckland master Nick Lewis and his team were busy from daybreak answering six call outs from Okahu Bay to Half Moon Bay and Tindalls Bay, on the Whangaparaoa Peninsula.
Three vessels were badly damaged, he said, while the others would be floated off beaches at high tide and towed for boat yard repairs.
Early this morning, four boats were blown off their moorings in Waitemata Harbour by the northerly gale and smashed on to the rocky seawall along Tamaki Drive.
At Okahu Bay, two yachts and a classic launch were holed and sank, their contents left wedged in rocks as the tide retreated.
The owner of the 7.3m Waimania, Nick Williams, said he owned the "pied piper" design sloop for 18 months and it was a nimble and fast sailing craft.
"Seeing her smashed up with no bottom left has spoiled a nice long weekend.
He said the mooring of the $4000 craft was serviced only recently.
"She has served us well for five summers," said Diane Blomfield, co owner of the 7.3m sloop Hoopoe, as its splintered hull and cabin scraped up against the rock wall at Okahu Bay.
The mast had been ripped out of the hull.
"We have had some big storms come through and no problems with the mooring."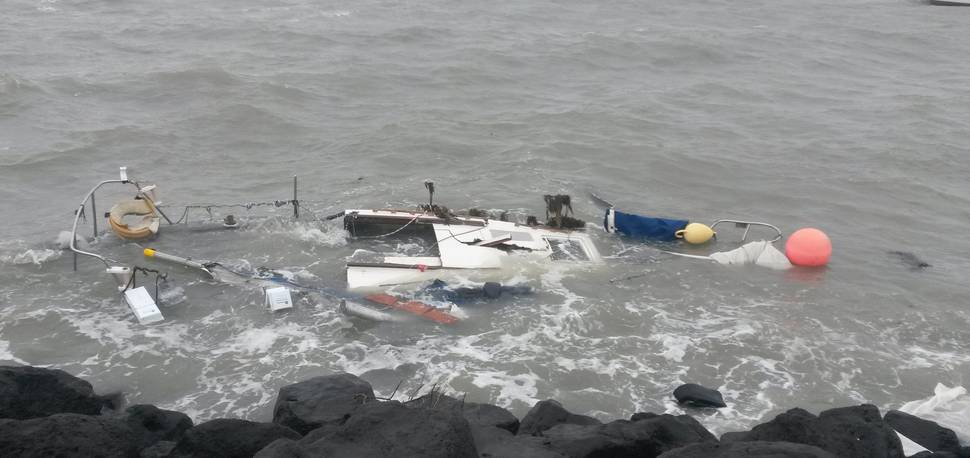 She said the Alan Wright-design Variant had been a good vessel when for her son and daughter were learning to sail and had carried them to most islands in Hauraki Gulf.
"We looked after her and had just fitted a brand new mainsail and applied a coat of anti fouling."
Ms Blomfield said the vessel was insured and was valued at $9000.
In Tauranga, the Bay of Plenty Regional Council was warning an unknown quantity of heavy fuel oil - thought to have been spilled from an oil line on a berthed ship - could come ashore on beaches.
Adrian Heays, the regional council's oil spill on scene commander, said severe weather was hindering oil retrieval, with some booms proving ineffective in the high winds and heavy seas.
There were concerns the oil would be carried out to sea with the tide, while at the other side of the port, four streams had been spotted heading towards the railway bridge.
Mr Duncan, of Weather Watch, said the country was under a huge low pressure system that formed quickly on Sunday and today would start crossing the South Island.
"The downpour is fantastic news for farmers and growers in the North Island after worrying about the big dry but they need a lot more rain on the grass before their concerns will be over.
One young Auckland family had a lucky escape after a tree was blown down on the front of their car this afternoon.
Pamela Amorim and her 2-year-old daughter Nicole had driven to AUT's North Shore campus and stopped briefly to pick up her husband Murilo from the library.
She parked as close to the entrance as possible for convenience but it turned out to be anything but a simple pick-up.
"I just parked there because it was raining so he could come straight into the car, and the tree came down on us, so it was quite scary," Mrs Amorim said.
She said she froze as the trunk came down on the vehicle's bonnet and windscreen, before pulling her daughter out of her car seat and seeking refuge in the library.
Mr Amorim said he "just ran and tried to help them".
"I was shocked. I was like 'what can I do? what just happened?'," he said.
"I thought something had happened to them because it was at the front, right where my wife was driving. I really thought something happened to her and I just ran."
SEND IN YOUR WEATHER STORIES, PHOTOS AND VIDEO HERE
- additional reporting Rob Kidd