The jury in the assault trial of Blues rugby player George Moala has found him guilty on one charge.
Moala and his brother Siua had been accused of assaulting two men, Clifford Matoka and Damian Leota, during a vicious bar fight in Auckland in December 2012.
The brawl, which erupted in a small bar on Karangahape Road and spilled out onto the street, left one man in hospital and several people arrested.
After five hours of deliberation, the jury found Moala guilty of assaulting Mr Matoka with intent to injure him, but not guilty on two other charges - of assaulting Mr Leota with intent to injure him and of common assault on Mr Matoka. They found his brother not guilty on all three of the same charges.
George Moala was bailed and is due for sentencing on May 1.
Judge Rob Ronayne thanked the brothers' family and friends for maintaining a dignified silence while the jury read their verdict. "I thank you for the dignity you have shown," he said. "It can't have been easy to hear that verdict."
Both men left the district court in silence, with George Moala walking several paces behind his brother.
There was some initial confusion when the foreman mistakenly declared Siua Moala guilty after the court registrar read out Siua's name. She then corrected herself after realising the mistake.
Mr Matoka and Mr Leota were not in court.
Before delivering their verdict, jurors had asked the judge for a definition of what constituted encouraging an offence. He told them that such behaviour would have had to occur during the offence, or just before it, to have assisted or encouraged it.
He had also instructed them to ignore any idea of "status" they may attribute to either of the accused.
During the trial, Josh Shaw, for the prosecution, said there were differing accounts as to what triggered the confrontation at the Desi Lounge on December 30, 2012.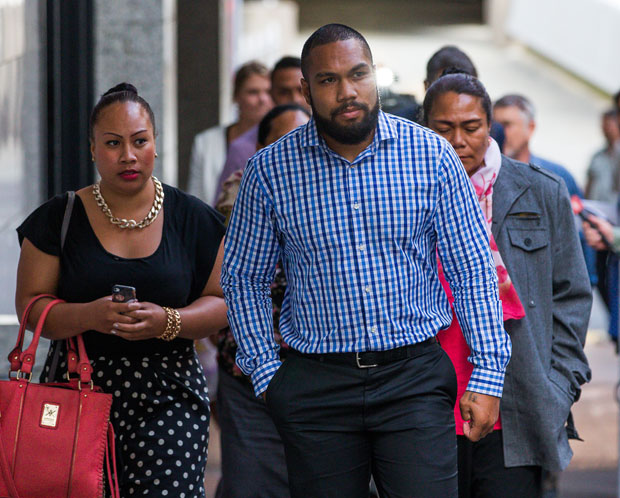 Siua Moala leaves Auckland District Court after the jury found him not guilty on all charges. Photo / Jason Dorday
He said that Mr Matoka had suffered a concussion and significant blood loss after an artery was nicked.
"He was described as being on the ground with blood pouring away as blows continued to come," Mr Shaw said, adding that George Moala had continued to attack Mr Matoka even after bar security tried to lead Mr Matoka to safety.
However, George Moala's lawyer, Paul Wicks, QC, said the fight broke out after Mr Leota started shouting at other patrons in the bar.
Siua Moala's lawyer, Mina Wharepouri, suggested that the complainants had "drunkenly called out other people in that area for a fight" and that Mr Leota had displayed "oafish behaviour".
But Mr Matoka, who admitted drinking nearly a litre of gin before heading into town, denied instigating the fight. "I don't call people out. I'm not that type of person," he said.
George Moala's girlfriend of five years, Vava Fosita, said she was hit by one of the complainants, which led to her partner trying to "protect her".
Ms Fosita said the man threw a punch which clipped her lip, before her boyfriend stepped in and punched him back. She said Mr Leota was acting aggressively.
"There's no doubt my client [Suia Moala] assaulted somebody, he admitted as much to police. Can the Crown prove beyond reasonable doubt that he was not justified in doing so?" Mr Wharepouri said.
"He was reacting so as to defend his younger brother. He honestly believed his brother was under attack."
Mr Wicks said the rugby player stood up when the original fight broke out but was held back by his girlfriend.
"The only other involvement that occurred was downstairs when his partner was struck at the doorway," he said.
CCTV footage showed him and others pursuing Mr Leota along the pavement before running off when police arrived. He was apprehended by officers and told them he had "retaliated" because of a punch thrown at Ms Fosita.
George Moala, who has represented Tonga at under-20s level, signed a two-year contract with the Blues after an impressive season last year with the Auckland NPC team.