The father of the 22-year-old Queenstown man at the centre of an alleged kidnapping has asked for privacy to allow his son to recover from the ordeal.
Joseph Armstrong's father, Brian, told the Otago Daily Times yesterday his son was recovering after what police described as an alleged kidnapping.
Police located Joseph at a Queenstown camping ground just before midnight on Sunday after he went missing from an address in the resort on Tuesday last week.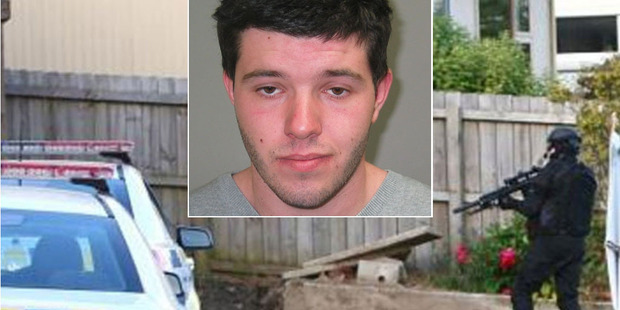 Armed police raid a property in Queenstown in connection to the alleged kidnapping of Joseph Armstrong (inset).
''He's still pretty beat up,'' Brian said.
"He's coming all right. He just wants to be left alone at the moment.''
Police are still hunting for two men believed to be linked to the alleged kidnapping.
Relieving Otago rural area commander Inspector Olaf Jensen called on Pita Wilson, 38, and Joshua Veint, 23, to contact police.
Police were continuing to treat the incident as serious despite posts on Facebook by someone identifying themselves as Joseph saying the incident was ''a joke''.
The comments were ''ill-founded'', Inspector Jensen said.
A post appeared on Joseph's Facebook page about 7pm on Sunday, claiming the kidnapping was based on lies and a hoax.
Yesterday similar posts were attributed to him.
A teenager charged over the alleged kidnapping appeared in the Queenstown District Court yesterday.
Mark Junior Taylor, 17, of no fixed abode, was remanded in custody on charges that from November 25-27, in Queenstown, he jointly with Pita William Hapurona Wilson and others unlawfully detained Casey Johnston and Andrew Lee without their consent.
He is due to appear in the Invercargill District Court today, along with a 36-year-old Queenstown man, who is charged with being an accessory after the fact to injuring.
The pair were arrested at the weekend.
Queenstown police and the armed offenders squad stopped a vehicle in Glenorchy Rd yesterday and questioned the car's two occupants about the kidnapping. No arrests were made.
Inspector Jensen said police were confident Veint and Wilson were not a threat to the public.
''The situation could be resolved by Wilson and Veint making contact directly or indirectly with police,'' he said.
''The two men do not pose a risk to the general public. However, they should not be approached.''
Anyone who sees either of them should call police immediately on 111, he said.
During a media briefing yesterday afternoon about the case, Inspector Jensen was reserved about the details of the investigation.
He would not comment on Veint and Wilson's access to firearms.
''They don't pose a danger or risk to the public generally, but we will take precautions in dealing with the gentlemen,'' he said.
He would not be drawn on specifics of the case, other than to say ''all of the people that have been involved know one another''.
He also refused to comment on the nature of the injuries sustained by Mr Armstrong.
''Mr Armstrong has suffered some injuries. He was spoken to last night and he was advised that he should be seeking medical treatment for those injuries,'' he said.
''I'm not going to comment on the nature of the injuries.''
Questions from the ODT to police about how those caught up in the case knew each other went unanswered yesterday. Also unanswered were questions about how police learnt about the alleged kidnapping and why it took place.
Anyone with information that could help police can contact Queenstown police on (03) 441-1600. Information can also be provided anonymously via Crimestoppers on 0800 555-111.