Students were cold and shocked when they arrived at Thames Hospital after the bus taking them to camp on the Coromandel crashed early this morning.
Emergency services were called to the incident on Kauaeranga Valley Rd in Thames at 10.44am, after the bus carrying about 50 children left the road.
The Year 10 students from Howick College were taking part in an overnight tramping trip to the Pinnacles hut.
Watch: Howick College principal 'We're doing all we can to support them'
Emergency services were called to the incident on Kauaeranga Valley Rd in Thames at 10.44am, after the bus carrying Year 10 students from Howick College in east Auckland left the road and rolled into a ditch. St John's Ambulance reported this morning that 11 students had been seriously injured in the crash. However, Howick College principal Iva Ropati said this afternoon that 14 students had been taken to hospital but that they were in a "non-serious" condition.
Earlier today, a St John Ambulance spokesman reported that 11 children were taken to Thames Hospital in a serious condition following the crash.
He said a further 35 students were treated at a triage tent near the scene for minor injuries.
However, Principal Iva Ropati told reporters this afternoon that 14 pupils had been taken to hospital in a "non-serious" condition.
They were assessed for injuries including cuts and bruises, but none were admitted to hospital.
The remaining pupils headed back to school where they were collected by their parents.
Do you have more information? Email us here
Mr Ropati said: "We are doing all we can to support everyone who has been affected by this. We have our school counsellors on call and have the support from the trauma team from the Ministry of Education."
He said the parents were "distraught".
"They have all been contacted and obviously it's a shock to them but we have the support team here to try and support them as much as possible."
Board of trustees chairman Peter Jones said the group had intended to walk up to the Pinnacles Hut and return to Auckland tomorrow.
"We are all very very relieved that there's no loss of life and no serious injury," he said.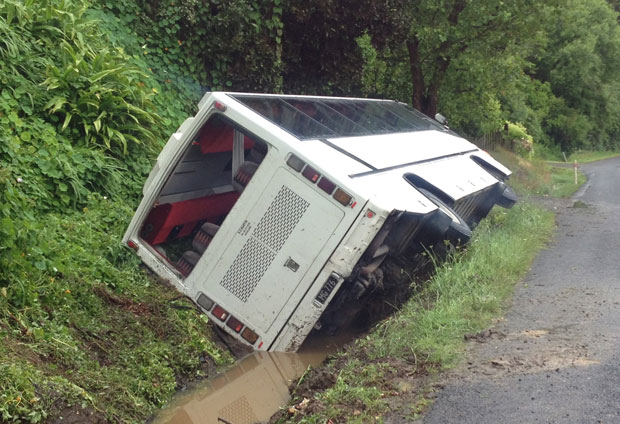 The bus crashed and rolled into a ditch near Thames this morning. Photo / Alan Gibson
One 14-year-old student who was in the crash told One News that some his friends came out of the bus "all cut and crying".
"There was one guy with a massive cut on his arm and he was bleeding all down his arm," he said.
Thames Hospital manager Jacquie Mitchell said the hospital was alerted that a number of patients would be arriving in the emergency department, and preparations were made to receive them.
She was very impressed with the students.
"They showed great maturity, calmness and were thoughtful about their friends and school mates," she said.
Charge nurse manager David James said the students arrived very cold and shocked.
"On a day like today you can get hypothermia very quickly," he said.
"Once they were warmed up a bit and had some food their spirits were very good.
"There were a few that needed x-rays and others that had cuts to their arms and bumps and bruises, but all in all they're not serious."
Cellphones weren't allowed on camp, so when the students arrived at hospital it had been a challenge for them to reach their parents, he said.
"I think there had been a couple smuggled in, but they used the hospital phones too," Mr James said.
Ian Coatsworth, the Ministry of Education's services manager for Waikato, said the students were recounting stories they would be sharing with their classmates when they got back to school.
"They're laughing and showing off their battle wounds. But you can still get a sense that this has been quite an event for them, and we are providing them support for that."
The Booms rest home, on Parawai Road near the scene of the crash, offered assistance to some students after this morning's accident.
Manager Sharen Landy said they provided warm blankets and dried the students' clothes. They also provided a phone for students to call parents as well as tea, coffee and food.
"Some were shocked, some were obviously upset so we just all pitched in and helped and did what was necessary," Ms Landy said.
Parents who arrived to collect their students from Thames Hospital declined to talk to media today, and other students were escorted from the hospital away from media.
Acting Sergeant Rachel Holmes said police were still unsure as to what caused the crash.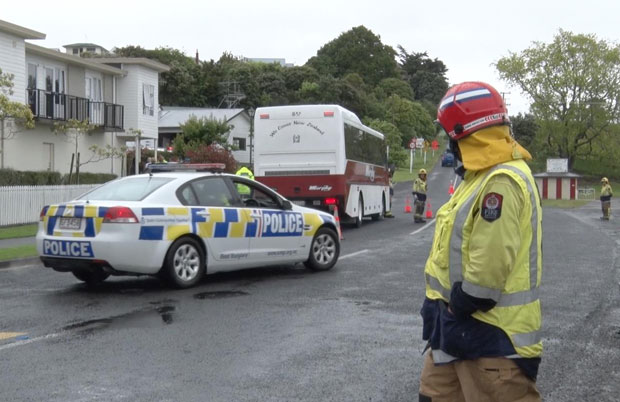 Emergency services removed the children from the scene of the crash. Photo / Daniel Hines
Senior Sergeant Rupert Friend from the Waikato District Command Centre said the road may be closed for some time, given the logistics of getting the bus back on the road and because of the bad weather.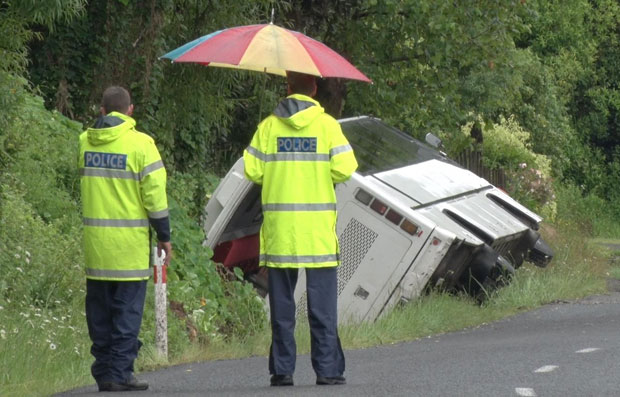 The crash has caused major disruptions to traffic. Photo / Daniel Hines
"People in the area are asked to use alternative routes where possible and diversions are currently in place," he said.
Police said they wanted to speak to the driver of a white sedan that was travelling along the road in the opposite direction at the time of the crash.
Police northern communications Inspector Will Taylor said there was "a great deal of shock and trauma involved".
He said that was because of the numbers involved, "but it is not a severe crash''.
A second bus, also carrying schoolchildren, was following the bus that crashed. It was turned back to the racecourse.

- Additional reporting: Martin Johnston of the New Zealand Herald