November 11 has special significance for Tauranga woman Justine Neal and her family - her late father's cousin, Private Alvar Francis Fenton, served in World War I and never came home.
Armistice Day has even more importance today because it is 100 years since the start of WWI, and RSAs are marking the day in different ways, including 11am commemorative services at Greerton Hall, organised by the Tauranga RSA, and the Te Puke RSA.
Private Fenton was a rifleman with the NZ Rifle Brigade and enlisted on March 7, 1916.
He was among 107 Tauranga men who enlisted from Tauranga or left from the city to go to war. Mr Fenton died in northern France from bomb wounds to his legs on February 14, 1917, aged 21.
He was born into a farming family but his Irish-born mother, Rose, died when he was 2 and the youngster was adopted by the Lever family, Mrs Neal said.
Mr Fenton was buried in Estaires Cemetery on the border of Belgium and France.
"I'm unsure whether anyone in our family has ever visited Alvar's grave in the past 100 years but one day I would love to. I don't think we can probably imagine what he and the other young men went through.
"It's a real tragedy that so many young people lost their lives, and the sacrifices they have made for us all must never, ever be forgotten," she said.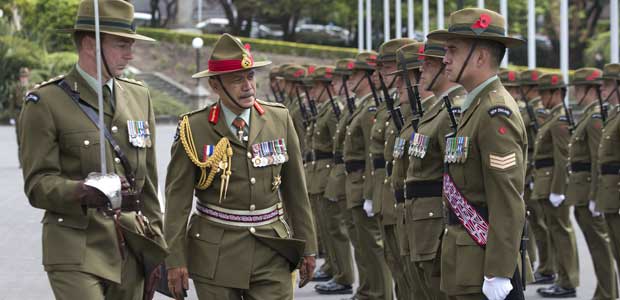 The Governor General, Lieutenant General Sir Jerry Mateparae taking the Royal Salute. Photo / Mark Mitchell
To that end, her Mount Maunganui-raised military historian son, Dr Damien Fenton, had dedicated his book, New Zealand and the First World War 1914-19, to Alvar Fenton, Mrs Neal said.
Among the 107 white-painted crosses planted in Masonic Park in August to honour the local fallen soldiers who died in World War I was one she had painted for "Alvar".
Mrs Neal said her late father served in World War II and died in the late 1980s, so Anzac Day was also important to the family.

The RSA's commemorative services today include one at Greerton Hall, organised by the Tauranga RSA, and a similar service and parade at Te Puke RSA, both at 11am.
Day to honour those NZ lost in WWI
• WWI timelineAugust 4, 1914 - Britain declares war on Germany
• August 29, 1914 - NZ forces capture German Samoa
• October 16, 1914 - NZEF main body departs
• April 25, 1915 - Gallipoli landings
• August 1, 1916 - NZ introduces conscription
• November 11, 1918 - Armistice Day
• June 28, 1919 - Treaty of Versailles