He may be wanted by police, but that didn't stop a 23-year-old man getting into a verbal stoush with Christchurch police over his own mugshot.
Christchurch police posted a photo of Samuel Evan Lake on their Facebook page yesterday, appealing for information as to his whereabouts.
Lake, who has an outstanding warrant for his arrest, posted "I need to get a new mugshot" below his photo shortly after it was posted.
The original Facebook post: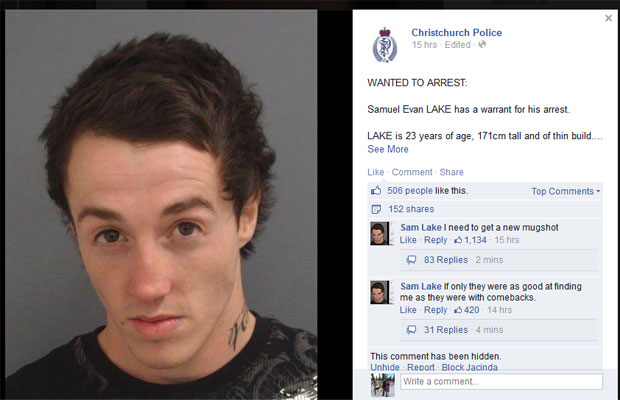 It prompted Christchurch police to shoot back with: "Come see us and will arrange at no cost."
"If only they were as good at finding me as they were with comebacks," Lake replied.
The police quip has attracted more than 2500 'likes'.
Mr Lake later changed his Facebook profile image to a photoshopped version of the mugshot, altered to look like the Ben Stiller character from the movie Zoolander:
Police posted on the Facebook page that Lake had been apprehended about 8.40pm tonight.
"Thank you everyone for your help. Pleased to say that Mr Lake has been apprehended a few minutes ago," the post read.