Father of two can't speak or eat as he struggles back to health after crash with train
A digger driver critically injured by a freight train is still in hospital four months later, unable to speak or eat.
Paul Anderson, 37, was working on the Raurimu Spiral near Tongariro National Park in June when the train struck his digger.
The father of two girls survived the accident without a single broken bone - but suffered a severe traumatic brain injury.
He was in a coma for three weeks, and has been treated in hospitals in Waikato, Palmerston North and now Porirua.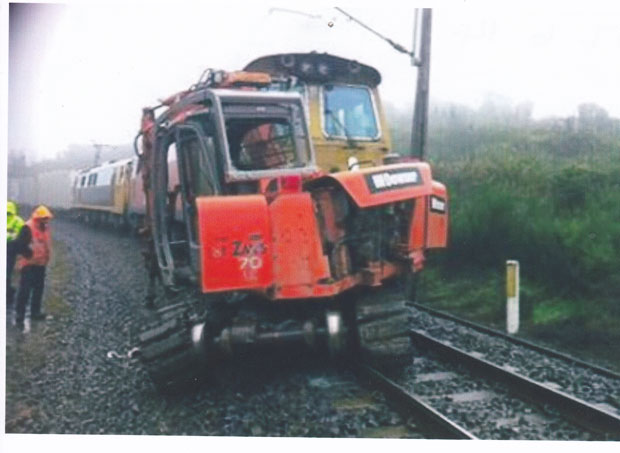 Paul Anderson was working on the Raurimu Spiral when a freight train hit his digger.
Mr Anderson has a tube in his throat to help his breathing, and is unable to talk or eat.
He's fed directly into his stomach, and is only now beginning to receive some liquid food.
Vashti Faulkner, Mr Anderson's partner of 15 years, and their two daughters Laurel, 12, and Violet, 6, spend as much time as they can at the Acquired Brain Injury Rehabilitation unit in Porirua.
Ms Faulkner makes the three-hour round trip from their home in Foxton every day. "I drop the girls at school every day and then come and spend the day here."
She said although her partner could not speak, he could understand her and communicate through moving his head.
"I find it frustrating when I see he wants to tell me something but I don't know what it is," she said. "I am just hoping he will be able to talk soon. He's getting much stronger and they are doing awesome work here."
At the time of the accident Mr Anderson was working for Downers as a hire rail digger driver, but was contracted to KiwiRail.
Four months after the accident, KiwiRail is still unable to comment on what happened because the investigation is continuing.
A spokeswoman said the investigation was being completed in conjunction with Downer.
"This was a very serious incident with a serious outcome. There needs to be a thorough investigation to properly understand what led to this incident so we can ensure the right measures are in place to ensure there is no repeat."
Ms Faulkner said her family's priority was to see Mr Anderson recover from his injuries. "It's not really going to help him at the moment, but of course he would like to know himself one day [what happened]."
Ms Faulkner said it was too early to tell when her partner might be home or what he would need, but the family wanted to be as prepared as possible.
Ms Faulkner's father has set up a Givealittle page to raise money to assist when Mr Anderson returns home. "It is awesome seeing him get better every day, we would love to see him at home now," Ms Faulkner said.
Fight to recover
Paul Anderson's injuries
• Paul Anderson suffered from severe traumatic brain injury after his digger was hit by a freight train.
• He was in a coma for the first three weeks and needed a ventilator to breathe.
• He now breathes with the aid of a tracheostomy tube, which means he can't talk or eat. His movement is also limited.
• His only communication is through moving his head.
To donate: Go to givealittle.co.nz/cause/HelpBringPaulHome