Labour leader David Cunliffe says he will not stand down despite a heavy defeat in election 2014.
Labour's share of the vote dropped by around three percent to 24.68 percent of the party vote - one of its worst results in modern history - while National rose in the polls to win its third term in office.

Speaking to supporters in Auckland he confirmed that he had conceded to Prime Minister John Key but indicated that he expected to stay on as Leader of the Opposition.
"It has been an incredible privilege to lead this fine party."
He said it was clear Labour would not be able to form a government.
"It is time to put aside political differences for the good of the country"
Read more of the Herald's election coverage here:
• National win three more years with resounding win
• John Armstrong: Utter triumph for John Key
• Kim Dotcom says he 'poisoned' Internet-Mana
• Winston Peters hits out at National after big poll surge
• Green leaders in defiant mood despite results
• Colin Craig 'happy' to have improved vote
• As it happened: New Zealand election 2014
Mr Cunliffe would not comment on whether he intended to clear ask MPs to stand down in order for the party start afresh.
"I'm not going near any particular issues tonight because I think we need a thorough and broad based process of listening to New Zealanders, reflect in the various issues, a mandate for change and rebuilding that will mean that we win in 2017."
Labour Party supporters continued to try to party despite the succession of dismal results, including former Cabinet Minister Trevor Mallard only just holding onto his seat of Hutt South by the smallest margin of any electorate - around 300 votes.
"It doesn't matter what they say, we're gonna celebrate," a Labour Party supporter said.
He's an aberration at Wellington's Wharekawa restaurant, where a 100 or 200 regional Labour supporters gathered.
On a big screen TV, David Cunliffe begins his concession speech. Mention of tiny triumphs, such as Kelvin Davis' victory, and a few breakthroughs in Auckland, briefly raised a cheer.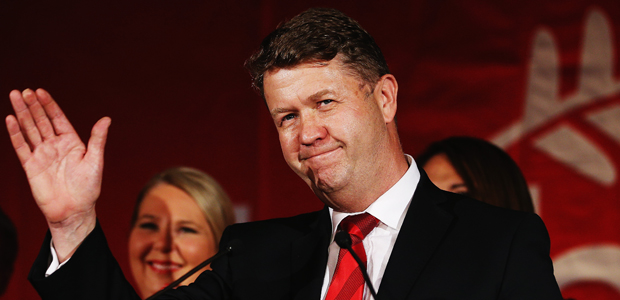 Labour leader David Cunliffe thanks the audience after he concedes defeat. Photo / Getty Images
But overwhelmingly, disappointment lingers.
Trevor Mallard is feverishly checked a tablet, monitoring the tight Hutt South race against National newcomer Christopher Bishop.
"I knew that Bishop," Julie Englebretsen says.
"I was his kindy teacher."
Ms Englebretsen and Donna Cleland both helped in successful Labour MP Chris Hipkins' Rimutaka campaign.
Ms Englebretsen is upset at Labour's poor party vote but sees a silver lining.
"I'm glad Hone's gone. I'm glad the Conservatives didn't get in."
Chris Hipkins is direct when discussing Labour's failure.
"What we're doing now isn't working."
He says Labour needs to talk less and listen more.