Julie King
Community Spirit
It is a Monday, and 100 people are gathered at Tokoroa East Bowling Club for an evening meal.
On the menu are pumpkin and ginger soup, bacon and egg pie, casserole, and banana cake.
The food is prepared and served by volunteers through Love Soup Tokoroa, a charity founded last year by 39-year-old mother-of-four Julie King to provide free meals for the hungry.
Tonight there is a local band providing free entertainment too.
"At the moment it is booming and it is really helping a lot of people," said Mrs King, whose efforts earned her the Pride of New Zealand Community Spirit award for the mid-North Island.
"It is not just about being fed but it is about forming friendships and social interaction."
Everyone is welcome.
"It is pretty much a balance of all walks of life - we have children, we have elderly, we have families, and we have single people."
The service started after The Genuine Tokoroa Facebook page asked people what could counter the negative impact of synthetic drugs.
Mrs King picked up on the idea of a soup kitchen, set up her own Facebook page, and did research by speaking to people at markets in Tokoroa and West Auckland.
As well as the Monday meal, Love Soup does a Wednesday lunch.
The movement has also taken off in Waitakere, Rotorua and Whangarei. Money and food are donated, with Fonterra and Countdown the biggest financial supporters.
Mrs King says her work with Love Soup is therapeutic.
"I have bipolar and severe depression, but I find being around these people and the love that comes from that place [like] medicine."
She is grateful to the local health worker who nominated her for the Pride of New Zealand Awards.
"They are the ones who helped me through my darkest days."
The scheme has allowed some volunteers, including high school students, to gain food-handling qualifications.
"It is a very giving town," said Mrs King.
Police officer with 'heart of gold' raises $2m for charity
Peter Blackwell
Lifetime Achievement
A policeman who has raised more than $2 million for charity is organising his 20th and final fundraiser.
Detective Sergeant Peter Blackwell set up the Tauranga police CIB Charitable Trust, which runs an annual lunch and auction.
The 1400 tickets for this year's event on October 17 at Baypark sold within 36 hours.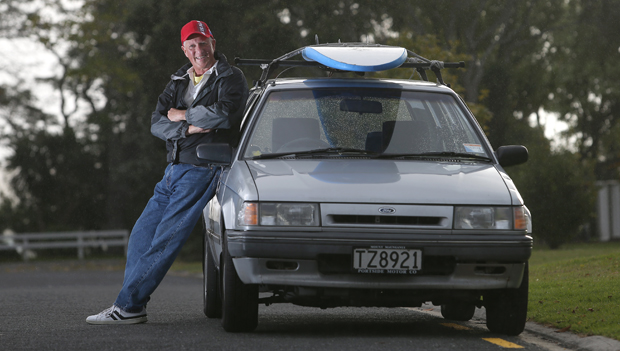 Photo / John Borren, Bay of Plenty Times
But the 55-year-old father of four says this year's event will be his last and at this stage nobody is lined up to take over from him.
Mr Blackwell said his family and work commitments meant the time was right to stand down.
"Nothing is forever and we are ending on our own terms."
The event has grown enormously since the day 20 years ago when Sir Gordon Tietjens spoke to a social gathering of just 40 police officers.
The list of guest speakers since has included David Lange, Sir Graham Henry, Sir Colin Meads, Sir Brian Lochore, Peter FitzSimons and Nick Farr-Jones.
Pride of NZ Awards: Peter Blackwell
Items in this year's auction include an $18,000 tractor, travel packages to Fiji and Australia, a rugby jersey signed by Colin and Stan Meads, and cricket memorabilia signed by Indian legend Sachin Tendulkar. The other organisers are Detective Senior Sergeant Greg Turner, Sergeant Nigel McGlone, Glenn Cotterill, Leona and Graeme Smith, Judge Paul Geoghegan and John Mathewson.
Mr Blackwell said the group "lives and breathes" the event all year, and worked hard to secure auction items.
Mr Mathewson nominated Mr Blackwell in the Lifetime Achievement category of the Pride of New Zealand Awards. Mr Blackwell won the mid-North Island award, making him a finalist for the national award on September 10.
"Blackie has a heart of gold and has a real commitment to the event and making a difference in his community."
- Monica Holt
Voting is now open for the TSB Bank People's Choice Award. The Herald will profiling each of the 24 national finalists. Voting closes 11.59pm on September 7, with awards to take place on September 10. Decide who you think is the most deserving. You are only able to vote once, so choose wisely. You can register your vote here.
* For more awards information, visit: prideofnzawards.co.nz.