Prowess and strength on the rugby field was repeated in sportsmen's courage under fire in Europe
The first All Black to die in World War I was Albert "Doolan" Downing, a rangy forward who sported a Ranfurly Shield tattoo on his left arm.
The Napier storeman, who played 26 games for the All Blacks, was one of two players killed in action at Gallipoli.
A lock and loose forward for Auckland Marist, Downing, 29, was among a group of players who entered a pact to enlist for war as they sailed back to New Zealand from an Australian tour. Of the 23 players who toured, only five did not serve overseas.
During a game against Metropolitan Union in Sydney on August 5, 1914, Downing and his teammates learned that war had been declared when the news was posted on the scoreboard.
He joined the army, played two games for Trentham Military Forces, and left in June 1915 with the Fifth Reinforcements.
Two months later he was dead, killed in action on August 8, 1915, as troops from the Wellington Regiment landed at Suvla Bay.
Nuggety Taranaki forward Henry "Norkey" Dewar - named for his small but granite-like physique - was the other All Black to die at Gallipoli.
Dewar, an ironworker and member of the Wellington Mounted Rifles, was killed in action at Anzac Cove a day after Downing died.
The two players were among the 13 All Blacks who died in the war.
Robert "Bobby" Black, who died in the Battle of the Somme in September 1916, was a teammate of Downing and Dewar in the side which toured Australia.
The best-known All Black to lose his life was Irish-born Dave Gallaher, captain of the 1905 "Originals".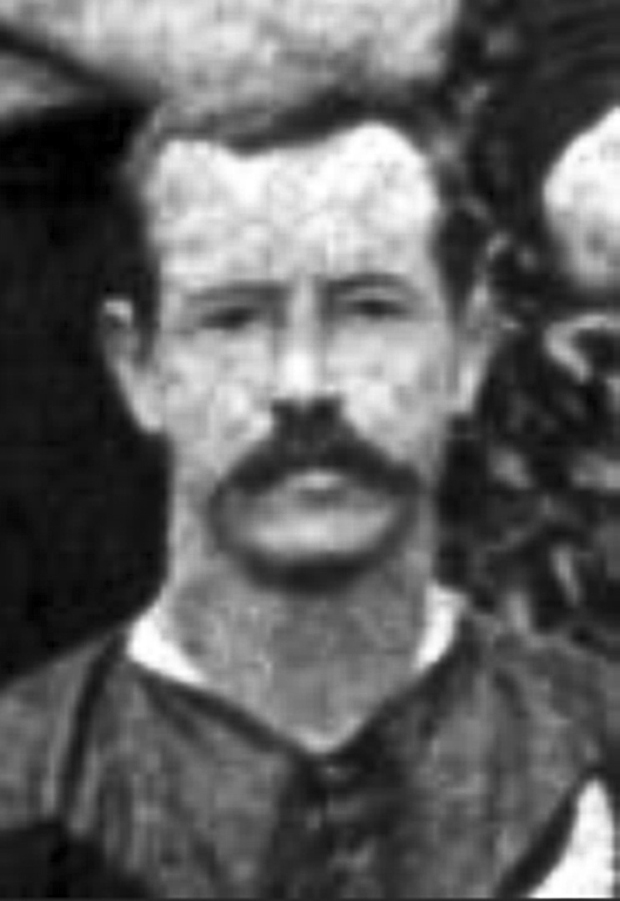 Dave Gallaher.
A Boer War veteran, Gallaher re-enlisted for war after the death of his younger brother. He was extremely fit and often in the thick of action.
Badly wounded in the Battle of Passchendaele on October 4, 1917, he was taken to a field hospital but died later that day. He was 43, the oldest and most illustrious of the All Black casualties.
Ernest Booth, a teammate in the 1905 side, said of his skipper: "He was a valuable friend and could be, I think, a remorseless foe. To us All Blacks his words would often be, 'Give nothing away: take no chances'."
Throughout the war soldiers were encouraged to play rugby as a way to sustain morale and welfare.
During a respite from the disaster at Gallipoli, the Anzac comrades organised a game on the island of Lemnos. In this wartime Bledisloe contest, played with a football because no rugby ball could be had, the New Zealanders ran in 13 tries. The Australians managed one.
Another singular game was played in Paris in April 1917 against France for the Somme Cup. A crowd of 60,000 watched the game, won by the New Zealanders 40-0, though, as war correspondent Malcolm Ross noted in his report, a number of the French players had been at the front fighting the Germans the day before.
The grimmest period for All Black casualties on the Western Front was in June 1917. Four men died in the space of two weeks, three in the bloody Battle of Messines, while 1913 All Black James Baird died of wounds in France. Jim Baird played just three first-class games - one of them an All Black test.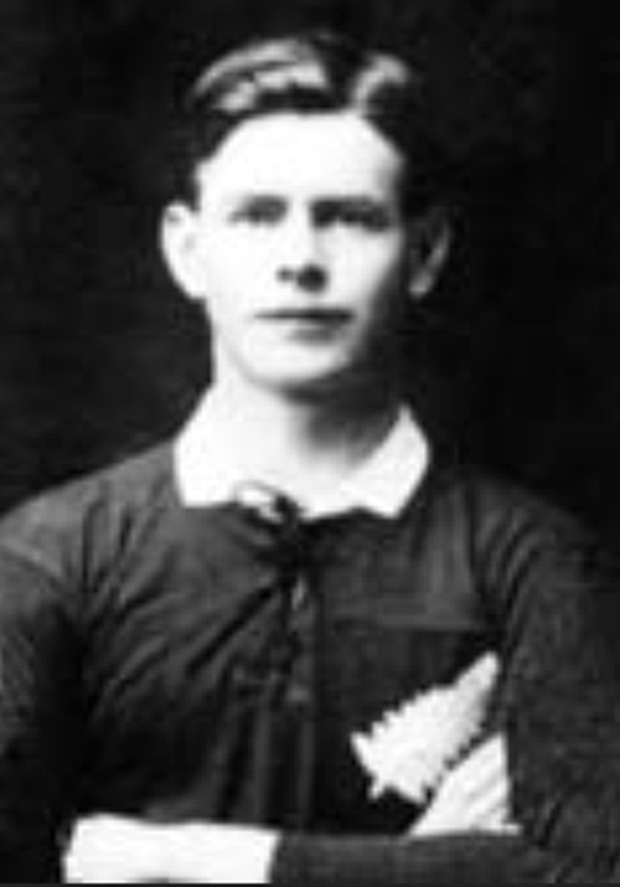 James Baird.
The young Otago winger was called into the national side when Eric Cockcroft, the selectors' first pick, withdrew because of injury.
Baird, 19, got the nod because he was the closest player available for the test in Dunedin.
Ponsonby front-rower and member of the first NZ Maori side George Sellars was carrying a wounded comrade when he was killed at Messines on June 7, 1917. Sellers played 15 times for the All Blacks.
Wing or loose forward Reg Taylor played two tests in 1913. A son of Taranaki - and a member of the New Zealand team that played in Paris for the Somme Cup - Taylor was killed in action in Messines on June 20, while Jim McNeece, a forward in the 1913 and 1914 teams, died of wounds one day later. Southlander McNeece, a big, fast loose-forward, played 11 All Black games. Shot in the chest, the 32-year-old farmer was treated in an Australian ambulance station on June 8, 1917. After being transferred to hospital, he never recovered and was buried in Rouen in northwest France.
Besides Robert Black, the Somme also claimed Frank Wilson, a speedy Auckland winger who twice wore the silver fern. Wilson, 31, a teacher, survived Gallipoli, but could not recover from wounds at the Somme.
Canterbury fullback Hubert "Jum" Turtill stunned the rugby world early last century when he switched to league. The British-born Turtill - his nickname was short for Jumbo, a reference to his size as an infant - played one test for the All Blacks, but changed codes and joined the All Golds, a team which toured Britain in 1908. He stayed on as a professional player with St Helens before becoming an innkeeper.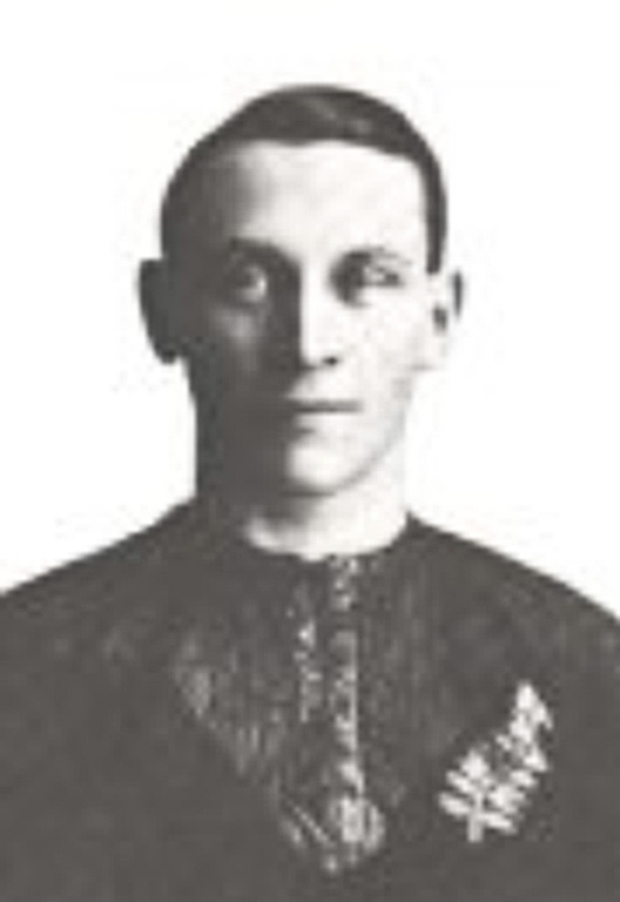 Hubert "Jum" Turtill.
Enlisting with the West Lancashire regiment, Turtill saw action in France. He was killed, aged 38, in April 1918.
The strapping Eric Harper played 11 times for the All Blacks and toured Britain with Gallaher's Originals. He also excelled at cricket and athletics, and was a handy mountaineer.
Harper, a lawyer, served in the Canterbury Mounted Rifles and was posted to Palestine. He died there, aged 40, as he tried to control horses spooked by Ottoman bombardments on April 30, 1918.
Ernie Dodd played three games for the All Blacks. A tough front-rower, he turned out for a Wellington team which beat the All Blacks in 1905.
Enlisting in his late 30s, rifleman Dodd got to France in early 1918. He spent three days in hospital in June after a bullet creased his scalp, but his luck ran out three months later when the NZ Division took part in an assault on the Hindenburg Line.
On September 11 a German sniper shot Dodd in the throat.
The last All Black to die was blacksmith Alex "Jimmy" Ridland. He turned out as hooker in six games. The rugged Southland forward was among the Kiwis who liberated Le Quesnoy, in northern France, in one of the last acts of the war. A week before the Armistice was signed, the NZ Division used ladders to storm the walled town.
Among the casualties on November 4, 1918, was the 36-year-old from Invercargill. He died the next day.