Woman's climbing companion flown to hospital with serious head injuries after slipping 300m on ice
A frightened woman who watched her climbing companion slip on ice and fall 300m was helped to safety in a dramatic mountain rescue on Whakapapa skifield.
The incident unfolded yesterday on Mt Ruapehu's Pinnacle Ridge when the 25-year-old male climber slipped down the ice, suffering serious head injuries.
He fell in an area known as Grand Gully about 10.30am, police said.
Luke Middleton, from the Outdoor Pursuit Centre and a member of the Ruapehu Alpine Rescue Organisation, was on the mountain when he received a call from police to help rescue the 23-year-old woman stranded above the injured man.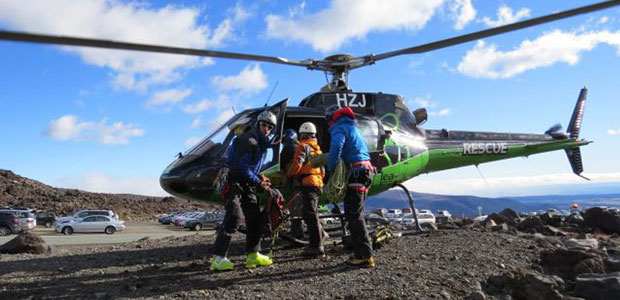 Taupo's Greenlea Rescue Helicopter
Taupo's Greenlea Rescue Helicopter airlifted four members of his rescue team in to near where the woman had become stuck on the top of the Pinnacles.
"She was uninjured but was not in a position to be travelling anywhere by herself," Mr Middleton said.
"Having seen whatever she saw, she wasn't prepared to go anywhere else. She was talkative and lively but she didn't want to go down the way they had come up."
A third member of the climbing group, who also watched his friend fall, had climbed back down to the aid of his injured companion, while the woman remained above, he said.
Commando was 'the Yoda of climbing'
The Australian special forces commando who died on Aoraki Mt Cook was regarded as an expert climber who held the record for the highest mountain rescue.
Sergeant Gary Francis, 44, died on Wednesday after falling 40m into a crevasse while on a two-week survival training exercise with members of his Sydney-based regiment.
Mr Francis, a father of two, was leading his 10-soldier team on a crevasse rescue exercise at the time of his death.
Originally from Welling in southeast London, he had spent 13 years in the British military where he was a Royal Marines commando mountain leader. He moved to Australia with his wife in 2010.
A former commando said Mr Francis was "one of the world leaders in his craft".
"He's summited Mt Everest twice and has a world record for the highest rescue in history.
"It's something everyone spoke of. His achievements were common knowledge. He was the Yoda of climbing.
He was without question the leader in his field. He had a quiet demeanour but was extremely confident in his work. It was his civilian love and passion as well as his military love and passion. His reputation was second to none."
Mr Francis' wife, who was in Scotland at the time, has been notified of her husband's death, which was referred to the coroner.
Two of the four rescuers climbed to her and guided her away by rope to where she could be lifted off the mountain by helicopter, Mr Middleton said.
It would have been almost two hours after he took the rescue call before she was delivered back on the ground to friends.
The area where the man fell was well-known to climbers and rescuers and was a popular climbing route, Mr Middleton said.
"It was definitely steep.
"It's directly adjacent to the ski field," he said.
Whakapapa Ski Patrol attended to the injured man who was then flown to Waikato Hospital by the Westpac Rescue Helicopter.
The climbing party were well equipped and experienced, and weather conditions were fine at the time, police said.
A Waikato Hospital spokeswoman said the man was in a critical condition in the Intensive Care Unit last night.
Greenlea Rescue Helicopter pilot Grant Bremner said it appeared the woman had been too frightened to move after her climbing partner fell.
"She wouldn't have had the equipment or the support to get down either."
It was a "beautiful clear day" on the mountain, he said.
"Conditions made it not only good for climbing but good for rescuing as well."