In the aftermath of the tragic death of Jordan Kemp, who was fatally injured in a rugby match, we examine the way parents are increasingly turning their back on our national game to keep their children safe
The parade of the rugby wounded happens every Saturday morning. Nursing broken arms and strained shoulders, children go to emergency departments throughout the country to have their cuts tended, their bones set.
Jack Stenson was one of them. On a sunny morning in early April, the 14-year-old from Pt Chevalier was pummelled in a tackle by a "massive" opponent.
"It was the start of the game," he says. "I was running with the ball and stretching my leg to step out of a tackle. The guy hit me hard, and my knee just buckled."
The brutal tackle broke off the top of his tibia and tore the ligaments in his knee. "I had a two-hour operation to fix it. I now have a long scar running down my leg."
The injury has put him out of action for the rest of the year. "It's going to be hard because, basically, sport is my life."
He's no stranger to injury. The broken leg came in a league game but playing rugby since the age of eight, he has had many painful accidents.
"I've broken my collar bone, sprained my ankle. I broke four fingers at the same time, broke my pinky toe, sprained my wrists, stretched my groin ... "
His story isn't unusual. Doctors are well-used to tending to those injured on the rugby field, says Dr Stuart Dalziel who works in paediatric emergency medicine at Starship Hospital.
"Rugby injuries are definitely the most common sport injuries we see," he says. "Mainly sprains and fractures to the upper body, but also head injuries. Over the past few years, we have seen a lot more concussions. But this could be due to increased awareness of concussion."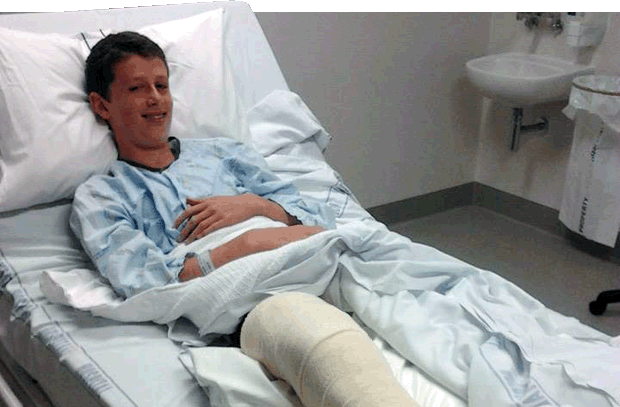 Jack Stenson, 14, has sustained many injuries playing rugby.
A head injury took Jordan Kemp last Sunday. The promising 17-year-old who played for the Omatea Hawkes died after an injury to his head during a club match at Whangarei last Saturday.
His death has brought much soul searching, questioning and analysis of our national game. Is a game so physical, so confrontational, and so littered with injury safe for young people to play, and are parents still prepared to let their children take such risks with their bodies?
New Zealand Football figures show parents may increasingly be saying "no". Between 2010 and last year, participation in junior football (children 4-10) increased by 10 per cent, from 38,472 to 42,242. Participation in youth football (aged 13-18) increased by 7 per cent, from 16,903 to 18,137.
NZ Rugby Union figures show young children are still taking up the game — but from the age of 13 upwards are turning their back on it.
The number playing has been dropping since 2010 when almost 44,000 were playing the game to 41,800 last year. Secondary Schools Sports Council figures reveal that participation in rugby at secondary school level dropped from 29,203 in 2010 to 28,794 last year.
The drops are small, but Clive Pope, associate professor at Waikato University's sport and leisure studies department, says the trend has been apparent for years.
"This is partially to do with there being more choice on what people play, and partially due to concern about injury," he says.
Rugby would have to work out ways to attract more young people.
"It needs to identify the public's needs and wants and to work out how to make sure the game is aligned with these."
Could such statistics indicate a big shift in the way our children engage with sport? Is our national game losing some of its pulling power, and if our kids are no longer playing, what does this mean for the future of the game?
Craig Tinnock-Jones is a parent who has dropped rugby in favour of football. As the father of sports-mad William, 8, Tinnock-Jones was adamant his boy wouldn't play rugby. Safety was one of the main reasons, "but I had other reasons as well".

Anyone can play rugby, but football
is a very high-skill-level game.

Tinnock-Jones feels rugby culture is typified by "bravado and thuggery". "I don't like the ethics around rugby and the antics the players get up to. I didn't want that to be a role model for my son."
William plays for Central United Football Club in Sandringham, Auckland. He started playing football by just "kicking around" with friends, but soon went on to join the club.
Tinnock-Jones also played football as a young man. "I played on the North Shore, until about the age of 16. Then I began to be interested in girls."
Although he knows many families with children who play football, he feels rugby is still entrenched in New Zealand culture. "It's unfortunate, but I don't see this changing soon."
Tony Pomee also has a child who plays football. A long-time rugby player, he says he respects his 8-year-old son Frederick's decision to play the sport.
"I didn't put pressure on him to play rugby, but he wanted to play football so that was fine by me."
"Anyone can play rugby, but football is a very high-skill-level game."
Tinnock-Jones' and Pomee's children are part of a wider move away from the dominance of rugby as a schoolboy's game of choice.
New Zealand Football's community football director, Cam Mitchell, says football is New Zealand's biggest participation sport, and that 80 per cent of those involved are young people.
This was a result of detailed planning by New Zealand Football.
"The junior framework under our football plan has improved the experience for our young players. We're beginning to see the benefits of that in the retention of players in youth football."
He says the future of the game in New Zealand is looking bright, and the wide range of programmes is bearing fruit in participation.
Auckland Rugby Union's general manager (commercial), Ross Halpin, says his code is also investing in development of this sort. "We support clubs and schools in their initiatives to provide boys and girls with the opportunity to play rugby. And this includes dedicated staff members who work across the schools and clubs."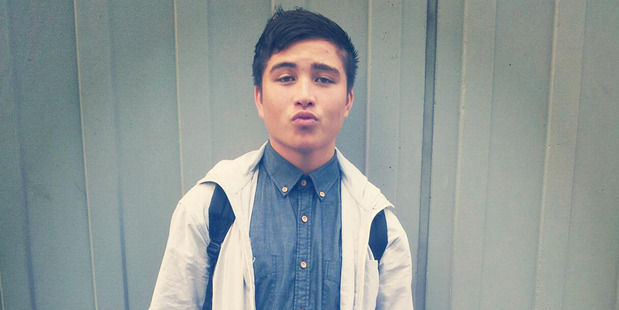 Jordan Kemp's tragic death has brought much questioning and analysis of our national game.
Although access to more types of sport may be luring some away from rugby, safety is a leading reason for parents encouraging their children to other codes. Ponsonby Rugby Club junior administrator, Sandra Ioane, says mothers in particular are concerned.
"I'd say that 80 per cent of the mothers voice concern about whether or not their kids will be safe on the field."
Many children started playing the game after the 2011 World Rugby Cup, "but there has been some drop off. Some of the parents have moved their kids to soccer for safety reasons".
The former Black Fern is married to ex-Manu Samoa player Eddie Ioane. Both her sons played rugby from a very early age. "They started at about 4."
Akira, 19, has been selected for the New Zealand Sevens squad, and younger son Reiko plays for Auckland Grammar School's First XV.
She has few concerns about her son's safety on the field.
"We always taught them to put their head in the right place, to learn to tackle correctly. Their dad has been their main coach, and he has really emphasised safety."
Jack Stenson's mum, Sarah Lawrence, can relate to safety concerns.
"I really don't enjoy watching him play," she says. "But he lives and breathes sport, so I can't stand in his way. And there is still this attitude that you need to 'tough it out' on the field."
But Ross Halpin says that attitude is changing. "It's been 40 years since Colin Meads played a test with a broken arm. Clearly there is greater emphasis than ever before on player welfare, and this filters down through every grade of rugby."
And the NZRU's general manager of community and provincial rugby, Brent Anderson, says safety is of utmost importance.
To this end, the union has introduced initiatives including "Rippa" rugby — which involves no tackling — for under-8-year-olds and reduced the tackle level for Small Blacks teams (under-13s).
Although rugby may be given a run for its money in popularity at youth level, Pope doubts it will ever lose its position as New Zealand's No1 sport.
"At club and school level, the infrastructure is incredibly strong."
He says the historical importance of rugby as our national sport, coupled with the existence of extremely strong and passionate rugby families mean it's woven into the fabric of our society.
"Football is growing in strength in urban areas, especially at secondary level.
"But rugby is everywhere, in the cities, in the towns, in the country.
"It's been strong since the days of the ark."
Anderson also says rugby's future is strong, but believes continued investment in the game is needed.
"We are really pleased with our junior numbers, but we would really like to see some more growth at secondary level.
"But the future is bright — kids still aspire to be All Blacks."
Some would call them mad but that's how they like it
They're rugby mad, the whole lot of them. Rob Woodley, his wife Janine McKenna-Woodley, and their sons, Jordan, 12, and Caleb, 8, are a rugby-crazy family.
Rob played rugby for years. Starting in 1975 he participated in the sport at a high level in New Zealand, Australia and Britain before joining the police force.
He is now a sergeant and manager at Genesis Youth Trust, a programme set up to help at-risk kids. He is also the rugby development officer for Grammar Juniors in Auckland.
Both his sons are passionate about the game. "It's All Blacks and rugby all the time in our family." Woodley says it has been a delight to share his passion for the game with his children. "Jordan actually started playing when he was three," he says. "That may have been a little young."
He acknowledges that injury is part of the rugby package. "I tell the parents of the children at Grammar that they have to expect it." Safety is a priority when it comes to training. "I firmly believe the safest technique is the best technique. "
Grammar children under eight play Rippa Rugby, where players rip the flag off opponents' belts, thus forcing a turnover of the ball. This enables skills to be developed in a safe environment and decreases the likelihood of injury.
Woodley says the full-contact version of the game is a "rite of passage" for many New Zealanders. "A lot of the mums worry about the injury side of things, but the dads want to encourage their kids as much as possible."
He believes that for rugby to be strong going forward, there needs to be more investment in more player and coach development and safety education.
"In the past there have been these rogue, Type A coaches who make the players go back on when they really shouldn't. These days there is far more of a focus on safety, and looking out for the players."
He says Janine has a "tough it out" attitude. "One of the boys came off with what turned out to be a broken collarbone — she was telling him he should go back on the field," he says. "But she's great. She is a passionate rugby mum who is over-the-top in support of our boys, rugby ... and telling me how to coach."
Love of games all in the family
Dominic Arnerich has tried most sports, except rugby. Photo / Michael Craig
Eastern Europeans tend to love their football, and the Arnerich family is no exception. John Arnerich's family originated in Croatia, and his son Dominic, 8, plays at Central United Football Club in Auckland's suburb of Sandringham, which has a strong connection to the Croatian community in the area.
Dominic is sports mad, and has tried most sports ... except rugby. "It's the only sport he's shown no interest in," Arnerich says.
Dominic attends Our Lady of the Sacred Heart in Epsom, and Arnerich says the kids there are very football focused.
"He plays with kids who are the same age and in the same class as him," he says.
"It's great because there is a very family-based and community feel to the sport."
He feels that football suits his son's level of fitness and has helped hone his ability. "It teaches children to be spatially aware and really increases their general fitness." And he feels this is great for his energetic son. "You need to be very aerobically fit and to have stamina, which is great for Dominic because he could play sport all day."
He says Dominic loves sport so much that he's had to limit his son's sporting activities to one code a season. "So he plays football in winter and cricket in summer.
"But he also loves tennis, so he may change to that next season."