Overharvesting pushes tasty lagoon creatures to the brink of extinction
Beneath the turquoise waters of one of the South Pacific's most exclusive tourist hot spots, a giant wonder is on the brink of extinction.
Now, an Auckland scientist is trying to save the giant clams native to the Cook Islands' Aitutaki Lagoon and restore their once-thriving population.
The huge, brightly-coloured clams have long been a showpiece of the lagoon, but are today considered functionally extinct.
This means that while there are still a few left in the lagoon, they are too far apart for any reproduction to occur.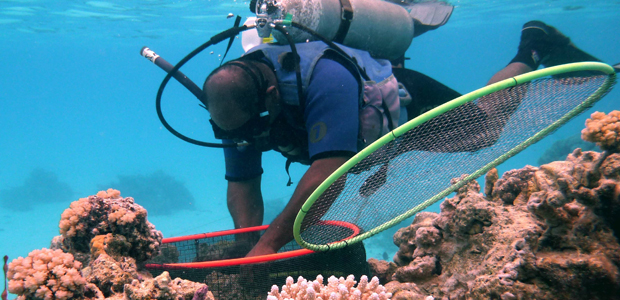 Scuba gear and the arrival of electricity are blamed for a slump in clam numbers.
"The tourists go wild over these clams for their size, beauty, and intriguing biology," said Charley Waters, a PhD student at the University of Auckland's Institute of Marine Science.
But he said humans had also driven their rapid decline, most of which happened through the 1980s and early 1990s.
There are two species of the clam, which Cook Islanders refer to as pa'ua, that are native to the Aitutaki lagoon.
Until the early 1990s, the striking T. maxima thrived in numbers beyond comprehension, while T. squamosa typically live outside the reef and their numbers are unknown.
"Elders describe seeing the patchwork of coloured T. maxima for as far as the eye could see, and that you could barely walk on the corals without stepping on them," Mr Waters said.
To islanders, giant clams had been a traditional centrepiece of celebratory feasts, much like our Christmas ham, but were also cooked and eaten in other instances.
Mr Waters said over-harvesting accounted for around 95 per cent of their decline, and was partly driven by the arrival of electricity, allowing locals to take and freeze as many clams as they liked.
Access to scuba gear also played a part, and there had been cases of diving teams manually dredging the coral bommies for them.
"Because clams are so cherished for eating, and they could now be harvested en masse, they became a cash crop."
Finally, when a new air service came to Rarotonga, drums of clam meat could be shipped in 45 minutes, instead of having to transport them via a three-day boat trip.
The Island Council designated parts of the lagoon as ra'ui, or protected areas, in the early 1990s, but this didn't halt the losses.
"Clams need to be within certain proximity to reproduce -- as distances increase, less and less cross-fertilisation of gametes occurs, resulting in reduced offspring," Mr Waters explained.
As populations of normal-sized clams began declining, people took smaller and smaller clams, and increasingly before they could reach sexual maturity.
"Obviously, no offspring results in a population collapse."
Watch: a video about the restoration project:

Gone with the giant clams would be not just a significant tradition and slice of heritage for the people of Aitutaki but substantial tourism dollars from visitors, he said.
Also, the area's marine ecosystem would lose yet another major service provider, as the filter-feeding clams contributed to water clarity and helped arrest toxic algal blooms.
But by bringing more clams back to the lagoon, Mr Waters hopes to stop this from happening.
He has been voluntarily involved with a restoration project at the lagoon for 12 years, and most of his research has been carried out at giant clam hatcheries.
A big focus had been trying to boost the larval survival of the species -- mortality rates in hatchery conditions were still about 99 per cent..
Mr Waters was also investigating effective ways of transferring the juvenile clams from hatchery to corals.
Natural wonders
200kg can weigh more than
100 years can live in the wild for
3m can grow bigger than a man