Elderly dementia patients have been evacuated from their Canterbury rest home after it was flooded overnight in a torrential rainstorm that shows little sign of abating.
Emergency services were first called to Bainlea House rest home in Wiltshire Court, Rangiora, 30kms north of Christchurch, at around 10.30pm last night.
Two patients had to be moved after flooding threatened to come into their rooms.
But the creek at neighbouring Janelle Place only became more of a river overnight and in the early morning burst its banks.
Residents say they have complained to Waimakariri District Council for the 20 years to get it cleaned out.
It has been high this year, which residents admit has been "extraordinary", but they have never seen it this high.
One resident said his driveway became "like a waterfall"around 5.30am.
Shortly afterwards, the decision was made to evacuate all 23 of the rest home residents.
The local volunteer fire brigade have been trying to stem the flow.
Patients have been ferried to a welfare centre at the Rangiora Baptist Church on East Belt in ambulances.
"It's such a shame. While they have dementia and may not know what is going on, it must be very upsetting. Especially for their families," one resident said.
Rangiora Volunteer Fire Brigade deputy chief fire officer Kerry Ealam said that all 23 patients have now been successfully evacuated.
"Unfortunately, the water has got right through the rest home, and sewage is running through it as well."
The local fire crew, on duty since 10pm last night, are waiting to be relieved by Christchurch colleagues.
They will then return to their day jobs before going back on duty tonight.
"This is the third time this year it's been like this," Mr Ealam said.
Gallery: Flooding hits the South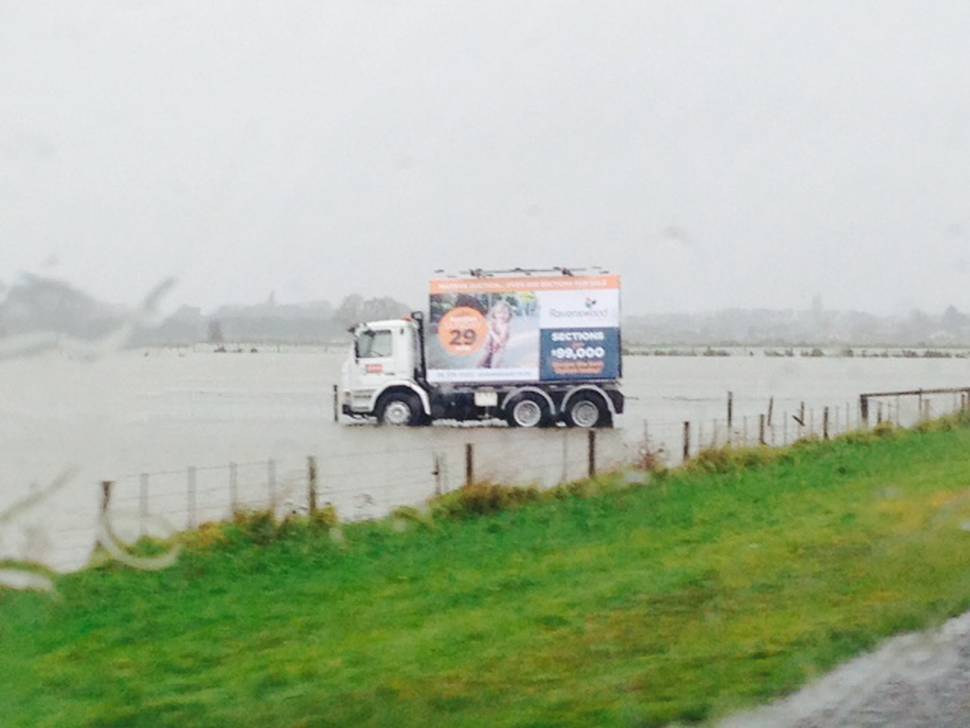 Rangiora appears to have been hit hardest by the flooding this morning.
Rangiora High School decided to close around 8am.
The old Ashley Bridge was closed at Cones Rd around midnight, while police have issued a warning about significant flooding on Tram Rd and State Highway 1 near the Ashley River.
Surface flooding is causing chaos on several town streets.
Local contractors are out trying to pump it clear and clear gutters.
Motorists have been warned to drive slowly and with caution.
The old Waimakariri Bridge remained open.
Police urged caution late last night to all drivers on State Highway 1, both north and south of Kaikoura to use caution as there had been several rock falls.