Flooding has closed highways around the country with rain falling non-stop in many parts of the country today, and there's no sign of it easing overnight.
Parts of State Highway 1 and 12 in Northland and parts of SH1 in North Canterbury and Marlborough have been affected by flooding.
Watch: Heavy rain hits South
SH1 from Okaihau to Mangamuka and in a section between Kawakawa and Whangarei in Northland has been closed due to flooding.
SH12 from Opononi to Dargaville has also been closed.
Motorists needed to take care on SH1 from Blenheim to Kaikoura, where surface flooding is causing dangerous conditions.
Watch: WeatherWatch - Heavy rain and wind moving in
MetService said parts of Northland and Auckland have received a month's worth of rain, and most of Northland had experienced more than 100 millimetres of rain since Sunday.
The Northern Advocate reported rainfall figures for Northland for the 49 hours to 1pm today. Kaikohe had 187.4mm, while 221mm fell in Whakapara and 105mm at Whangarei Airport.
Keeping dry? We're after your weather photos and video for a gallery. Email us here.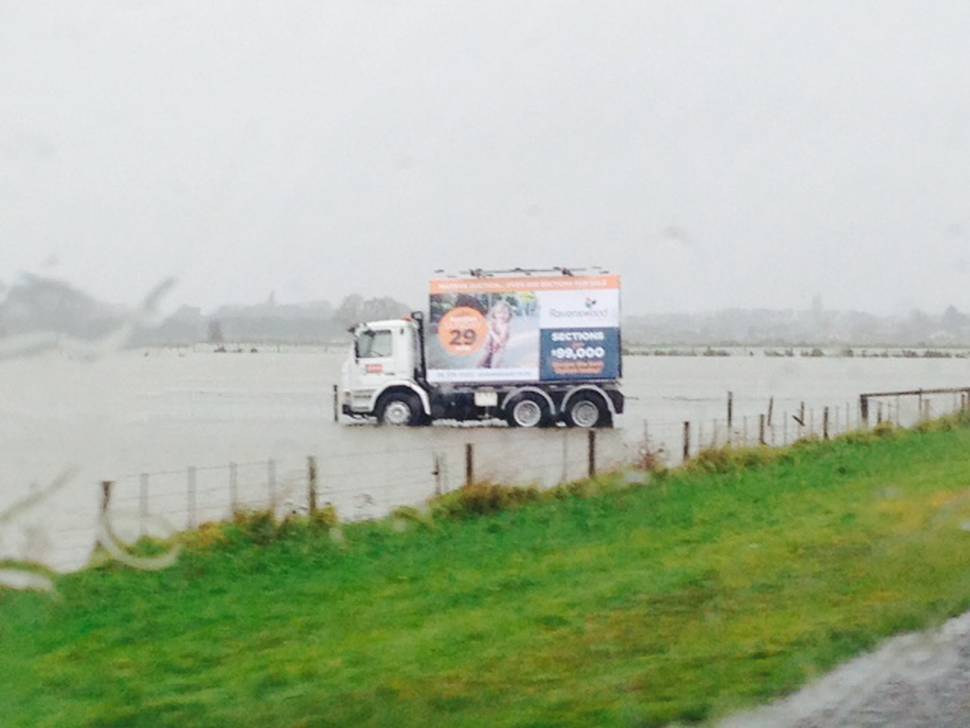 North Canterbury residents were asked to get off the roads by nightfall tonight as the rain continued to fall and could cause widespread surface flooding.
Waimakariri District Council activated its Emergency Operation Centre this afternoon.
Read more from Kurt Bayer, out in Canterbury floodwaters today:
Elderly patients evacuated from rest home
Bridges and roads, including State Highway 1 between Waikuku and Amberley, had been closed, with detours in place. Waimakariri District Council warned people to "please stay home unless travel is essential".
Residents in Ashley have woken up to flooding on Fawcetts Road north of Rangiora.
The low bringing the rain and wind to most of the country today will cross northern New Zealand overnight and into Wednesday morning, Weatherwatch.co.nz's Philip Duncan said.
The complicated nature and small size of the low meant rainfall may be intense for some, but only drizzly for others - as had been seen in the past 24 hours, he said.
Looking very dreary this morning Auckland. We will have an update on expected rain and possible damaging winds soon. pic.twitter.com/1UpcHprtIU
Communities that had received a month's worth of rain since Sunday were hammered with more last night - with emergency services braced for more chaos.
MetService forecaster Leigh Matheson said Northland and Auckland residents wouldn't get any respite from the weather until morning.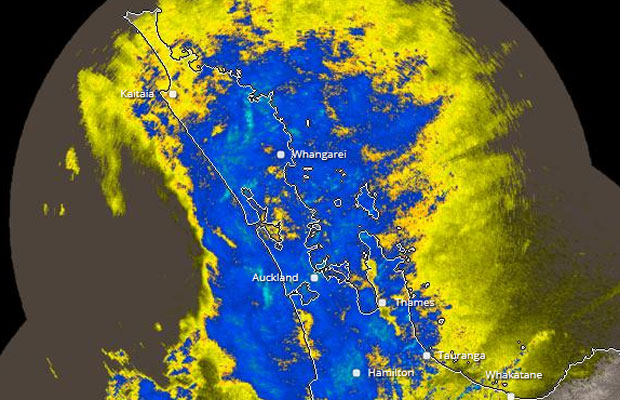 The MetService rain radar says it all really. The upper North Island is under the blue. Somewhere.
"All through that region there will be significant gales...it could be hazardous for eastern areas of Auckland," she said.
MetService said the front would then likely pull away from Auckland and Northland, and push into Gisborne and Hawke's Bay for the next two days. Western Bay of Plenty could get up to 200mm of rain in 48 hours, Ms Matheson warned.
For Canterbury, she said the worst would have passed by tomorrow.
"The sun may turn up on Friday. It's a pretty wet week, is the general theme."