Tracey O'Brien's daughter Faith has yet to ask about her mother and her brother Phoenix, who is now out of an induced coma and recovering from major surgery, says their father Matt Ruddell.
Speaking to the Bay of Plenty Times from Starship Hospital yesterday, Mr Ruddell, 27, said words could not express how bad he was feeling and telling his daughter Faith, 3, and 4-year-old son Phoenix about their mother's death would be a gruelling ordeal.
"It's going to be the worst thing I've ever had to do in my life. I will probably end up pointing to a bright star and telling them mummy's now in heaven," he said.
Read more:
'Cheerful' friend mourned
Children continue fighting for their lives
Tributes flow for young mum killed in crash
Tributes were still flowing for Ms O'Brien, 26, who was killed on Saturday after her silver Nissan Coupe crossed the centre line and collided with a people mover on State Highway 2 at Te Puna.
Mr Ruddell, sous chef at The Phoenix on The Strand, said the death of his former partner had yet to sink in.
"When I first heard about the crash, the first thing I wanted to know was where the hell are my kids. I immediately wanted to run up to Tauranga Hospital and started walking, until the police told me they would take me. It's been a major shock," he said.
His daughter, who was seated beside her mother, suffered a slight head injury and broken shin and was now in a ward at Starship Hospital.
"Faith's not talking much, apart from a couple of words, but I've been told that is standard when you have a head injury and it must quite scary for her being in hospital."
Mr Ruddell said Faith had not asked about her mother yet.
"Phoenix is now breathing on his own, although has just had major surgery to repair his broken pelvis and broken thighs, and I'm waiting for him to wake up. He's in a full pelvic cast with a metal brace, and his broken right arm is also in a cast and he has got minor cuts and bruising to his face. "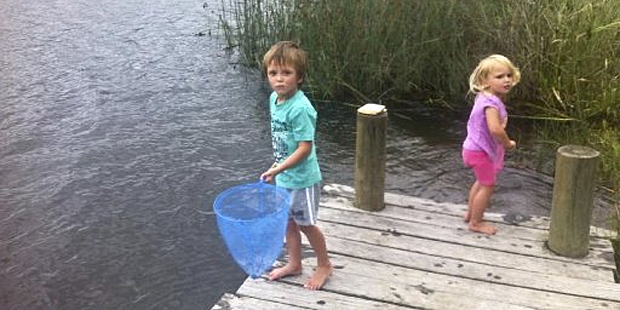 Phoenix Ruddell and Faith Ruddell. Photo / Facebook
Mr Ruddell said it was likely his son, who had to be cut free from the back of the vehicle, would remain in hospital for about 6-8 weeks and would have to learn to walk again.
"But Phoenix is a battler, he's a real fighter," he said.
Mr Ruddell said Ms O'Brien and his children were heading to Bayfair to a friend's place for a fancy dress party, after leaving the Omokoroa home of her parents, Peter and Vera O'Brien.
"Faith and Phoenix were still in their fancy dress costumes when they arrived at Tauranga Hospital," he said.
Mr Ruddell said the cause of the crash was yet to be determined but, he said.
Ms O'Brien was so attached to her mobile phone it could well have been a factor in the crash.
"Tracey went everywhere with her mobile phone and she was always texting."
However, Ms O'Brien's friend Bray Revolver said blaming the crash on texting was purely speculative.
"Tracey was renowned for living on her phone.
"However, that's speculation. I'm pretty sure there was some sort of distraction, but whether that was her phone, or whether it was one of her kids, or whether she dropped something."
Mr Revolver, 40, was Ms O'Brien's tattoo artist and one of her closest friends.
He was one of the last to see her alive on Friday night and also helped police identify her at the scene of the crash on Saturday afternoon.
"We were very, very, very close friends. We spent a lot of time together. I was with her the night before.
"We went out to town ... she said that night she was the happiest she had ever been.
"Her and [former partner] Matt [Ruddell] had split up last year. She'd had a bit of fun but was just ready to get her life back together and make some changes." Just last Monday, Ms O'Brien had had a new tattoo "that she was super proud of" done, Mr Revolver said.
It was stylised portrait of a woman with "English Rose"written on it.
Police say Ms O'Brien's southbound car crossed the centre line and collided with a northbound vehicle.
Senior Sergeant Ian Campion said the vehicle Ms O'Brien was driving was "well and truly" in the northbound lane.
The crash was still being investigated and the cause had not yet been determined, he said. The death of the "entertaining, extremely loving" young woman had devastated her friends, Mr Revolver said.
Yesterday, several of Ms O'Brien's friends gathered to have one of her tattoos replicated on their bodies.
Mr Revolver and his tattoo apprentice were going to a friend's house in Mount Maunganui to tattoo about 10 friends with the same words "you wish" in her honour.
English-born Ms O'Brien and Irish-born Mr Ruddell first met at a Tauranga bar six years ago and separated about six months ago.
Mr Ruddell said he expected to remain at his children's bedsides for the next couple of weeks.
He said Ms O'Brien's parents were making the funeral arrangements, with a service expected to be held on Friday.
Her older brother Timothy lives in the UK.
Mr Ruddell said he was "overwhelmed" by the offers of support the family had received.
The Phoenix director Mark Laurence set up a Givealittle page to encourage people to make donations for the children, and on Mother's Day he would be donating 10 per cent of sales to the cause.
Additional reporting Sam Boyer