Strong winds drop power lines and a tree as storm begins trek down country.
Tropical Cyclone Lusi is now a depression, expected to lie 300 kilometres west of Auckland at midnight tonight.
Residents at the top of the North Island are starting to feel ex tropical Cyclone Lusi sting.
You can track Cyclone Lusi in real time here.
The centre of Lusi continues to brush past the Far North this evening pushing rough weather further down the North Island as the low continues to head south west, according to WeatherWatch.co.nz.
You can view a map of outages here.
We'll keep you across Lusi as it hits - but we need your help. Send your Lusi-related stories, photos or video here.
Overall the system tracked just far enough northwest of Northland to spare Auckland far more serious damage on Saturday. The gales haven't finished, but the centre of the low is now west of Cape Reinga and moving into the Tasman Sea - it will soon track south towards the South Island.
It's unlikely Lusi will get any closer to the upper North Island tonight - but will take another 12 to 18 hours to ease fully. The centre is still nearby so expect dry spells sometimes turning back to rain and winds dying down then perhaps gusting back up again with damaging gusts possible overnight in some areas.
Rough weather will move down the country as the low heads south and conditions will ease in the north across Sunday morning and afternoon.
Despite losing its tropical cyclone status Lusi still retains cyclone status winds - with sustained gales around the centre.
Today Cape Reinga has had gusts to 130km/h and some exposed parts of eastern Northland and northern Auckland experiencing similar gusts.
MetService says it will keep moving south tomorrow, crossing the northern South Island tomorrow evening.
It is accompanied by widespread heavy rain and easterly gales.
Severe weather warnings are in place for Northland, the Coromandel Peninsula, the Bay of Plenty, Gisborne, Hawke's Bay, Marlborough including the Kaikoura Ranges and Nelson.
Warnings are in place for severe gales in Northland, Auckland, and parts of Waikato.
MetService says the watch for heavy rain for South Canterbury and North Otago has been upgraded to a warning.
The watch for severe northwest gales for Wellington, Marlborough and Wairarapa has been upgraded to a warning.
Heavy rain is expected on Mount Taranaki tomorrow, as well as in North Canterbury, Christchurch, and Dunedin.
Auckland Civil Defence is urging beach-goers to steer clear of the ocean after dangerous conditions that affected Northland this morning would be mirrored further south.
Large wave surges were expected to hit around Orewa about 5pm, Auckland Council said.
Civil Defence controller Clive Manley said people needed to be very careful, especially later this afternoon and into the evening on or near east coast beaches in Rodney and the North Shore.
"We are expecting bad sea conditions which may cause erosion of beaches and nearby low-lying areas.
"People should stay out of the water and off those beaches for the rest of today."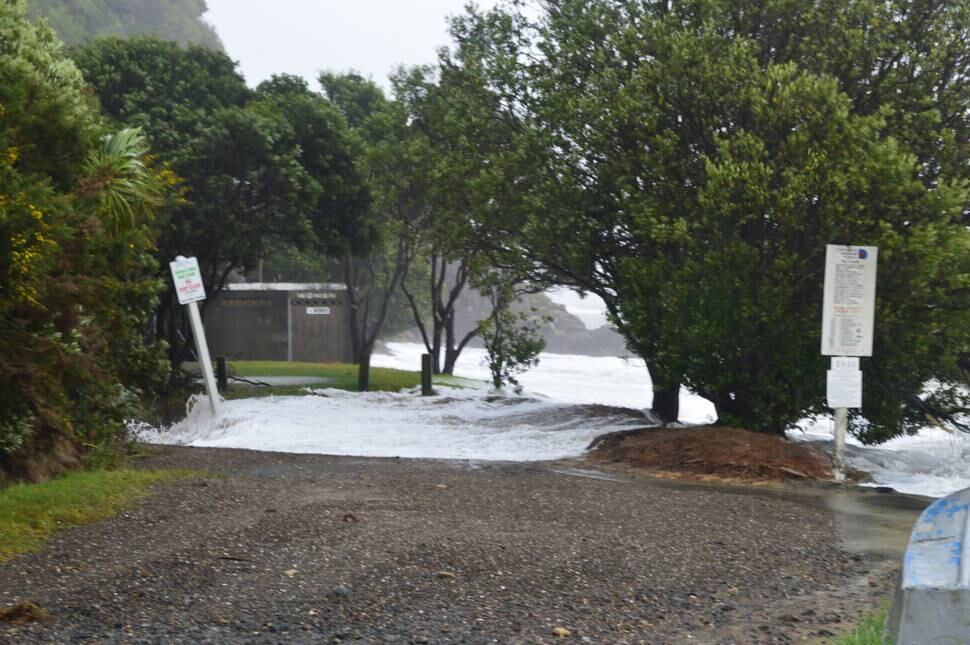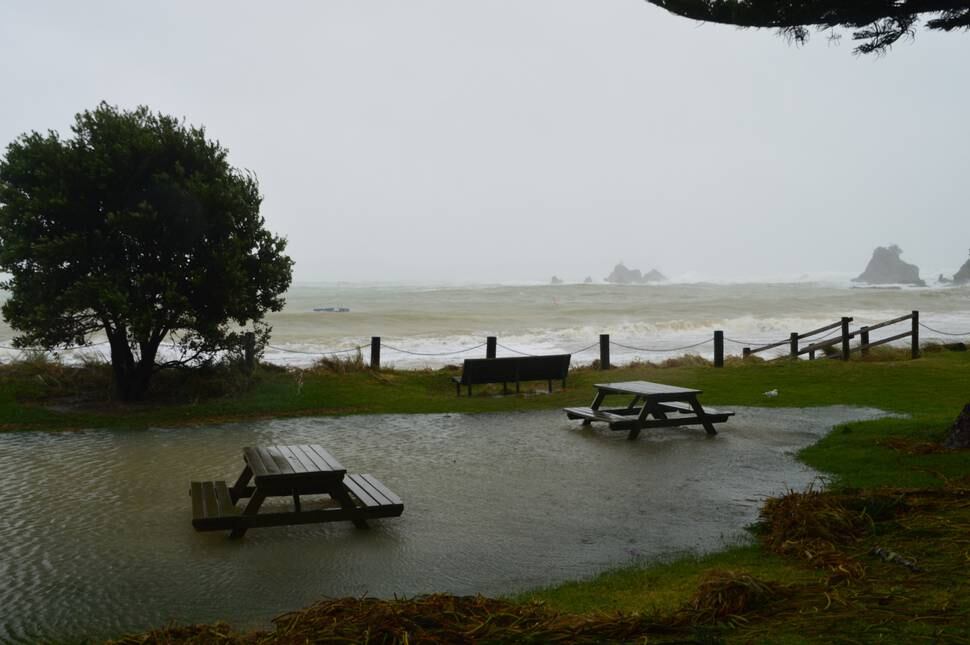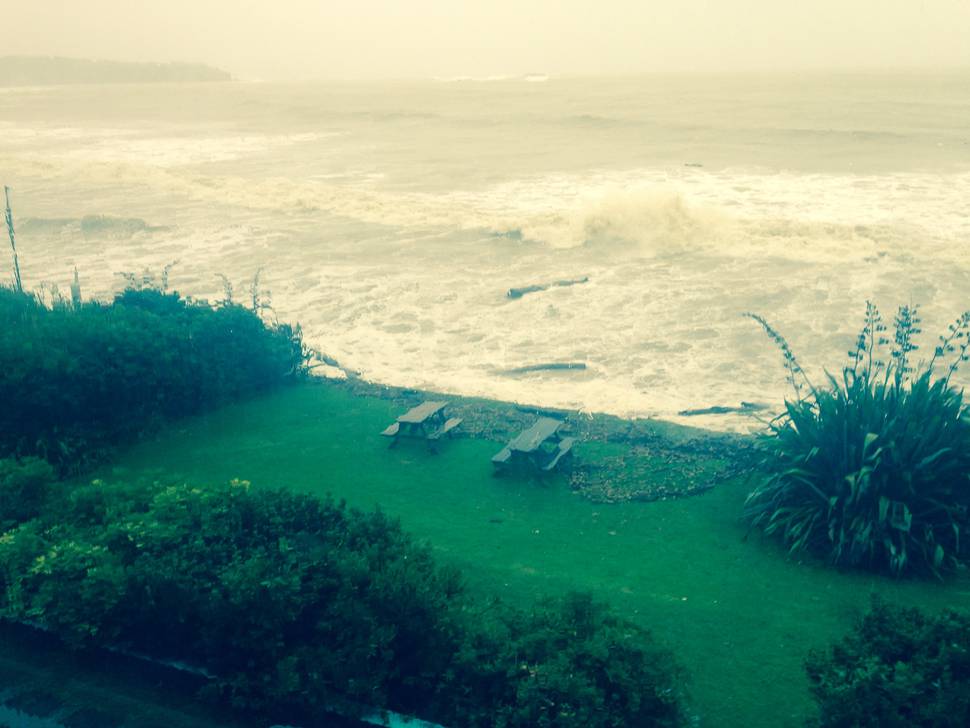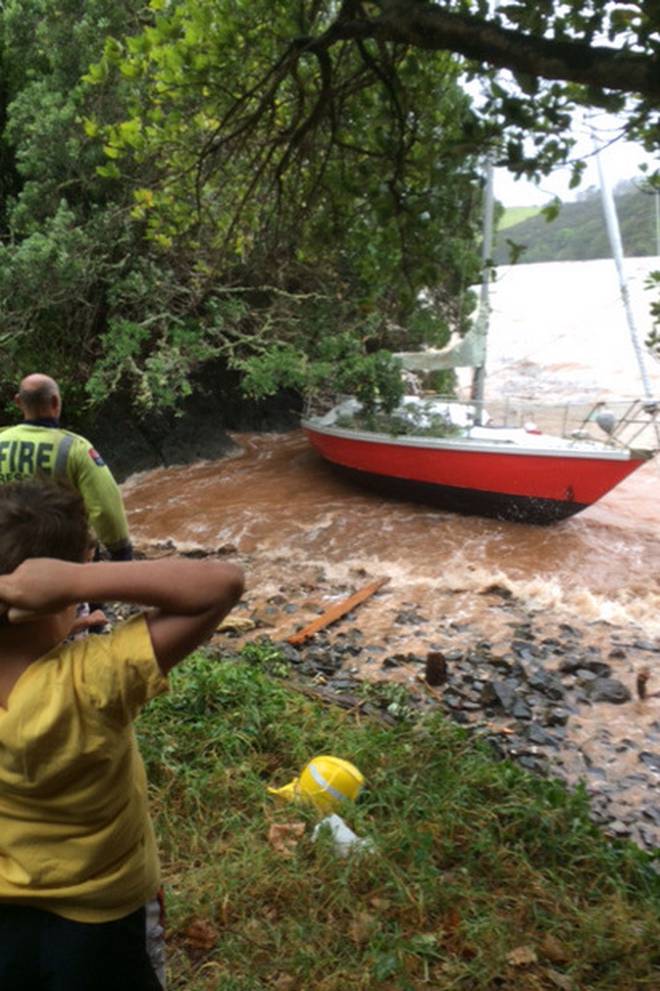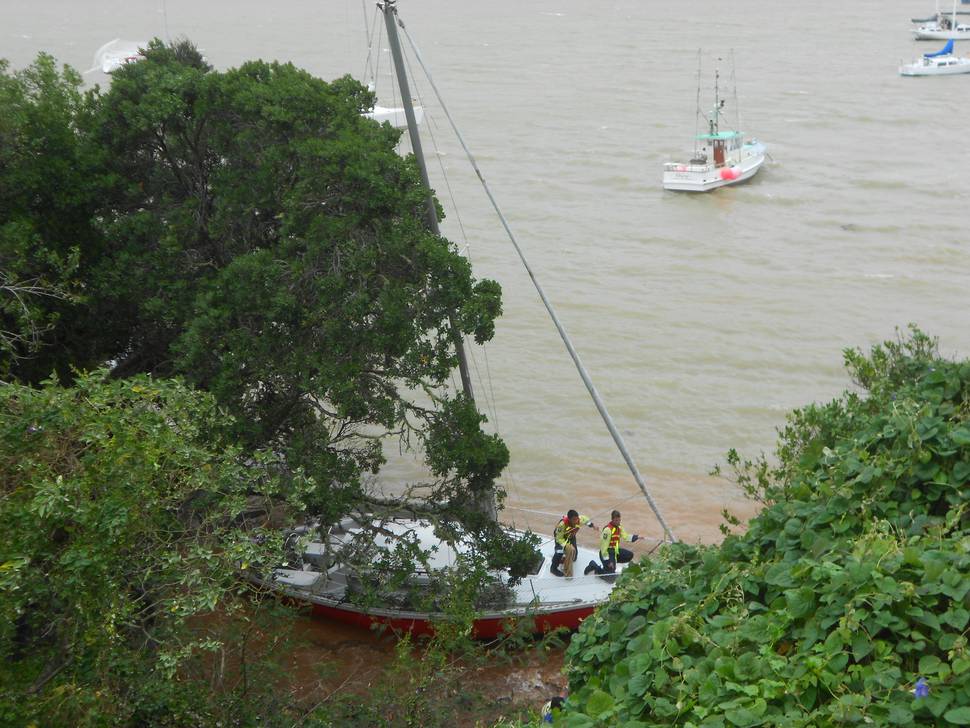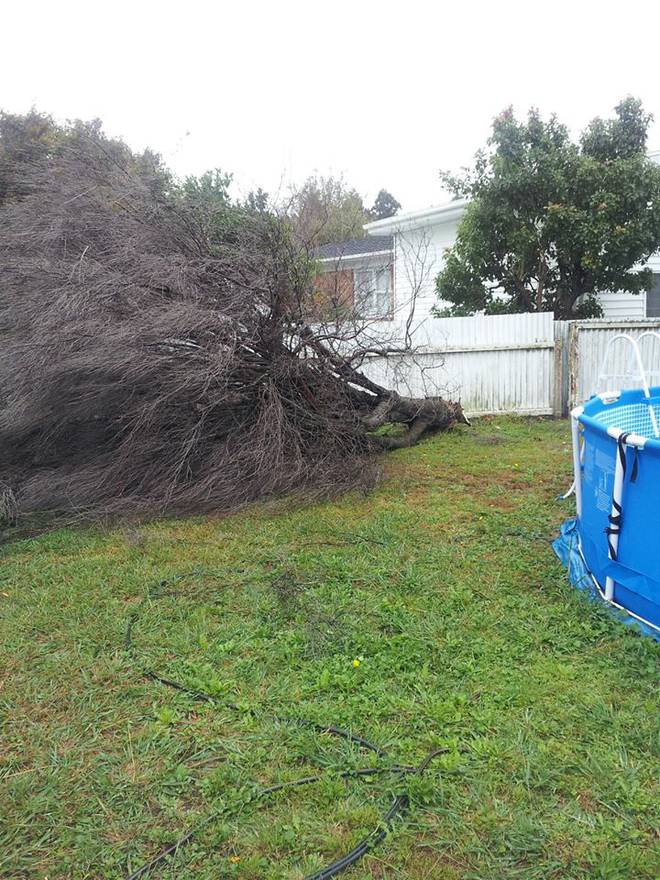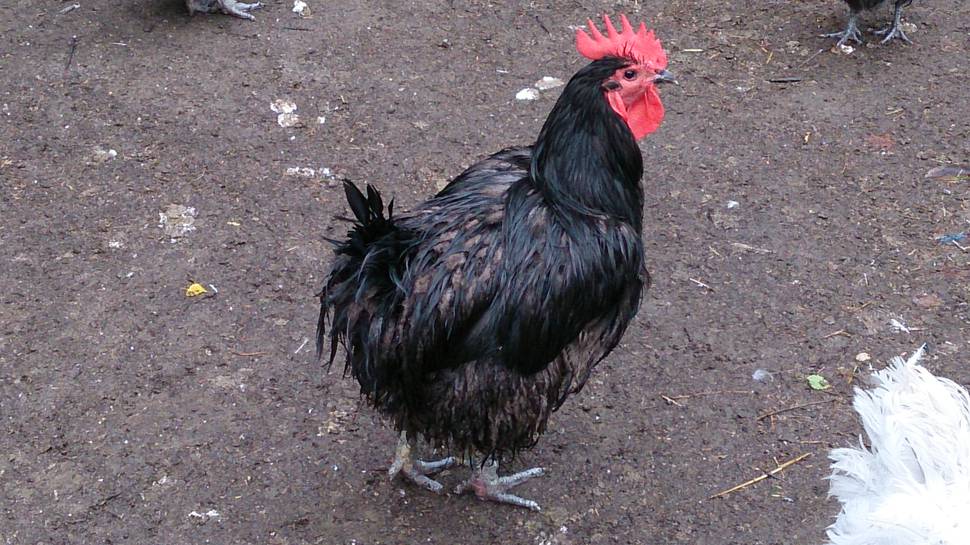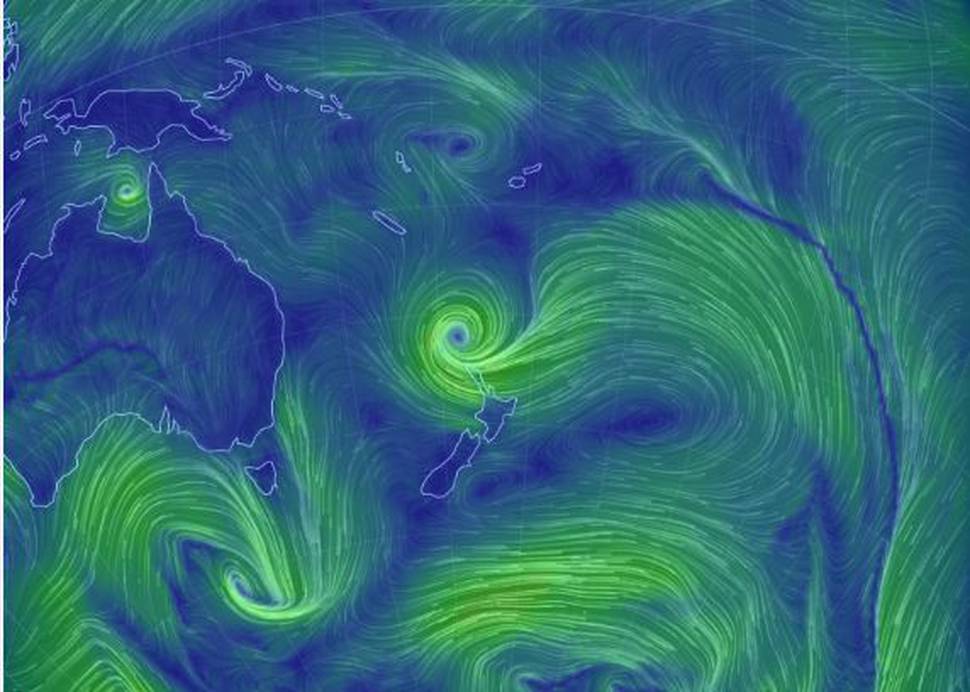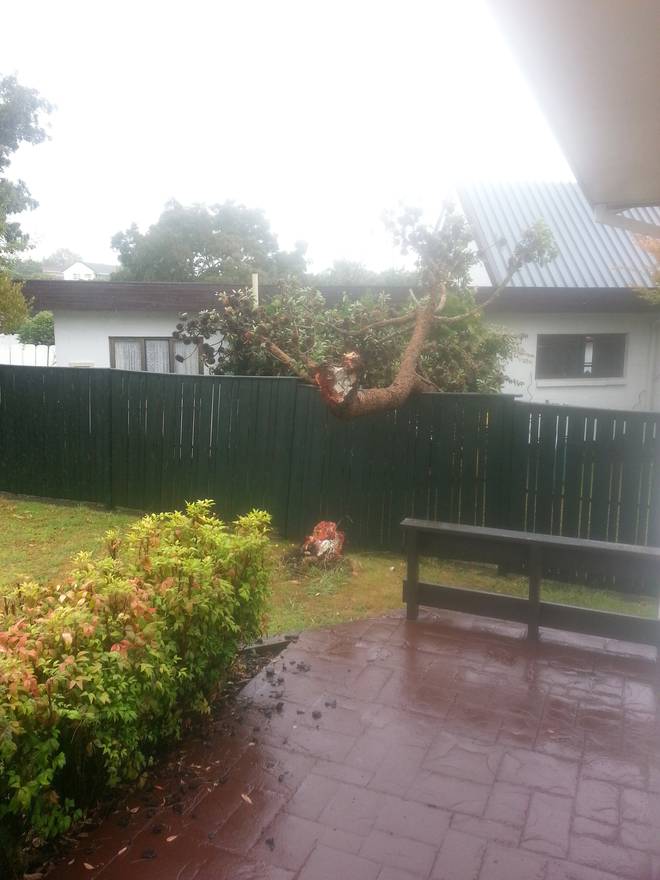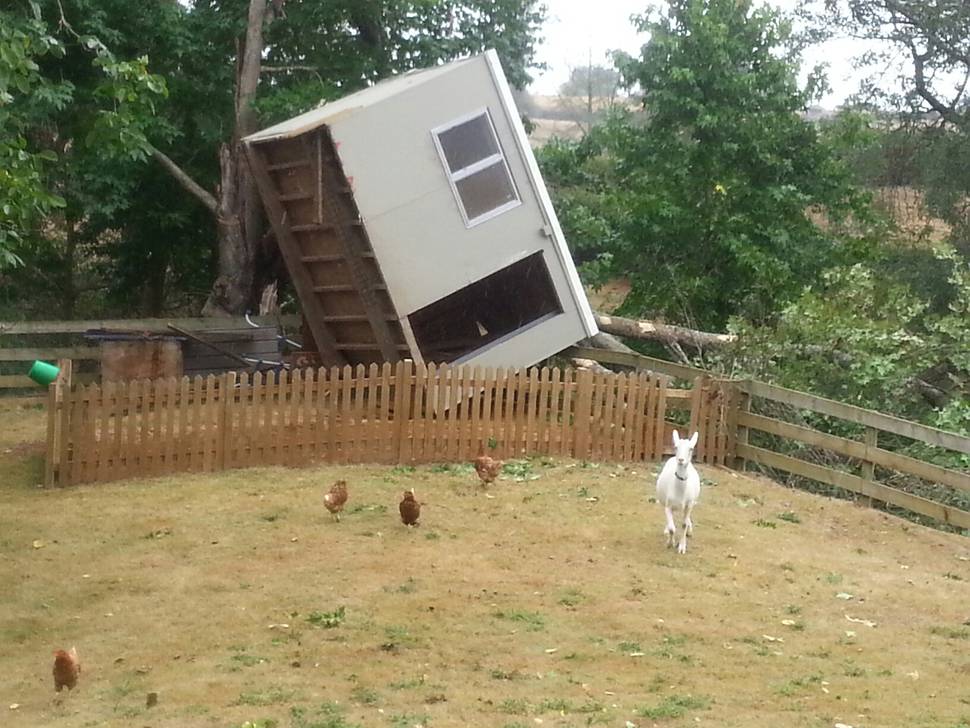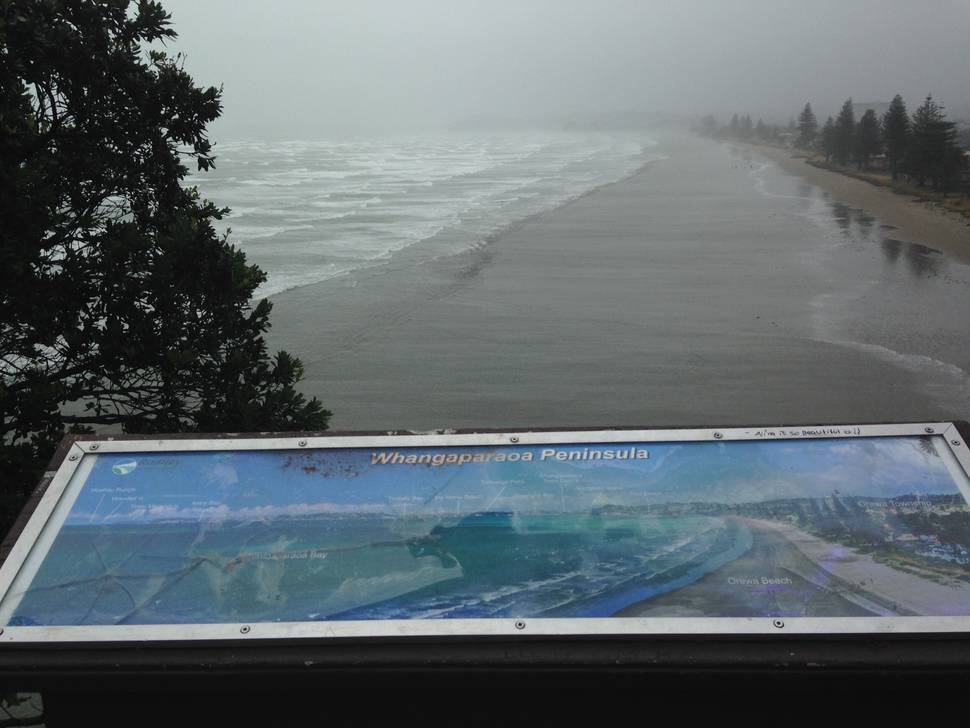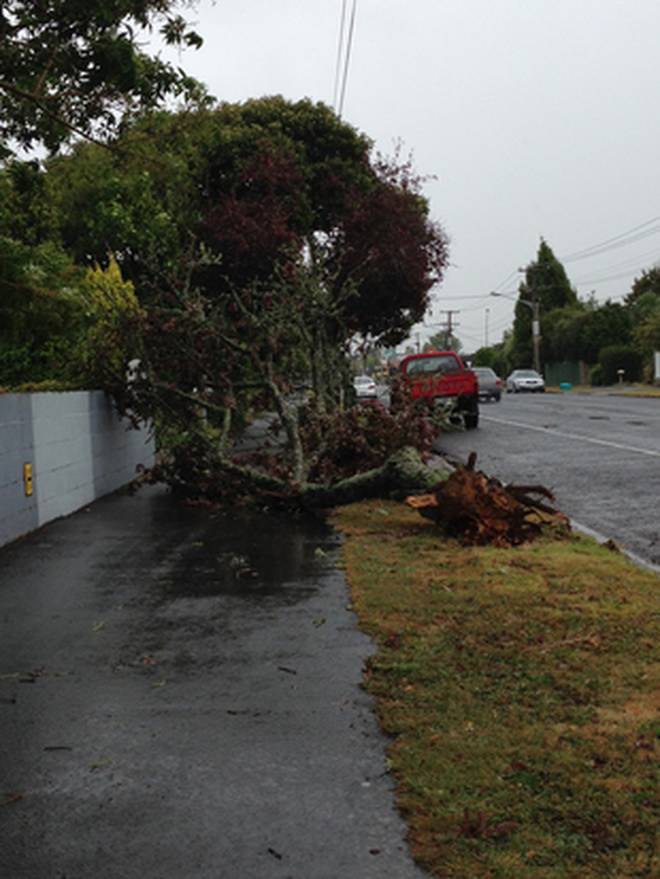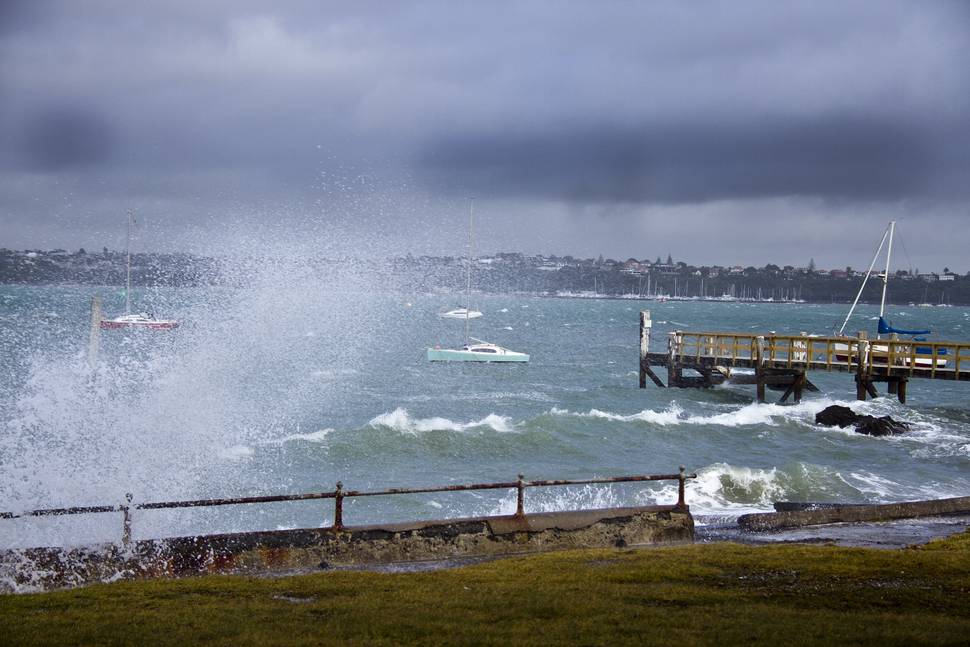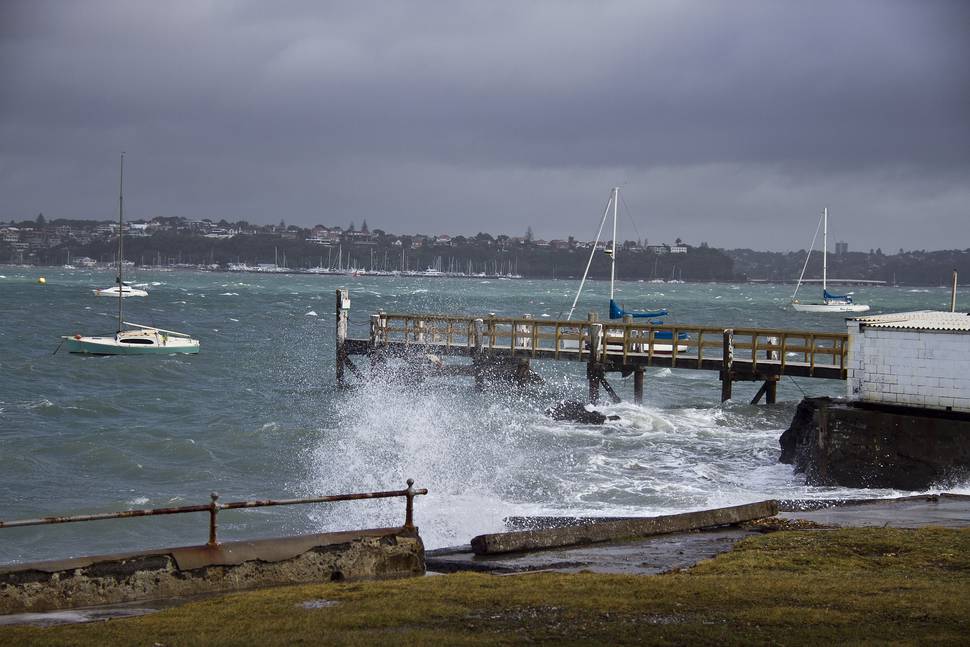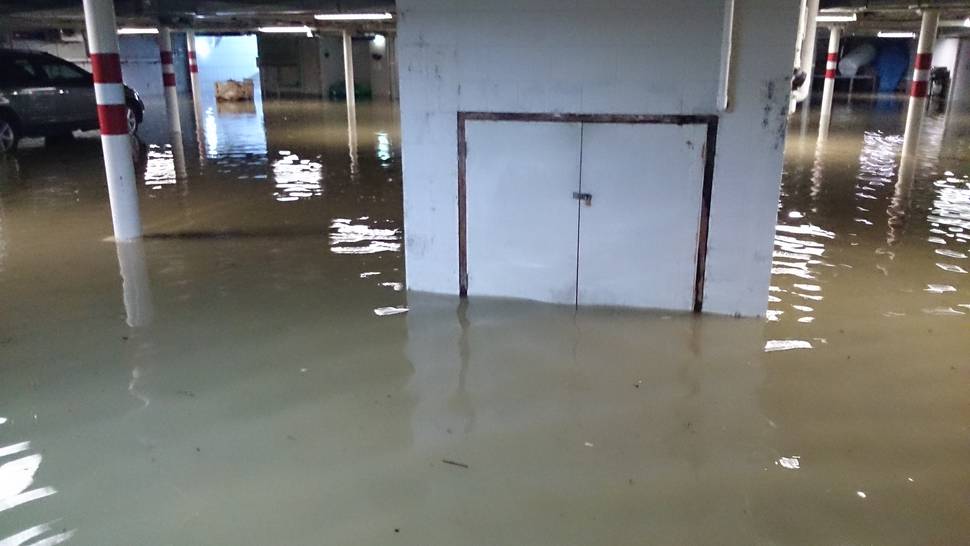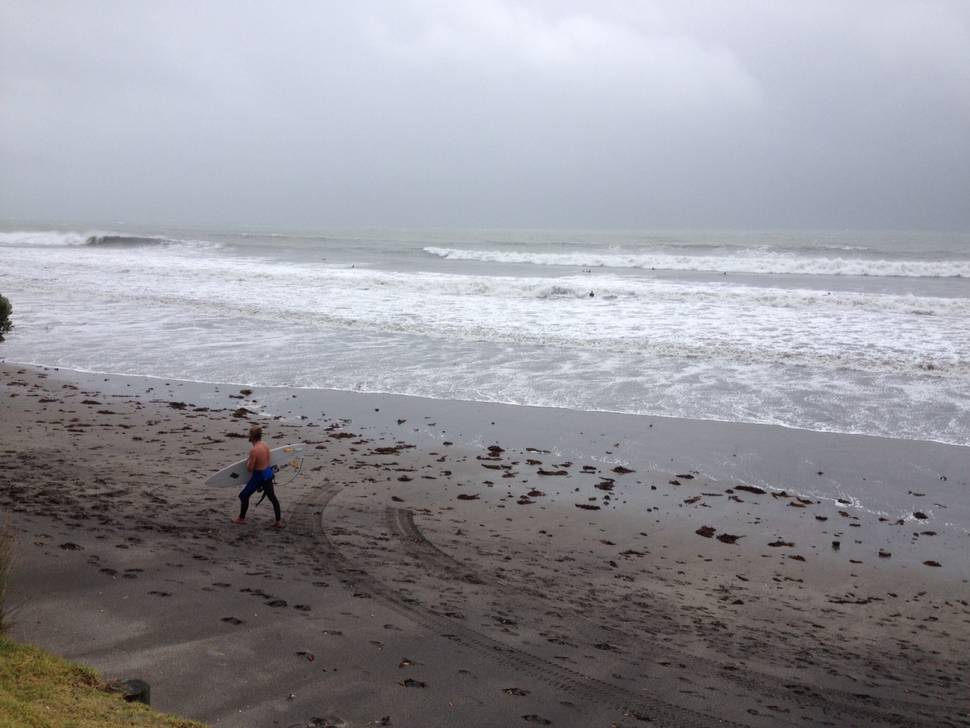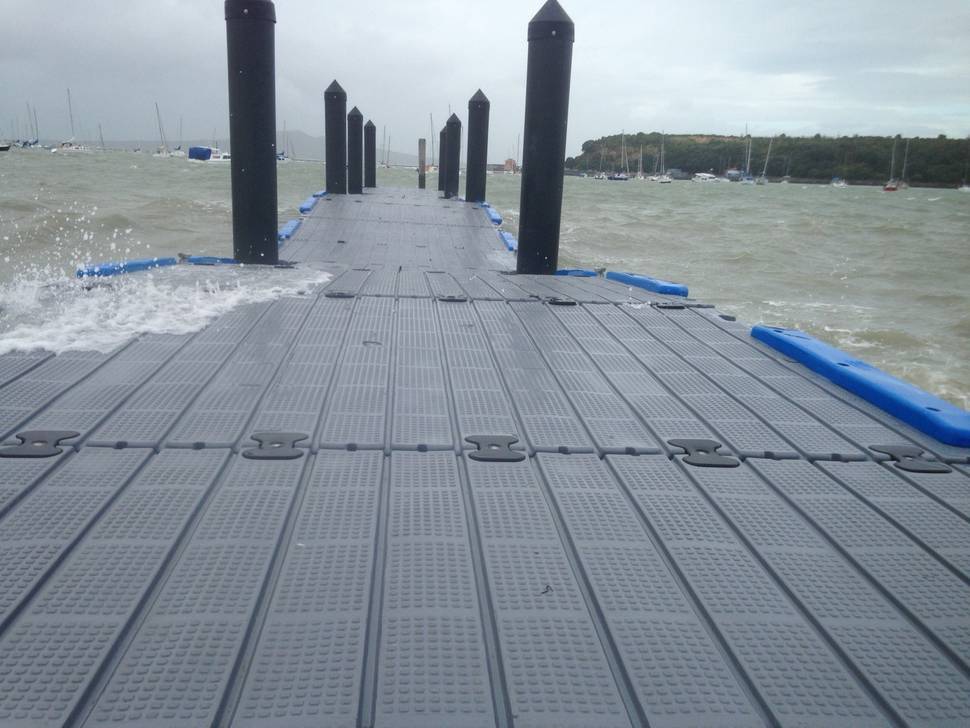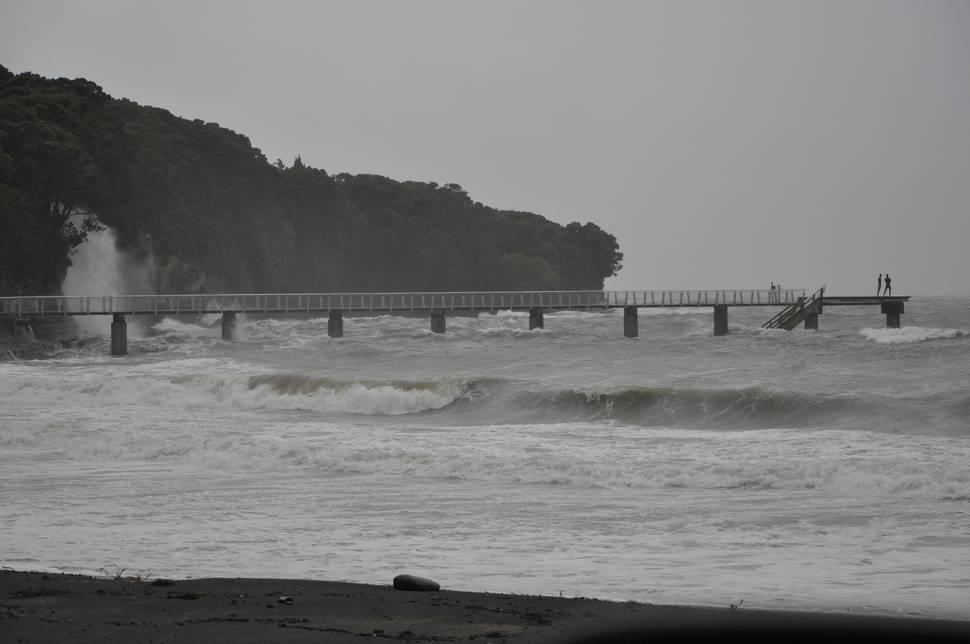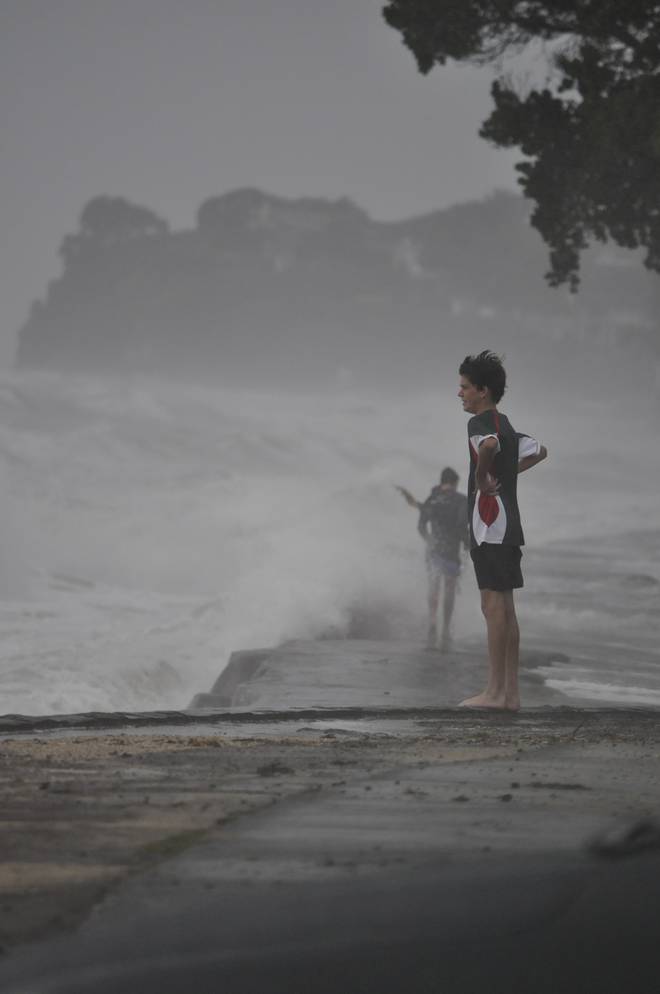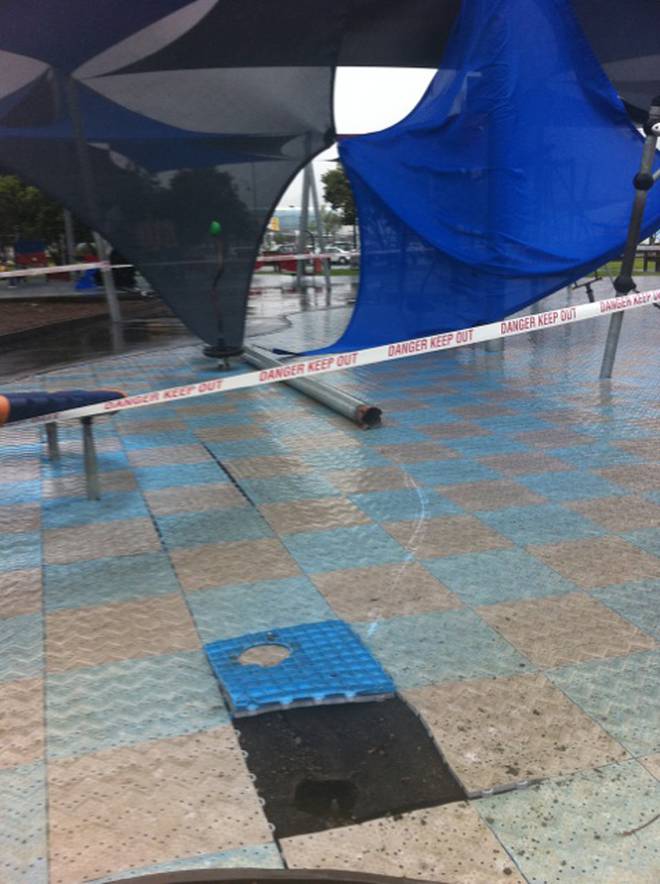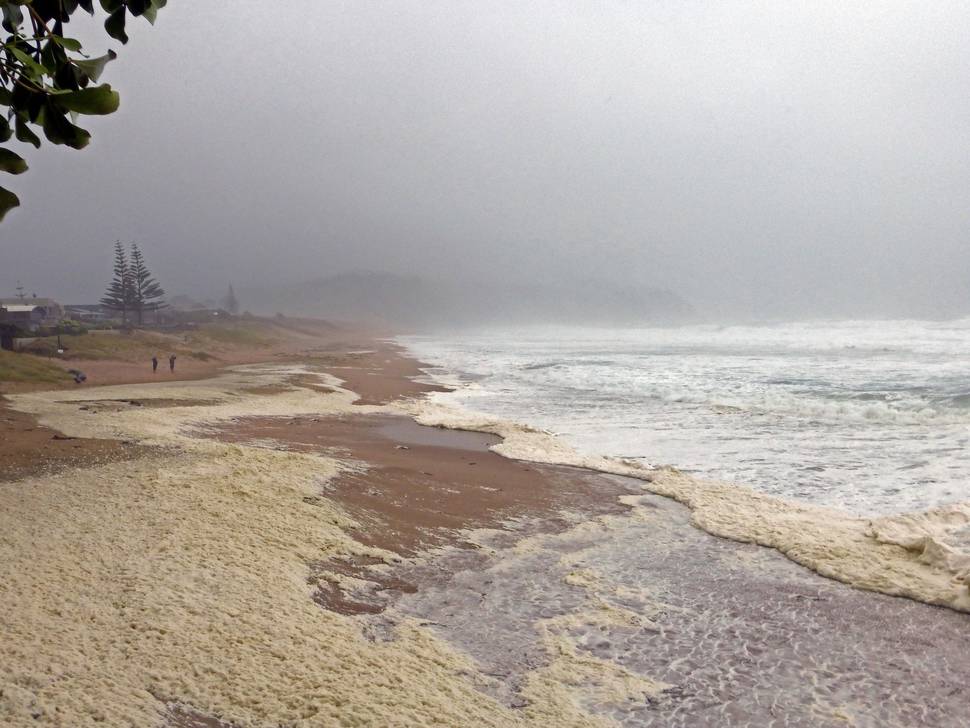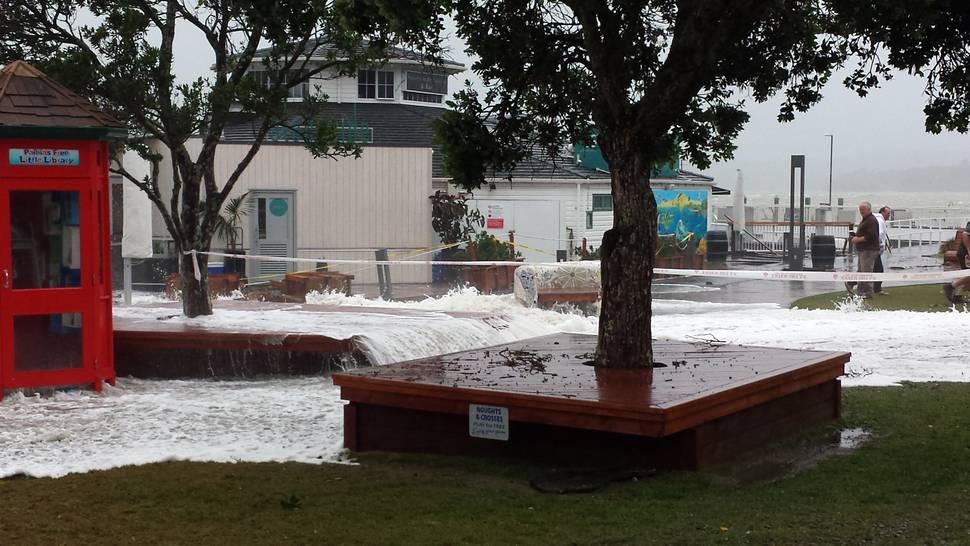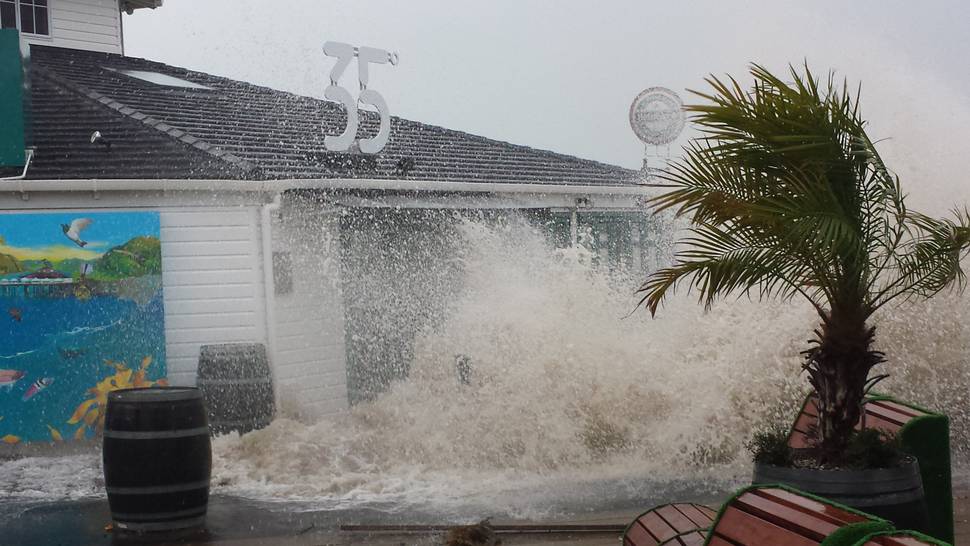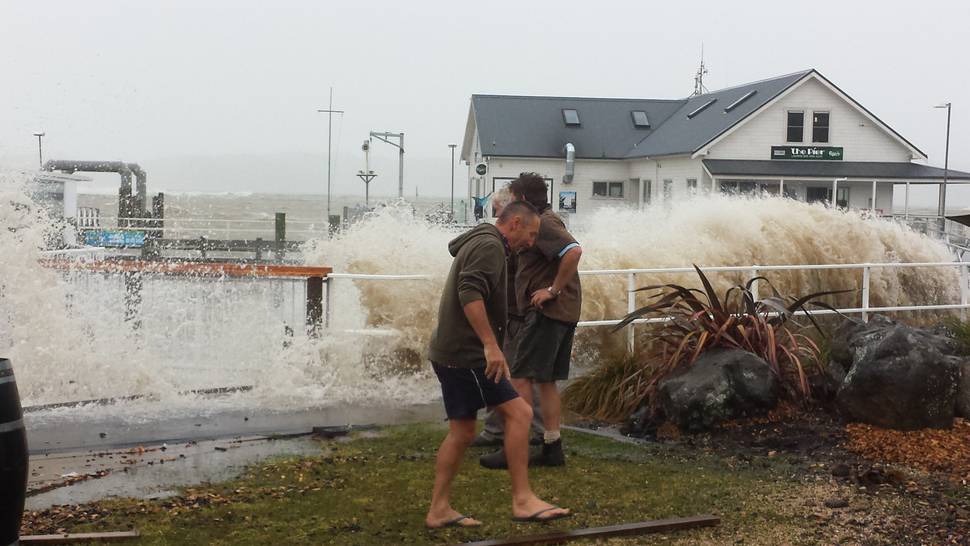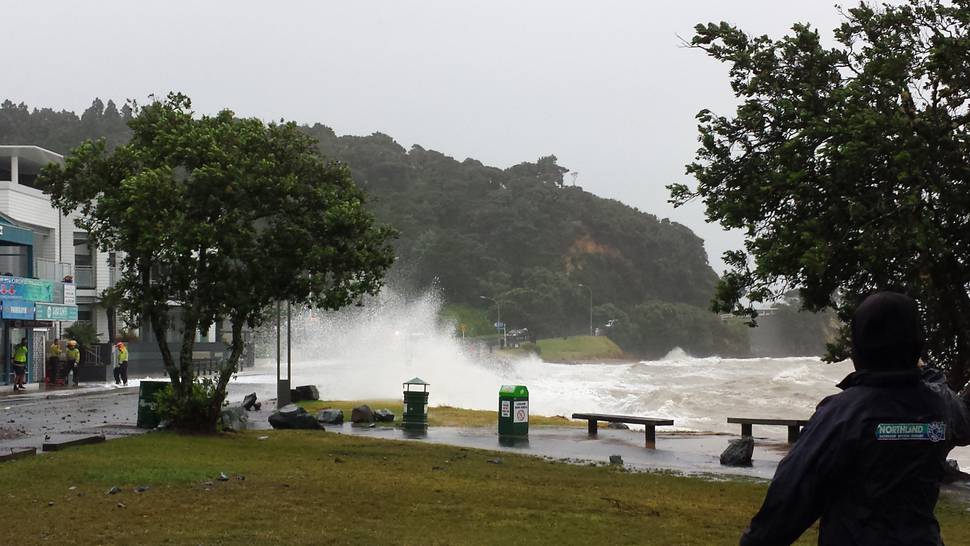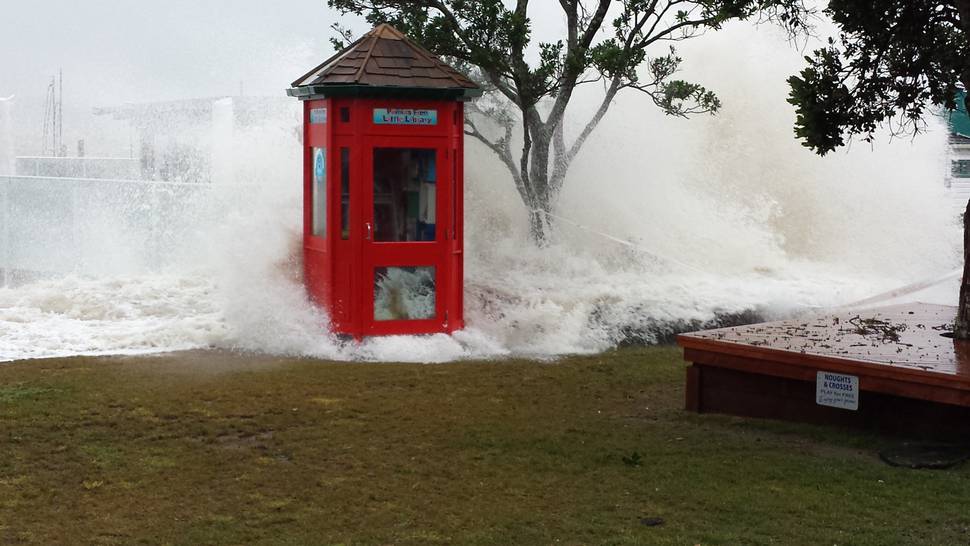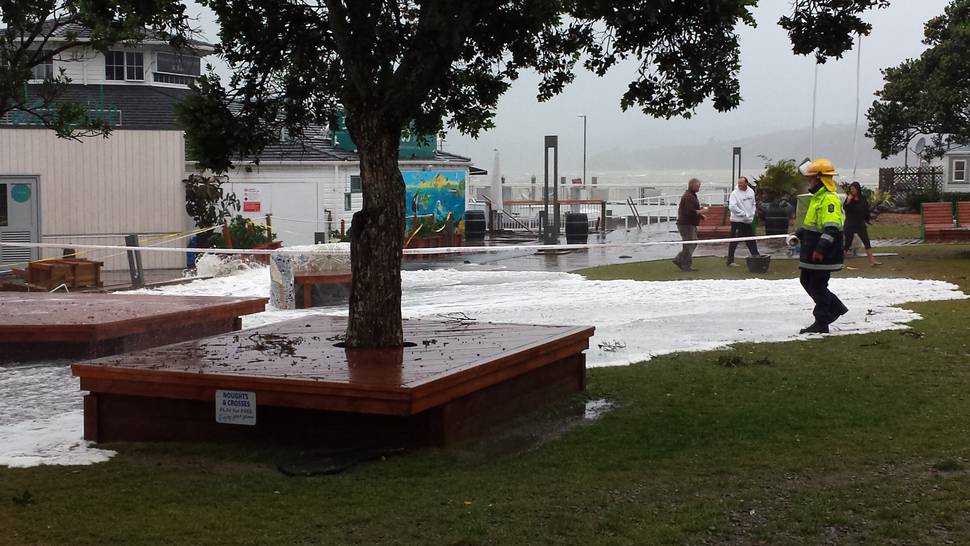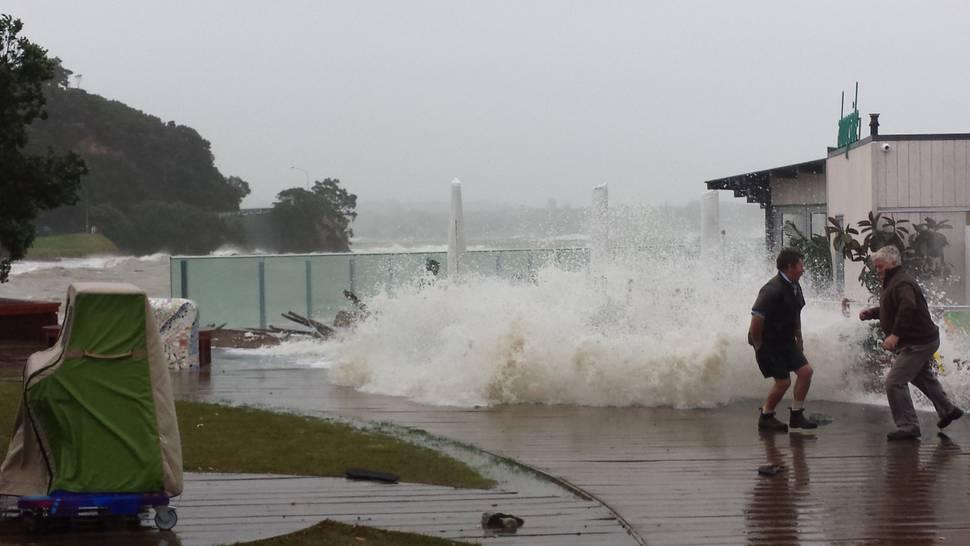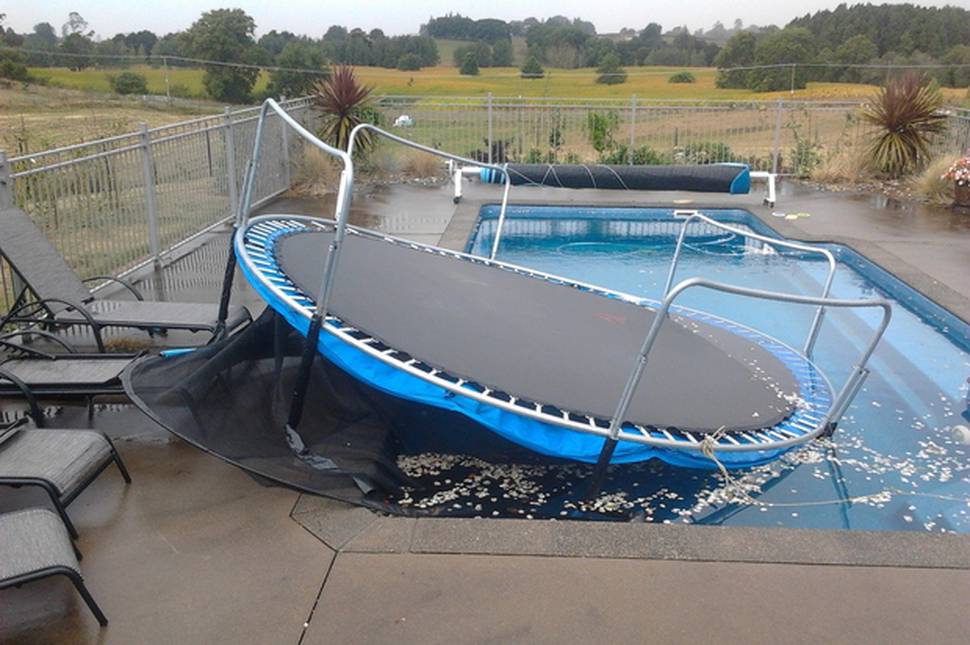 The Auckland Harbourmaster has advised three boats had to be secured after they broke moorings today.
Because of conditions in the harbour, a ship has been redirected to shelter off the Coromandel Peninsula.
Forecasts have indicated that accumulations might be higher than previously modelled, with rainfall north of Orewa could increase to an additional 50mm - 70mm today, with lesser amounts for the rest of the region, Mr Manley said.
Meanwhile, the fire service has been busy attending about 80 callouts during the day, mostly for downed trees on powerlines, which has cut power to thousands.
Fire crews also secured a roof in Orewa that was being lifted by strong winds, a spokesman said.
The damaging storm has brought gales and driving rain to the Far North and it was now tracking south along the country.
Ex tropical cyclone Lusi hits Sandy Bay. Reader video / Regan Low
Strong easterly winds gusting to 120km/h blew a shed through power lines at Whangarei Heads overnight, cutting power to 2000 homes, a Northpower spokesman said.
Residents affected were in towns along the east coast.
More than 7700 Vector customers also had their power out around the Auckland area today, with crews working to reconnect residents.
The Auckland Emergency Coordination Centre said rain was affecting the region with 20mm having falling in northern areas and less elsewhere.
Those affected were in Waimauku, Whitford, Omaha, Cockle Bay, Remuera , Stanmore Bay, Arkles Bay, Red Beach, Wellsford and Port Albert.
Stormwater blockages from debris and persistent rainfall were causing isolated surface flooding around the region, Auckland Civil Defence and Emergency Management duty officer Jamie Richards said.
A rockfall also blocked part of the Hibiscus Coast Highway at Waiwera this morning.
Cyclone Lusi continues to slide south towards New Zealand bringing severe gales and heavy rain. The low will track down the western side of NZ then cross over the South Island on Sunday night – before leaving the nation on Monday morning. Severe weather may affect a number of regions, so please check with MetService for the latest warnings & watches – and WeatherWatch.co.nz for special weather news updates across the weekend. For farmers wanting rain Lusi should deliver a soaking to a number of regions – but some may miss out due to the changing wind flow.
WeatherWatch.co.nz analyst Philip Duncan said the storm still retained category 1 strength winds with sustained gales near the centre and gusts over 100km/h.
The terrain of New Zealand was helping boost those wind speeds further in some exposed parts of Northland.
In Auckland winds were gale force in some places while other suburbs are fairly calm, he said.
Severe weather warnings have been issued for Northland, Auckland, Coromandel Peninsula, Bay of Plenty, Gisborne, Nelson and Marlborough.
Housing New Zealand also said it would make extra staff available over the weekend, with maintenance contractors ready to deal with any urgent repairs.
However, residents in at-risk coastal areas have been told it's a case of ``neighbour helping neighbour'' to ensure safety.
The brunt of Cyclone Lusi's force was expected to strike the North Island throughout today, before gradually weakening as it moves into the South Island tomorrow.
The storm should be clear of New Zealand by Monday, with only a few showers and brisk winds remaining in the south and east.
Canterbury was bracing itself for more flooding, with the Christchurch City Council saying it was preparing for the worst case scenario following recent damaging floods in the area.
About 22,000 sandbags will be filled and ready for collection in various locations across the city by noon today, with all emergency response teams on stand-by.

*****************
Events affected:
* Wairarapa Balloon Fiesta
- The Night Glow to continue tonight
- Balloon flights tomorrow morning possibly cancelled depending on the weather
* Polyfest
- Has been postponed until Tuesday
* Kite Day, Harbourview-Orangihina Park, Te Atatu Peninsula
- Has been postponed until 23 March (10.30am-1.30pm).
* Te Houtaewa challenge, 90 Mile Beach
- Cancelled, but participants could still compete in the marathon or half marathon events
- The Fun Run - Walk for Life has been postponed
* Cruise the Bays, Mission Bay, Auckland
- Postponed until Friday, March 21.
* Bayswater Auto Show and Family Fun Day, Bayswater School, Sunday
- If rain continues through the night, the event will be postponed until next Sunday
* Rotorua Walking Festival, Saturday and Sunday
- Walking days have been switched: the Town Walks today and the Whakarewarewa Forest Walks tomorrow.
* People's Triathlon Series, Maraetai Beach, Auckland
- Postponed until March 30
* Outward Bound 3km Fun Run in Whangarei
- Cancelled.
* Celtic Day at Silo Park in Auckland
- Cancelled
* Salty Classic fishing competition in the Coromandel Peninsula
- Cancelled

Before a storm:
* Develop a household emergency plan. Assemble and maintain your emergency survival items, as well as a portable getaway kit.
* Prepare your property by securing large heavy objects and any item which could become a deadly or damaging missile.
* Keep materials at hand for repairing windows, such as tarpaulins, boards and duct tape.
When a warning is issued and during a storm:
* Stay informed on weather updates. Listen to your local radio stations for advice for your community and situation.
* Put your household emergency plan into action and check your getaway kit.
* Secure, or move indoors, all items that could get blown about in strong winds.
* Close windows, external and internal doors. Pull curtains and drapes over unprotected glass areas.
* If the wind becomes destructive, stay away from doors and windows and shelter inside the house.
* Water supplies can be affected so store drinking water in containers and fill bathtubs and sinks.
* Power cuts are possible in severe weather. Unplug small appliances which may be affected by electrical power surges, and if power is lost, unplug major appliances.
* Bring pets inside. Move stock to shelter. If you have to evacuate, take your pets with you.
After a storm:
* Listen to your local radio stations for the most appropriate advice for your community and situation.
* Check for injuries and help others if you can, especially people who require special assistance.
* Look for and report broken utility lines.
* Contact your local council if your house has been severely damaged.
* If your property or contents are damaged take notes and photographs and contact your insurance company.
Detailed advice is at www.getthru.govt.nz.
**************
Storm advice:
* Stay clear of fallen power lines or damaged electrical equipment and treat them as live at all times
* Ensure garden furniture and umbrellas are put away or tied down
* Ensure trampolines are tied down
* Watch out for falling tree branches which can damage power lines
* Avoid possible damage to electrical appliances (in the unlikely event there is a power surge when the power is restored) by switching off appliances at the wall
* Keep a torch and spare batteries handy and ensure you have at least one telephone that does not rely on electricity for operation
Ensure an alternate fuel supply is available for cooking (eg gas for barbecue)
Source: Vector
***************