Do you know more? Contact the Herald here.
Police want to speak to 36-year-old William John Murphy in relation to eight attacks on elderly women in Auckland in the last week. They say he is a key person and they need to speak to him urgently.
Murphy, who also goes by the name Wiremu Ruapapera, was identified as the man using a stolen Eftpos card following a robbery in Point Chevalier.
Detective Inspector Karyn Malthus said Murphy was transient and was known to have contacts between Auckland and Kaitaia.
"We'd very much like to speak to him about his activities over the past week," she said.
The daughter of one of the elderly victims, Sylvie van de Geer, appealed for the attacker to give himself up.
"Please stop... I just urge this person to please stop," she said.
"These are our mums, these are our grandmums. These are people who have families and grandchildren. I treasure my mum... He can't be allowed to keep doing this."

ATTACK LAST NIGHT
Police are carrying out a forensic examination of a house where an elderly woman was attacked last night.
The Herald understands she was tied up and was assaulted in her own home by a man posing as a security expert.
Neighbours have described the woman coming out of her council flat on Pakuranga's Dale Cres, crying for help after the attack.
She was only partially clothed and her hands were still tied.
Police believe the attack is linked to a string of similar incidents across Auckland over the last week.
They fear the man could kill unless he is stopped.
Last night's attack was the latest in a series of robberies against elderly victims, which Detective Senior Sergeant Aaron Pascoe said were escalating in violence.
"We're really, really concerned about this guy harming somebody or even killing somebody, and if anybody can identify either who this person is, or his whereabouts, we need to know urgently so we can stop him."
Mr Pascoe said the man knocked at the woman's door and claimed there was an intruder in the area.
After telling her to make sure her house was secure, the man forced his way into her home.
Mr Pascoe said the intruder then tied the woman up with string which he found at the house.
He threatened and assaulted the woman with a weapon, before stealing property including bank cards and money.
Mr Pascoe would not go into detail about the attack, but said a weapon had been found at the address.
He said the robbery was believed to be linked to other offences in Remuera, Penrose, Orewa, Takapuna, Northcote, Herne Bay and Westmere.
On some occasions, the offender has claimed to be a plain clothes police officer.
"This escalates the offending of what the police believe to be a series of robberies targeting the elderly residing in communal residential units or similar," Mr Pascoe said.
"The offender is becoming more aggressive in his approach to his victims."
Police have released three photographs of the alleged offender, who has been described as a Maori or Polynesian man.
"I would expect if somebody knows this person, they will immediately recognise him from that photograph."
Mr Pascoe said members of the public, particularly the elderly, should be vigilant and cautious about their personal security.
"Because the offender is targeting the elderly, police are urging people to only open the door to people they know, and anyone who recognises the suspect in the attached photographs are to contact the police immediately."
In one photo, taken by a member of public before the attack in Remuera last Monday, the alleged offender was shown in a distinctive American-style two-tone maroon jacket with letters on the chest area and blue sleeves.
Two more photos show the alleged offender trying to use a card stolen in the Westmere attack on Thursday.
Police are still seeking two vehicles stolen during the robberies. One is a blue Honda Prelude, registration DPD488, and the other is a black Holden HSV Club Sport, registration DBG685.
Anyone with information about the offences or the offender is asked to call police on 111 or Crimestoppers, anonymously, on 0800 555 111.
The second photo taken on June 20. Police want to talk to this person who attempted to use a stolen cash card -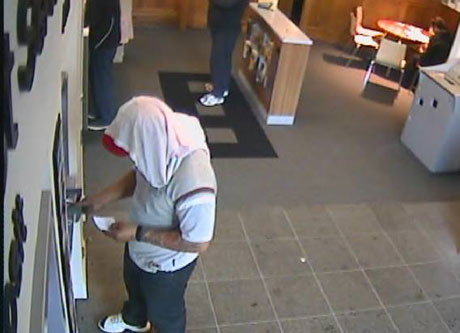 This man was photographed by a member of the public on June 17, shortly before the attack in Remuera. He was wearing a distinctive American style two-tone maroon jacket with letters on the chest area and blue sleeves -