Boaties who put on a homemade boat event featuring a floating car and couch, prompting a Coastguard call-out and a warning from police, say it was meant to be a "positive" event.
Coastguard vessels were deployed to the water near Gulf Harbour, off Auckland's Whangaparaoa Peninsula, after a member of the public alerted them to the handful of makeshift vessels this afternoon.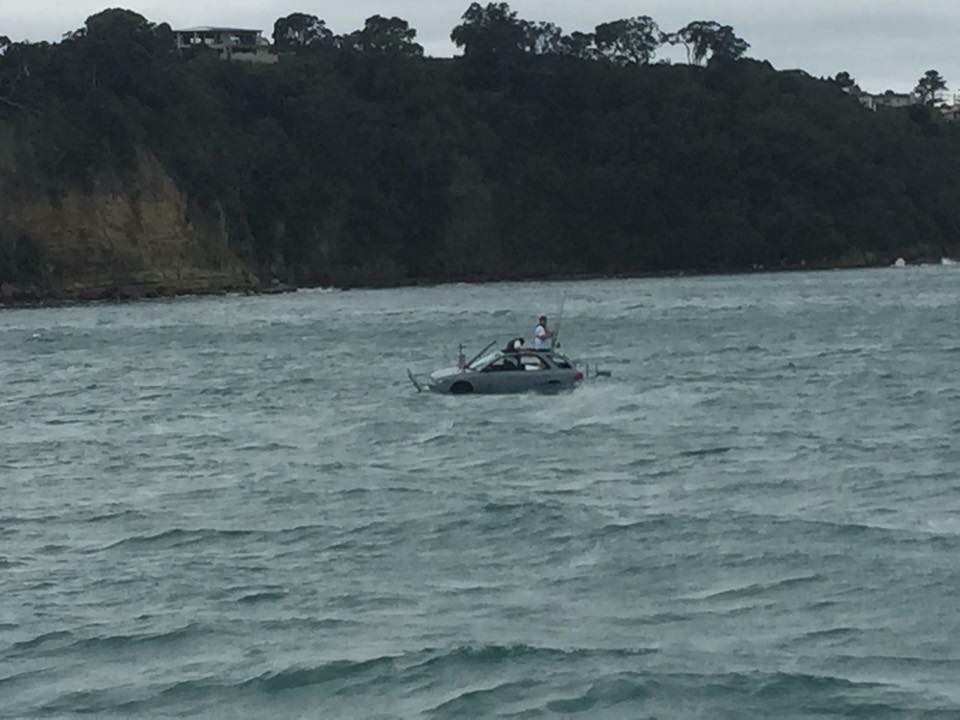 A video shows people watching from ashore as a handful of vessels, including a half-submerged Subaru car, head out from the bay.
Another video shows an occupant of a towed vessel throwing what appears to be a beer can at another dinghy.
An event organiser, who declined to be named, said it was a traditional fishing event held for "a bit of fun between mates" from Army Bay every year.
About 60 people took part on 15 boats, including six modified vessels. The event involved fishing and informal boat racing.
One boat capsized and the occupants had to be rescued from the moderate seas.
Police issued the boaties with a warning when they were brought in to Gulf Harbour Marina by the Coastguard, but no charges were laid.
The boaties appeared to be under the influence of alcohol, police said.
One of the boaties, who asked not to be named, said the event had been put on for years and was nothing but positive for the community.
It included "super-modified" vessels which residents spent a lot of time and money transforming, he said.
Safety was always paramount and the event was transferred to the other side of the peninsula when strong wind warnings were put in place for Army Bay, he said.
He could understand the safety concerns but said people needed to look at the big picture.
"It's all about people building boats. These guys have spent a year restoring boats and we've had a lot of positive feedback from the community. It's 100 per cent positive
"We're just locals, just mates, having a good time."
Maritime New Zealand spokeswoman Pania Shingleton said boaties needed to make sure they were going out in vessels that were seaworthy.
It was about getting home safely, she said.
"These little races would be a little bit foolhardy, especially at this time of the year when the weather's getting a bit colder.
"We don't approve of it, or think it's a very good idea. We would like to think that most people thought a little bit more of their lives and safety so they get home safely after a day on the water."
MetService duty forecaster Neal Osborne said the weather conditions were not ideal for a jaunt in modified boats.
The winds would have been about 40-45 km/h in the area this afternoon, he said.
"That's not horrendously windy but it's still reasonably strong. It's strong wind," Mr Osborne said.
Photos of the makeshift vessels were posted to Coastguard's Northern Region Facebook page.
One photo shows a couch on a tyre stack, carrying three men in lifejackets, being towed by a dinghy. The couch has been fitted with a wooden flag and what appears to be a mannequin's head on a stake.
Another photo shows a Subaru car on the water with a man fishing out the back.
Most of the boaties were wearing lifejackets but it was still worth a Coastguard response, Coastguard spokeswoman Georgie Smith said.
"We understand it was a bit of a homemade boat race. It's a very interesting choice," Ms Smith said.
"Coastguard's role is to ensure everyone's safety on the water. That's the key thing for us."