Eleven men in the New Zealand armed forces during World War I were awarded the Victoria Cross, the highest military decoration, for valour in the face of the enemy. These are their stories.
Leslie Andrew
1917 - La Basseville, Belgium
Leslie Andrew, born at Ashhurst near Palmerston North and educated there and in Whanganui, was just 20 when he committed the daring acts for which he was awarded the Victoria Cross.
Or he was 22, if one believed the inflated age he had gone by. When he enlisted in 1915 his real age was 18. Twenty was the minimum at that time, but what is regarded by historians as his lie didn't hinder this former NZ Railways employee's glittering military career.
On July 31, 1917, at the rank of corporal, Andrew led successful attacks that destroyed three enemy machine gun posts in quick succession during fighting at the village of La Basseville in Belgium. Only one post, at an inn, had been the original objective; the others were at a railway line and in a trench.
Andrew displayed "cool daring, initiative, and fine leadership", his medal citation states.
He also served in World War II, leading troops in the Mediterranean. He was made a companion of the Distinguished Service Order for his "outstanding skill and leadership" and retired in 1952 at the rank of brigadier.
He died in 1969 aged 71; or 73 - one of his death documents gives both birth dates.
Cyril Bassett
1915 - Chunuk Bair, Gallipoli
Cyril Bassett was awarded the Victoria Cross for laying telephone cables in extraordinarily dangerous conditions on a Gallipoli hill, Chunuk Bair.
An Auckland bank clerk who began his military career in a volunteer rifles company in 1909, Bassett signed up as a fulltime soldier five days after New Zealand declared war in August 1914.
As a corporal and signaller a year later he was at the heart of the Allies' attack on the Ottoman Empire at Gallipoli.
In the ferocious, uphill battle for control of Chunuk Bair, considered by army chiefs to be a strategic highpoint, Bassett and colleagues laid a cable to the new forward position. And then they repaired it, again and again after it was damaged - all under continuous, heavy fire.
Famously he later made light of his gallantry, saying, 'It was just that I was so short that the bullets passed over me.'
The New Zealanders were instrumental in taking the hill, but it was held only briefly by the Allied Forces. The campaign bore a terrible cost: more than 800 Kiwis died there.
Bassett went on to fight on the Western Front and, before leaving the military in 1919 to return to banking, he was made a lieutenant. He was the only member of the New Zealand forces to be awarded the VC for action in Gallipoli.
Donald Brown
1916 - the Somme, France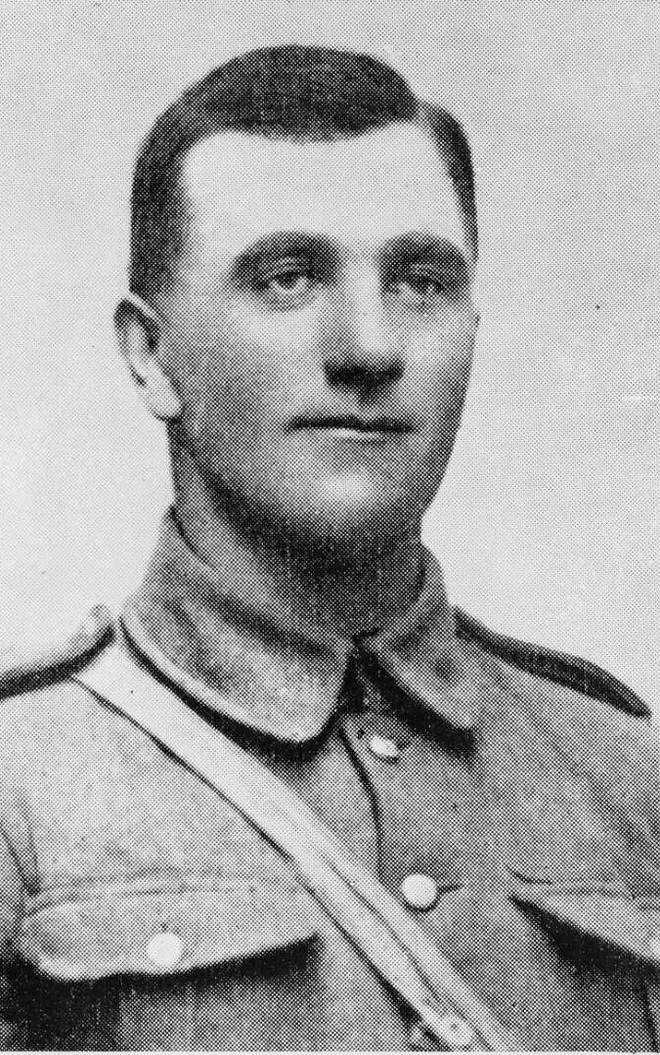 When faced with the risk of being slaughtered on the Western Front, Sergeant Donald Brown's response was one of selfless disregard for his own safety.
He showed "utter contempt for danger and coolness under fire," according to the military chiefs who penned the citation for his VC award.
He never got to handle the shiny medal, however. Two weeks after the first of the actions at the Somme in September 1916 which were among those honoured by the award the following year, the 26-year-old was killed by a machine-gun bullet to the head.
His unit suffering heavy casualties, he and a comrade had twice advanced on enemy machine-guns, silencing them by killing their crews. Brown managed the feat a third time, single handed, but was shot and died within 30 minutes.
"He was always in his element in No Man's Land," one of Brown's officers wrote of him. Another said he was an excellent chap and much liked by the men.
An Otago farmer, Brown had signed up in October 1915. His VC medal was presented to his father by the Governor-General, the Earl of Liverpool.
James Crichton
1918 - Crevecoeur, France
James Crichton, aged 35 when he joined up in 1914, had been a miner, a British soldier in the South African War, and a cable splicer at Auckland's Post and Telegraph service.
In France he was a sergeant in the armed forces' bread-baking department, a role he left voluntarily in April 1918 to enter the trenches as a private.
Six months later, he won glory as the New Zealanders helped break Germany's main defensive system, the Hindenburg Line, by running messages under fire and taking an icy swim in the Scheldt river at Crevecoeur village, all while enduring an injured foot.
To take the village, his unit needed to cross the bridge, which was defended with mines.
"I jumped in, and had a swim up underneath the bridge," Crichton wrote in a letter reproduced in the Auckland Star in 1919 following his rapturous welcome home ceremony at the Town Hall.
"The Germans saw me, and started firing. I pulled out all the fuses, but knowing that they could easily get more fuses I took all the mines and put them in deep water … I swam back and told the boys they were safe, as the bridge could not blow up … It was good to see the look of relief that came over them.
Samuel Forsyth
1918 - Grevillers, France
Wellingtonian Samuel Forsyth was 23 and unemployed when he signed up, days after the war started. Previously he had worked in gold processing for the Monowai mining company in Thames.
Forsyth was injured by an exploding shell at Gallipoli. After hospital treatment at Cairo, he returned to the Ottoman battlefield and was later invalided to England suffering jaundice.
A deeply religious man who evangelised among the troops in his time off, he married a YMCA sub-matron, Mary Gairdner, in Scotland in January 1917.
Aged 27, he was killed by a sniper's bullet in August 1918 during the action for which he was awarded the Victoria Cross. This was in the attack at the town of Grevillers, part of the Battle of Bapaume.
Sergeant Forsyth was cited as a "dashing" leader who displayed a "total disregard of danger". He had led his men to rush and take three machine-gun positions. Wounded, he manoeuvred alongside a British tank until it was disabled. He organised its crew, with his men, to drive off several machine-gun units.
Samuel Frickleton
1917 - Messines, Belgium
It was in the successful Battle of Messines that Lance Corporal Samuel Frickleton, a coal miner from Blackball on the West Coast, was spotted in acts of conspicuous bravery that won him the Victoria Cross.
Following the explosion of enormous British mines and a creeping artillery barrage, the New Zealanders were among nine divisions to advance on Messines Ridge on June 7, 1917. Kiwi units cleared the town of Messines of German forces.
Scotland-born Frickleton's unit was pinned down by machine-gun fire. Already slightly injured, he dashed forward and with grenades destroyed one machine-gun and its crew, then killed the crew of another. He suffered a second, severe wound, to a hip, and was later gassed.
Frickleton's start in the war had been fragile. Having signed up in February 1915, he was sent home from Egypt that November, diagnosed with tuberculosis. He recuperated in Otago and re-enlisted in April 1916. After Messines, he was promoted and later completed officer training in England, but lung trouble resurfaced and he was sent home.
On his return to the West Coast in 1918, he was feted by crowds at every train stop from Otira to Greymouth, where a homecoming welcome was held in the Town Hall.
"As far as the VC goes," he told the crowd, according to a Grey River Argus report, "if my men had not stuck to me on that occasion, I would not have won the VC."
John Grant
1918 - Bancourt, France
A self-employed builder from Hawera, Sergeant John Grant received the Victoria Cross for an attack on machine-gun positions in the Battle of Bapaume in France.
With the Germans in fighting retreat, New Zealand troops had entered Bapaume and pushed east through Bancourt. They cleared German positions on Bancourt Ridge and advanced a further 6km.
On September 1, 1918, Grant's unit, on reaching the crest of the ridge, was faced by five enemy machine-gun posts. They advanced under point-blank fire. When within 20m, Grant, supported by Lance Corporal Cecil Hill, who received the Distinguished Conduct Medal, rushed ahead "with great dash and bravery", leapt into one of the gun position and destroyed it.
Grant knocked out a second machine-gun post, and the others were overrun by his comrades.
The following month, Grant was sent for officer training in England and became a second lieutenant.
Hawera honoured him and the area's other VC winner, John Laurent, naming after them streets which were shaped, with another road, to resemble the letters VC.
Reginald Judson
1918 - Bapaume, France
Aucklander Sergeant Reginald Judson was one of New Zealand's most decorated soldiers.
In just over a month - from July 24 to August 26, 1918 - he won the Military Medal, the Distinguished Conduct Medal and the Victoria Cross.
The VC, the last of the three, was awarded for his gallantry near Bapaume. He had led a small grenade-throwing group who, under heavy fire, captured a machine-gun.
Judson carried on alone up a trench, bombing three more machine-gun crews, before leaping up out of the trench and ordering 12 men to surrender. They shot at him but missed. Judson threw a grenade and leapt amongst them, killing two in close combat. The rest fled.
"They must have got the wind up," Judson recalled, after his hero's welcome in Auckland.
Promoted to second lieutenant in 1919, Judson remained in the army for some years after the war. He later did a variety of jobs, was elected to the Auckland City Council, and served in New Zealand during World War II, reaching the rank of major.
John Laurent
1918 - Gouzeaucourt Wood, France
Taranaki soldier John Laurent, 23, was lost behind enemy lines when, leading 12 men, he fought his way to glory in fierce, hand-to-hand combat.
They were fighting at Gouzeaucourt Wood on September 12, 1918, after the Battle of Bapaume and just two months before the war's end.
Sergeant Laurent's patrol attacked Germans in support trenches, killing 30 and capturing 112, at a cost of four casualties to Laurent's group. They fought their way back to British-held territory, while managing to control the prisoners.
An engineer from the Hawera area before the war, Laurent, promoted to second lieutenant in 1919, was presented with a gold watch and chain at peace celebrations in the town in July that year.
Henry Nicholas
1917 - Polderhoek, Belgium
Machine-gun crewman Henry Nicholas dashed ahead of his unit to attack an enemy position at Polderhoek Chateau in Belgium on December 3, 1917. This fight, near the city of Ypres, followed the Battle of Passchendaele.
With a grenade, gun shots and a bayonet, and practically single-handed, he killed 12 and captured four enemy soldiers.
The New Zealanders secured a small advance in the bid to take Polderhoek Spur, before being withdrawn from the line. Their gains, however, were lost back to the Germans just nine days later.
Nicholas, a Christchurch carpenter who had been awarded the Military Medal earlier in the war, was killed 19 days before the armistice was announced on November 11, 1918.
Richard Travis
1918 - Rossignol Wood, France
Richard Travis, a deadly sniper, the "Prince of Scouts" and the "King of No Man's Land", was a natural born warrior - and a flouter of military discipline.
A winner of the VC, the Military Medal, the Distinguished Conduct Medal and the Belgian Croix de Guerre, Travis also had his pay docked for absence without leave and was disciplined for drunkenness and refusing to obey orders.
"Brave, fearlessly brave, wonderfully clever, crude, illiterate, lovable, this remarkable man had done those things which we read of only in story books," an officer friend wrote of Sergeant Travis, soon after he was killed by an exploding shell in late July 1918.
"He had a genius for patrol work - absolutely without fear and clever in all he did," said the unnamed officer's letter, published in the Otago Witness under the headline, "A super-hero".
In the action which won him the VC at Rossignol Wood, west of Bapaume - the day before his death - Travis had crawled forward to destroy a wire barrier with grenades. Rushing ahead, he killed the crews of two machine guns, then four more enemy soldiers who came at him around a bend in the trench.
Born Dickson Cornelius Savage at Opotiki in 1884, he moved by stages to Southland, turned his back on his family, changed his name and became a horse-breaker. Travis signed up soon after the war began and served at Gallipoli and on the Western Front.
Note - Seven other men with connections to New Zealand, including Bernard Freyberg, who was educated in Wellington and became Governor-General, won the VC while serving in the armed forces of Australia or Britain.