Te Paea Selby-Rickit is momentarily flummoxed.
As the Silver Ferns squad is divided into youth versus experience for their warm-up drills ahead of day three of trials, the young Steel shooter takes her place among the group of newcomers.
Silver Ferns trainer Stephen Hotter soon sets Selby-Rickit straight, directing her back to the group of "oldies".
Selby-Rickit slowly walks to the other end of the court where the more established Ferns are gathered, stopping in the middle and turning back towards the youngsters, seemingly perplexed by her new-found status in the pecking order.
The 25-year-old may have only made her international debut less than a year ago, but in relative terms that makes her a veteran in the Silver Ferns environment.
The past two years has seen a gradual changing of the guard in New Zealand netball.
The retirement of Casey Kopua, Leana de Bruin and Anna Harrison, who have been pillars in the Silver Ferns defensive end for more than a decade, and the unavailability of Laura Langman, who has been ruled ineligible for national selection after opting to play in the Australian league, has stripped the New Zealand team of a wealth of experience.
Skipper Katrina Grant (94 tests) and vice captain Maria Tutaia (107 tests) are the only true stalwarts left in the team. After that there is Kayla Cullen, whose international career has endured a series of injury setbacks, and Grace Rasmussen, who is facing a battle to retain her starting spot at wing attack from a number of up and coming young midcourters.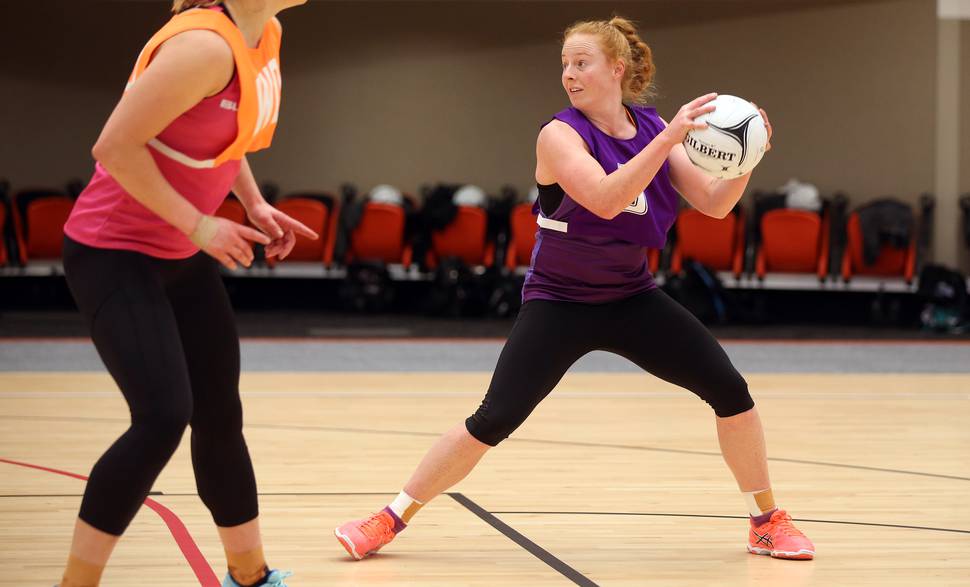 With some of the game's most recognisable faces moving on over the past couple of seasons, this week's national trials in Auckland has seen an influx of new faces to the Silver Ferns environment.
It comes at a critical juncture in the four-year international netball cycle. The squad named on Monday will likely to be the same pool of players from which next year's Commonwealth Games team is picked.
It's time for coach Janine Southby and the national selectors to make some tough calls about whether to take a gamble on a couple of newcomers.
It's time for some of the "fringe" members of the squad to consolidate their place in the line-up if they are to put their hand up for selection in the pinnacle events over the next two years.
And it's time for players like Selby-Rickit to take that next step towards joining the ranks of the team's experienced stars.
Given the predicament New Zealand netball finds itself in, succession planning has also been high on Southby's agenda this week.
Several members of the national under-21 side that won the World Youth Cup in Botswana last month have been invited into camp, despite only being able to play a limited role in the trials due to injury management.
One of their great young hopes, 16-year-old shooter Tiana Metuarau, watches on glumly on the sideline with a set of crutches resting nearby. A busy year has taken its toll on the youngster, who has picked up a niggly foot injury.
Metuarau, the daughter of Silver Ferns legend and former coach Waimarama Taumaunu, was a regular starter for the Central Pulse this year in her first season of top-level netball. Following last month's ANZ Premiership grand final, she went straight into camp with the under-21 side.
"Unfortunately she hasn't been able to take the court this week, but I still think it's important for her to be around the environment and understand what it is to be in the Silver Ferns," says Southby.
Ferns management are taking a similar approach with fellow young stars Michaela Sokolich-Beatson and Monica Falkner. The pair's court time has been restricted this week, but they watch on attentively from two stationary bikes perched on the side of the court, enthusiastically applauding any strong phases of play.
Grant, the team's captain, says the influx of young players in the camp has added a different energy to the group.
"It's really refreshing, it feels like this is the start of something new. We've got new blood, new combinations, even the venue is new," she says, looking around the expanse of the gleaming new indoor court facility at South Auckland's Bruce Pulman Park, which the Silver Ferns have the run of for the week.
"This is a really great starting point for us."
S
outhby has asked the squad to focus on two things this week: bringing energy to everything they do, and self-responsibility.
The self-responsibility message has perhaps been taken on board a little too well. The 8.40am sharp departure time to the morning session was observed to such precision that when Southby and her assistant Yvette McCausland-Durie stepped out of motor lodge following a quick meeting, they found all the team vans had gone.
Players are stepping up in other areas as well.
The selectors' original plan was to name a 15-strong squad tomorrow, but by the third day of trials it was clear that was going to be too tough an ask, and they will instead bump the squad up to 16.
Southby won't single out individuals, but she has been pleasantly surprised by the performances of a couple of newcomers to the environment.
"You've got to put your hand up and you've got to keep putting your hand up day after day to keep going forward. And it's pleasing to see a number of players doing that at the moment," she says.
"Sometimes it just takes a little bit of courage and a little bit of confidence and this setting can bring out a new side in players."
The selectors aren't just taking into account performances this week, however. They've been looking closely at a player's preparation, strength and conditioning, nutrition and ability to organise themselves.
In an effort to understand more about her athletes, Southby this year had the selectors interview the players ahead of trials.
"It has been quite enlightening for us as well. We don't select them on that stuff, but it's interesting information and it helps us build up a picture of their readiness to be able to perform."
As well as announcing the wider squad tomorrow, Southby will also name her test line-ups for the first two series of the international season - the Quad Series, involving Australia, England and South Africa; and a further three-test series against England.
At that point, Southby goes on trial.
Likely Silver Ferns squad
Shooters: Monica Falkner*, Bailey Mes, Te Paea Selby-Rickit, Maria Tutaia, Maia Wilson.
Midcourters: Gina Crampton, Kayla Cullen, Shannon Francois, Grace Rasmussen, Samantha Sinclair, Whitney Souness*.
Defenders: Temalisi Fakahokotau*, Katrina Grant, Kelly Jury, Phoenix Karaka, Jane Watson.
*newcomers